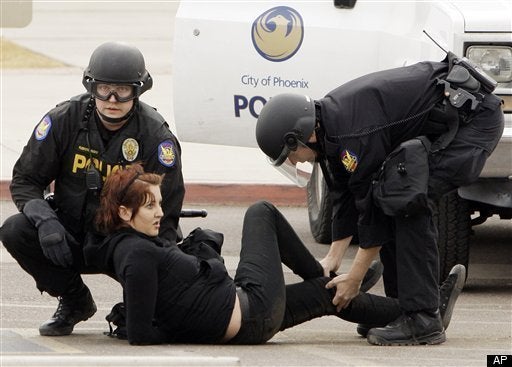 PHOENIX, AZ -- A peaceful march for immigrant rights turned violent Saturday after a small number of protesters allegedly threw water bottles and rocks. The march was organized by a coalition of immigrant rights groups and drew several thousand to protest the strict immigration enforcement practices of Maricopa County Sheriff Joe Arpaio.
The protest was mostly peaceful as demonstrators marched more than 3 miles from a Phoenix park to the famous "tent city" jail to protest Arpaio who has become an embattled local symbol for both sides of the immigration debate. He is infamous for controversial practices, including immigration "sweeps" in Hispanic neighborhoods, pink handcuffs, old-fashioned striped jail uniforms, pink underwear, and pink flip flops. He is most famous for housing inmates in outdoor tent-based jails.
According to a police spokesperson and witnesses, a handful of protesters, dressed in black, began throwing rocks and water bottles at officers who had been stationed at the jail to keep the peace. A horse-mounted officer attempted to enter the crowd to take the items away from the troublemakers who retaliated by pushing the horse with sticks. As the altercation quickly escalated, other officers used pepper spray to separate the horse and officer from the crowd. Some witnesses also reported that tasers were used to subdue them.
Ruben Gallego, a local candidate running for the legislature, witnessed the incident and said the anarchists were not part of the organization and did not share the agenda of the protest, "They do not represent 99% of the 15,000 people that were there. They tried to take away the message."
Immigration protests in Phoenix have been peaceful in the past, and many demonstrators brought their children and elderly relatives. Gallego and other witnesses reported that children downwind from the incident were affected by the pepper spray.
At least four protesters, including two men and two women, were detained (all yet to be named), but police say only one is expected to be charged with a crime. That protester is likely to be charged with "aggravated assault on a police officer." Chris Newman, one of the organizers says, "We are asking for a full investigation into the incident, both with respect to the conduct of those who are accused of disrupting the march and the actions of the police."
A few nearby protesters shouted for the police to release those who had been detained, but most kept moving forward with the march. Because the incident happened near the back of the mile-long line of marchers, most people in the crowd did not even realize any altercation had taken place.
The protest was headlined by Zack de La Rocha (of Rage Against the Machine) and Linda Ronstadt (pop singer). The protest was organized by Puente, along with a coalition of immigrant rights groups, including the National Day Labor Organizing Network.
Popular in the Community