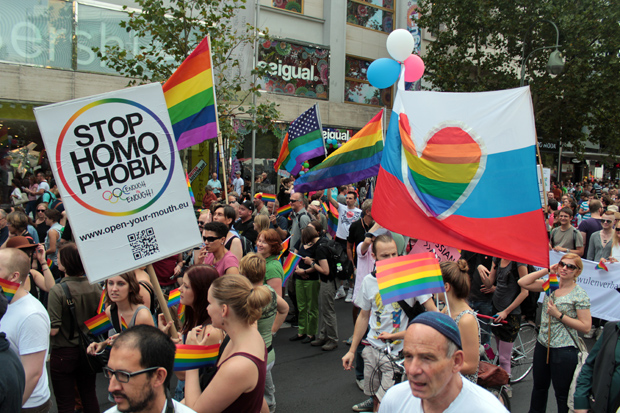 On Saturday, Aug. 31, an estimated 5,000 demonstrators gathered in Berlin to protest the recent anti-gay laws that have been enacted by Vladimir Putin's government in Russia. Organized by the Enough Is Enough group, the event was aimed at raising awareness of the human rights abuses taking place in Russia.
Many protesters at the afternoon event called for a boycott of the 2014 Winter Olympics in Sochi (scheduled to open Feb. 7, 2014). The march ended with a demonstration in front of the Russian Embassy on Berlin's Unter der Linden street, with the iconic Brandenburg Gate as a backdrop. Protesters held signs saying "Enough Is Enough," "Stop Homophobia" and "Putin Go Homo."
Demonstrators included people of all ages and seemed to receive positive responses from spectators. Rainbow pride flags were in abundance, and while the demonstration's tone was somber, participants were upbeat and generally positive. Organizers called on the German government to take a clear stance on Russia's recent human rights abuses. There were additional demands on the International Olympic Committee and specific sponsors to boycott and/or use their financial clout to defend human rights in Russia.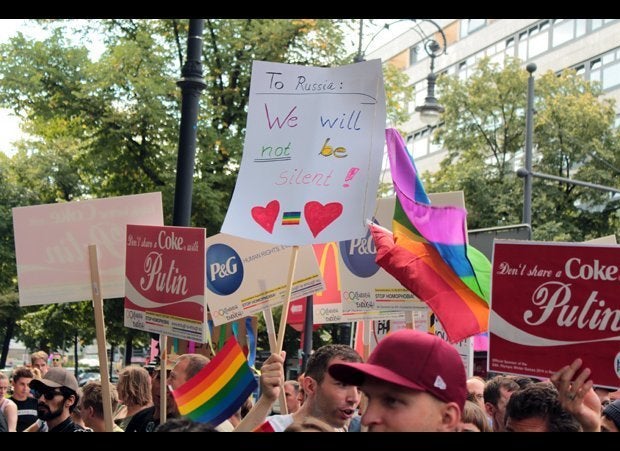 Anti-Putin Demonstration In Berlin: Enough Is Enough
Related
Popular in the Community