Conservative groups protested the possible housing of Central American children in Vassar, Michigan, on Monday by marching through town, some with AR-15 rifles and handguns, according to The Detroit News.
About 50 protesters led by the group Michiganders for Immigration Control and Enforcement carried American and "Don't Tread on Me" flags as they marched from city hall to a social services facility that may house the children. The protest follows a similar but larger gathering that took place last week.
Thousands of Central American children have illegally crossed the U.S.-Mexico border in an effort to flee violence in their home countries, overwhelming ill-equipped border facilities where they would normally be held. The influx has prompted the Obama administration to request billions of dollars in additional funds from Congress to address what members of both parties have called a "humanitarian crisis."
The Wolverine Human Services center in Vassar is under consideration to house up to 120 of the children for four weeks at a time, where they would receive federally funded medical care and basic education until they could go through crowded immigration courts.
But the protesters, many of whom are not residents of Vassar, demonstrated against the possible housing.
"We're not against kids," organizer Tamyra Murray said, according to MLive. "We have sympathy for the kids being used and exploited by the feds."

"Go Home. We're full," read one sign.

"No gang members. No terrorists," read another.

Most demonstrators were from other towns, belonging to pro-gun and anti-illegal-immigration groups.

"We the people are standing up and saying we will not allow illegal immigration," said Matt Krol, a Linden building contractor.
Before You Go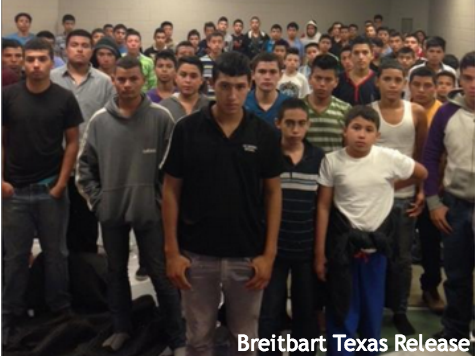 Overwhelmed Border Patrol
Popular in the Community