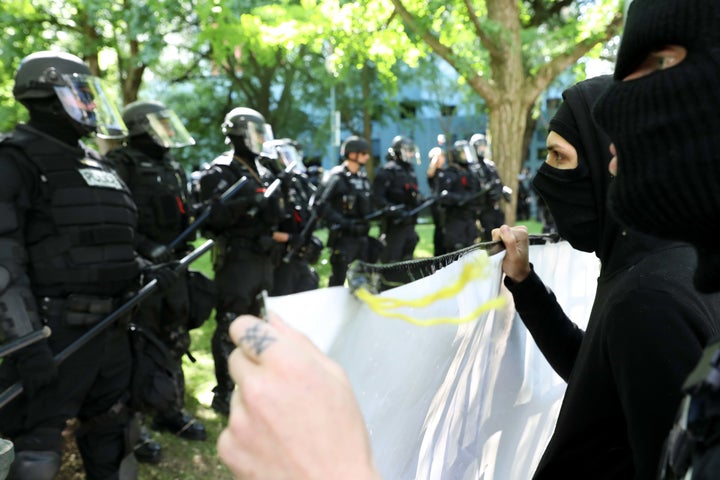 PORTLAND, Ore. ― The flier, stapled to a telephone pole on North Killingsworth Street, promised training in self-defense against neo-Nazis.
"We will fight them with our every ounce," it read. "By working together we can push back white supremacy on the 4th."
Area activists and strategy game experts, the flier advertised, were scheduled to run a workshop Saturday that would physically and mentally prepare locals for Sunday, when a rally in support of President Donald Trump was coming to town and, along with it, the possibility of violent clashes.
But the training never happened. Word on the street was that white supremacists had caught wind of the event, shared it on social media and threatened to show up and fight.
A 27-year-old Portland native named William was at the forefront of the preparations. He, like many of his cohorts whom HuffPost spoke with, refused to fully identify himself for safety reasons (neo-Nazis are known for releasing a breadth of personal information online).
William is an organizer for the Pacific Northwest Anti-Fascist Workers Collective, one of many anti-fascist (or "antifa") groups across the country. It's a relatively decentralized force, made up of dozens of groups that often work to confront white supremacists and hate groups, as well as the police and government policies.
They're recognizable as the masked figures dressed in black who show up to counter-protests and fight white nationalists. They shut down a speech by conservative media personality Milo Yiannopoulos at the University of California, Berkeley, in February by throwing rocks; several of them were injured in the fracas. Their violence, like that of the neo-Nazis, is condemned in many circles on the left and right.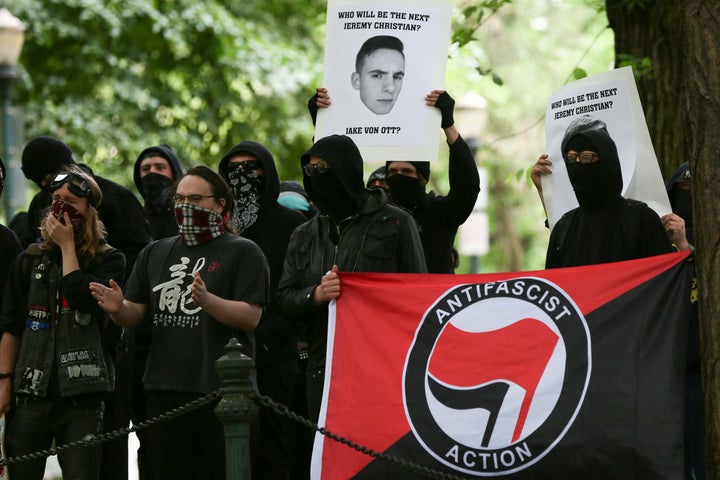 The antifa groups don't have an overarching mission regarding violence. Many groups advertised peace prior to Sunday's event, but the anti-fascists also noted that they were ready to defend themselves at all costs. Police confiscated dozens of weapons from them at the rally, including bricks, batons and knives.
The antifa groups, along with their far-right counterparts, are among America's fringe ― emboldened by the current administration, amplified by social media and happy to battle it out in the street.
The United States is at a turning point of protest, with demonstrators deciding in real time whether the peaceful Women's Marches earlier this year solved anything and whether violence is the next step. Over this weekend, Portland became a flashpoint for that discussion.
Saturday's event was supposed to prepare the anti-fascists of Portland for a pro-Trump rally Sunday, an event that had been on the calendar before the hate-fueled slashing that left two dead on a MAX train on May 26. The incident gained national attention and emboldened far-right groups to make travel plans for the rally.
The antifa groups were expecting neo-Nazis, white nationalists and well-known figures of the so-called alt-right.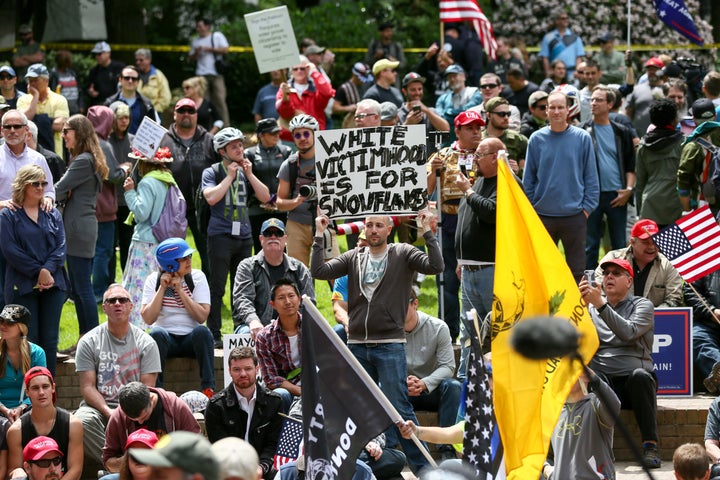 "There's always violence when they come out," William told HuffPost outside a labor union hall in southeast Portland, where the training was supposed to take place. "These guys are trying to come out and suppress activism. We'd really appreciate it if they stopped coming into our city and spreading their hateful message and trying to scare protesters."
By Sunday morning, hours before the protests were supposed to start, the two sides were squaring off by shouting at one another across the street. Each group had bought a permit for their own section of a downtown park in Chapman Square. SWAT teams created a human barrier between the groups to make sure they didn't attack each other.
Because of that barrier, the antifa group ended up sparring with police instead. In the afternoon, police ordered them to disperse and they resisted, at which point police lobbed tear gas canisters at them to drive them away. The alt-right demonstrators and Trump supporters across the street cackled and celebrated as they watched the melee.
At the end of the day, the battle each side had been preparing for all week never actually happened, thanks to a heavy presence of police from several jurisdictions, including the federal Department of Homeland Security and a local SWAT force.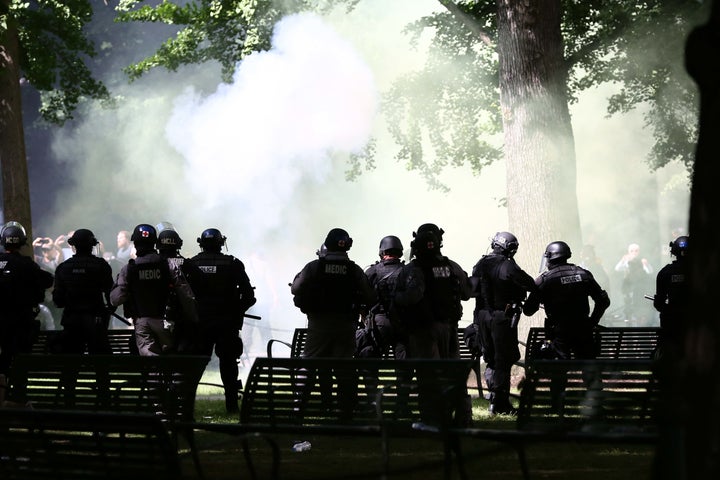 The Fringe Is No Longer The Fringe
While these two groups never really clashed violently, as many expected, they fuel concerns that our short stretch of peaceful protests is coming to an end.
"Many would argue that having hundreds of thousands if not millions show up is a huge success," said Dana Fisher, a sociology professor at the University of Maryland who's researched protests for nearly 20 years. "But some people may very well feel that it's not working anymore. Depending on the goal, the resistance can be seen as failing."
She noted that it appears the "radical flank" of both the left and right have been mobilized; far-leaning groups that aren't often accepted by popular culture are now becoming more mainstream and recognizable. Enter the antifa groups and the alt-right.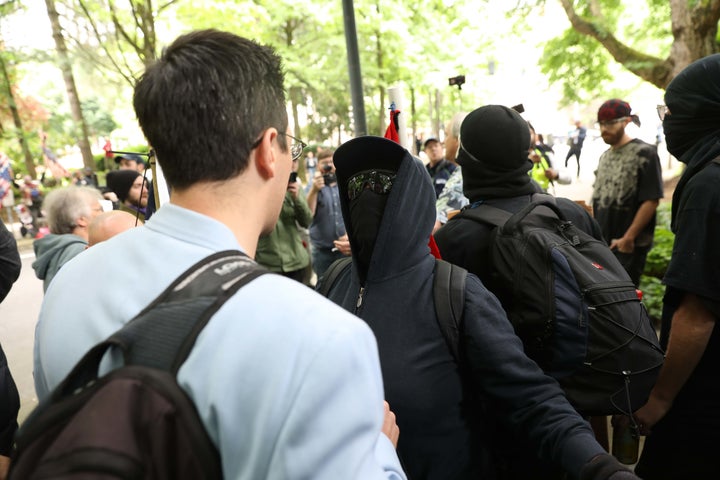 Of course, she said, that doesn't necessarily mean that violence is inevitable. On the contrary, a relatively peaceful day on Sunday between protesters signals that progressive ideals of activism, in which throngs of people speak their mind without hurting one another, are winning.
However, the growth of violent fringe groups ― especially right-wing extremists and white supremacists ― is explosive, terrifying and requires a reaction, many say.
Indeed, the far-right has been mobilized. Joey Gibson, a Californian who regularly organizes pro-Trump events in progressive, liberal cities like Portland, has reportedly coordinated six similar rallies in this city and nearby Vancouver, Washington, over the past six months, including the event Sunday.
Even when the far right doesn't attract many bodies to its rallies, it sometimes attracts the worst of the worst: On April 29, slashing suspect Jeremy Joseph Christian was seen throwing up Nazi salutes and screaming racial epithets. On May 26, he stood accused of knifing three men on a MAX train, killing two of them, as they defended two girls from racial and religious insults.
The demonstrations Sunday proved that a small number of voices can mobilize hundreds upon hundreds of people. It leaves a burning question: Which protest are we going to see next: another peaceful Women's March or a clash between America's expanding fringe groups?
Fisher says she's wary of the future ― it's anybody's game.
"We have a whole bunch of people who are progressive who are pissed off, and Trump has appealed to the conservative fringe in this country," she said. "I don't know what's going to happen, and I don't know how to fix it."
America does not do a good job of tracking incidents of hate and bias. We need your help to create a database of such incidents across the country, so we all know what's going on. Tell us your story.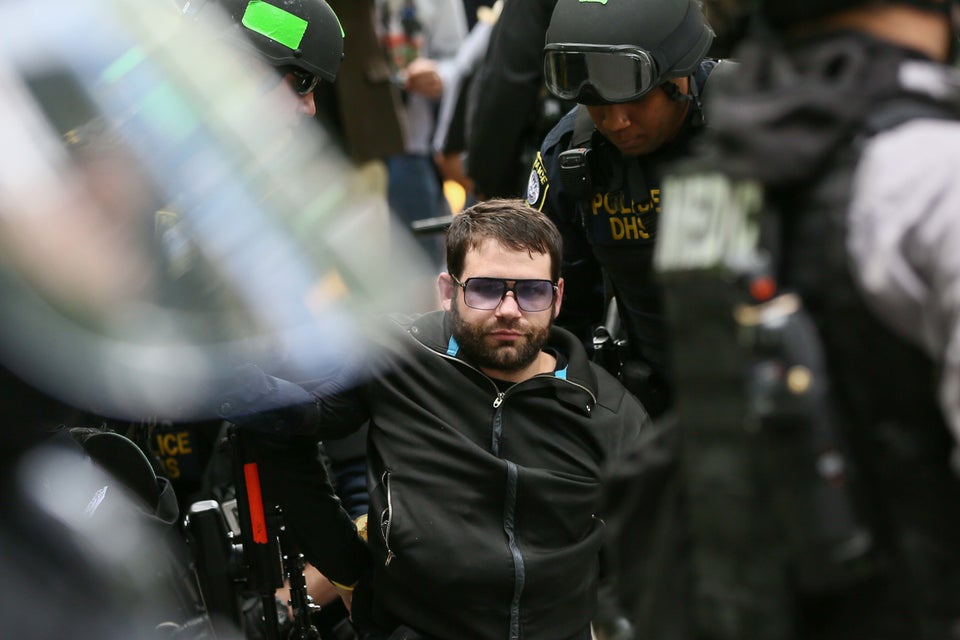 Alt-Right Protests In Portland