WASHINGTON ― In February, U.S. Capitol Police arrested six people for protesting during a confirmation hearing for the U.S. ambassador to Israel. But only two of the protesters, both Muslim men of Arab descent, face misdemeanor charges. The other four protesters, who are all Jewish, were allowed to pay a small fine or resolve the matter in traffic court.
Taher Herzallah and Kareem El-Hosseiny, the two Muslim men, were charged with misdemeanor unlawful conduct in Congress and now face a maximum penalty of $500 and up to six months in jail.
Herzallah and El-Hosseiny's lawyer, Ann Wilcox, plans to file a motion to dismiss the case on the grounds that it is based on racial, religious and ethnic bias, she said after a court hearing Thursday.
"For similar conduct, they should have been treated the same [as the other protesters]," said Wilcox, a member of the National Lawyers Guild.
Herzallah, El-Hosseiny, and the four other demonstrators were arrested on Feb. 16 after they interrupted David Friedman's confirmation hearing and urged lawmakers not to confirm the nominee. Friedman has supported settlements in the West Bank, spoken critically of the two-state solution, and compared liberal Jewish organizations to Jews who aided the Nazis during the Holocaust.
The six protesters behaved nearly identically. Each of them stood and spoke for about 30 seconds before security escorted them out of the room. Herzallah and El-Hosseiny, who are affiliated with the group American Muslims for Palestine, held up Palestinian flags as they spoke. Isaac Flegel-Mishlove, of the Jewish anti-occupation group IfNotNow, blew a shofar, a musical instrument used in Jewish religious ceremonies. His colleagues sang "We will build this world with love" as they were escorted out of the room. Tali Ruskin, of the anti-war group CodePink, wore a smock with "Stop settlements" written across the front.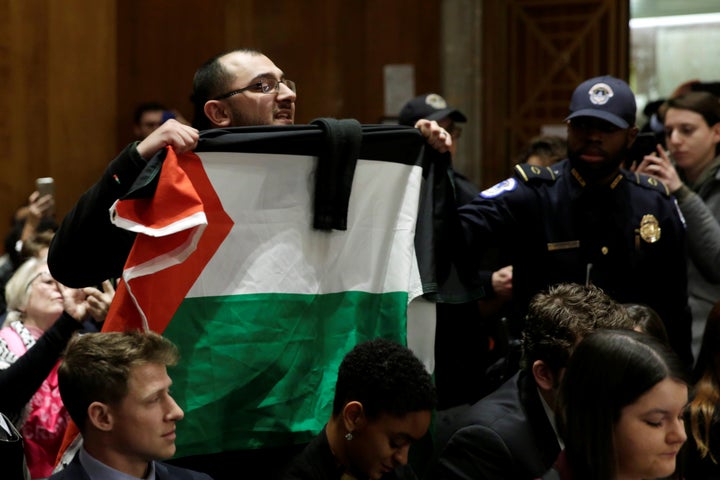 But the protesters received widely disparate punishments for their actions. Two paid a $50 fine the same day they were arrested. Another paid $35. Capitol police told Herzallah, El-Hosseiny, and Thomas Corcoran of IfNotNow that they were required to appear in court. A week later, Corcoran's case was moved to traffic court. But Herzallah and El-Hosseiny were charged with misdemeanors.
Herzallah and El-Hosseiny first appeared in court on March 1. They considered accepting a plea deal that would have banned them from Capitol grounds for four months and obligated them to do 32 hours of community service. However, they decided to reject the plea deal to fight what they believe is discriminatory treatment.
The six protesters kept in touch after their arrests and tried to figure out why they received different punishments for committing the same acts in the same place on the same day. They rewatched video footage from the confirmation hearing, looking for signs that any of them had been especially disruptive compared to the others. They say they don't see a reason why Herzallah and El-Hosseiny were singled out for harsher treatment.
At first, the group wasn't sure if the discrepancy in their punishments was the result of incompetence or prejudice. It took the officers nearly six hours to process the protesters after they were arrested. Over the course of the day, the officers appeared to change their minds several times about whether to fine the protesters or send them to court. One officer even asked El-Hosseiny if he had cash to pay a fine, he told The Huffington Post.
"They were arguing among themselves about what should happen with us," Herzallah said. "It seemed like the officers were either untrained or it was their first time dealing with this."
Capitol police did not respond to a request for comment.
When's Corcoran's case was moved to traffic court, the group began to believe that Herzallah and El-Hosseiny's religion or ethnicity had factored into their punishment.
"That to me is the most blatant example of racism and Islamophobic practices," said Lila Weintraub, who was arrested after demonstrating with IfNotNow and was fined $50 for her actions. "I can't really see any other reason why they wouldn't have all gotten the same charge."