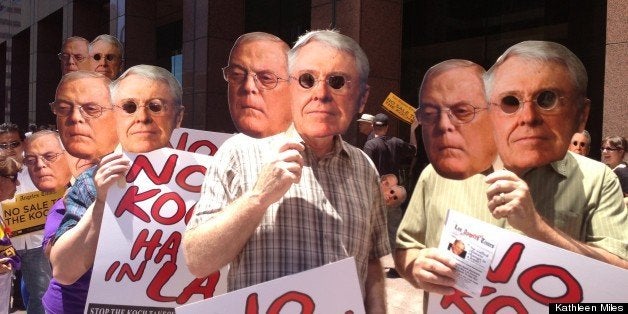 Hundreds of Angelenos, some wearing masks of the billionaire Koch brothers, marched in downtown LA Tuesday to protest the industrialists' possible takeover of the Los Angeles Times and other Tribune Co. newspapers.
Union workers, environmentalists and others chanted "Say no to Koch" and "No Koch hate in LA" outside the office of Bruce Karsh, chairman of the Tribune Co. and president of Oaktree Capital Management, the largest Tribune shareholder.
"These are the folks who underwrite the Tea Party ... who think that the gap between the rich and the poor is a good thing … who deny climate change," Roxana Tynan, executive director of the Los Angeles Alliance for a New Economy, told the crowd.
The libertarian brothers Charles and David Koch are believed the only group interested in buying all eight Tribune Co. papers, including the Los Angeles Times, Chicago Tribune, Baltimore Sun, Orlando Sentinel and Hartford Courant, as a package -- how Tribune would like to sell them. The Kochs have neither confirmed nor denied their interest.
"These are the folks who seriously call for abolishing Social Security. Let's let our retirees eat dog food. They want to get rid of all federal regulatory agencies," Tynan said.
"Who needs anything that protects regular folks like you and me from the worst successes of corporate life? These are the people who want to get rid of welfare ... [and] our public schools," Tynan continued.
Tynan and other speakers brought up the Kochs' anti-union efforts, particularly in Wisconsin and in supporting Prop 32, a recent effort to weaken unions in California. Six-time Grammy Award-winning musician Ry Cooder performed his rewrite of the union song "I Don't Want Your Millions, Mister," directed at the Koch brothers.
"All they care about is profit," Vernita Randall, an LA teacher participating in the protest, told HuffPost. "And they won't tell both sides of the stories. They'll be like Fox News."
Last week, about 25 Chicagoans protested possible Koch ownership of Tribune Co. papers outside the Tribune Tower. When their request to meet with Karsh was denied, they presented an oversized letter outlining their concerns about Koch ownership.
The LA and Chicago protests were led by a coalition of unions and liberal advocacy groups. Their campaign against a Koch Tribune Co. purchase includes numerous online petitions as well as ads on the Los Angeles Times and New York Times websites.
About one-quarter of the assets held by Oaktree Capital Management come from public pension funds. In a letter last week to Karsh, 10 public employee unions warned that a sale to the Koch brothers "would be adverse to the retirement security of public employees whose pension funds you are responsible for managing and investing."
Kathay Feng, executive director of California Common Cause, said protesters will gather on May 23 outside of Karsh's Bevelry Hills home. She said protestors have begun sending postcards to his house.
"He's the one who will make the decision," Feng said. "So we're taking the message to his doorstep."
Check out photos from the downtown LA protest: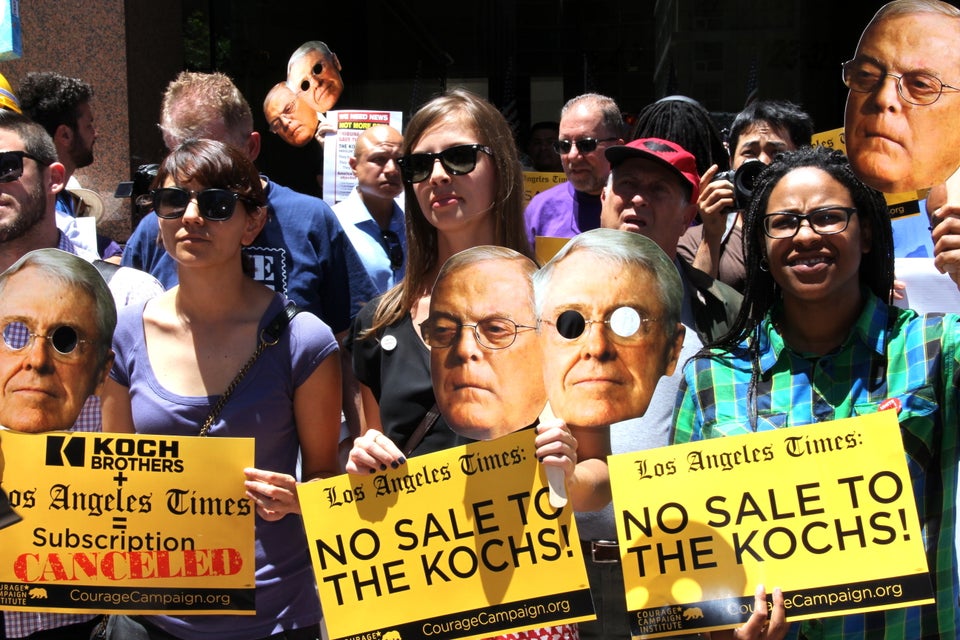 LA Protest Against Possible Koch Tribune Purchase
Popular in the Community