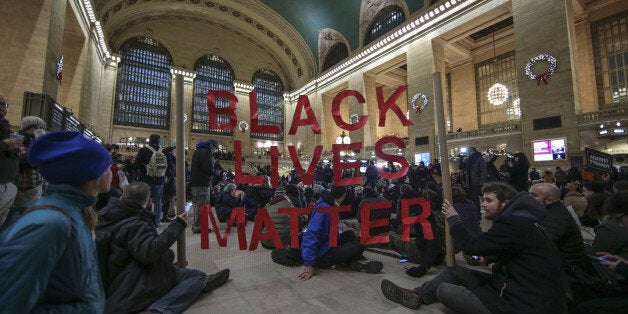 NEW York, Dec 7 (Reuters) - Organizers of New York City's protests against police violence huddled on Sunday to explore fresh ways to keep people engaged in the struggle, mindful that the tide of demonstrators has ebbed over the last couple of days.
One plan is to take the demonstrations to the Barclays Center sports arena on Monday, where Britain's Prince William and his wife Kate will see the Brooklyn Nets basketball team play against the Cleveland Cavaliers.
Feeding off the media frenzy surrounding the royal visit is just one of the ideas that protest organizers, some of them students, discussed at the West-Park Presbyterian Church on Manhattan's wealthy Upper West Side neighborhood.
"If it can get international coverage, it will make a huge difference," said Jonathan Laraque-Ho, 14, of Bard High School Early College in New York, who plans to attend the demonstration at Barclays Center on Monday evening.
So far, more than 80 people have said on a Facebook events page, called "Barclays Stadium, SHUT IT DOWN," that they will show up. (https://www.facebook.com/events/1524745644451705/)
The protests in New York and other U.S. cities began on Wednesday after a grand jury returned no indictment against the white police officer caught on videotape using an illegal choke-hold to subdue Eric Garner, an African American who died in the confrontation.
Demonstrators have demanded that police officers involved in the Garner case and in the shooting death of black teenager Michael Brown in Ferguson, Missouri, and in other cases be held accountable.
In the first three nights of protests, thousands of people took to the streets of Manhattan, blocking traffic and briefly invading Apple and Macy's stores. But few protesters were out on Saturday night, when a cold, steady rain fell in New York.
By contrast, crowds overnight threw rocks and attacked police in Seattle. In Berkeley, California, windows were smashed, stores looted and tear gas fired at protesters.
About 150 people came to the organizing session on Sunday afternoon in a meeting room behind the church organ's pipes.
The organizing group, the Stop Mass Incarceration Network, said that it was staging a "week of outrage" against "police murder, brutality and the criminalization of Black and Latino people."
Travis Morales, a representative of the Revolutionary Communist Party, said at the gathering that "America must be brought to a halt."
Demonstrators, he said, must make clear that "this holiday season, we have nothing to celebrate, nothing to be thankful for. As long as this continues to be business as usual, there can be no business as usual."
People at the gathering scheduled a meeting in Manhattan's Herald Square on Wednesday for unspecified civil disobedience, but would not share more specific plans or other dates.
Other demonstrations mentioned at the meeting include three scheduled for Dec. 13, in Washington, D.C., and in Union Square and Washington Square in Manhattan.
One man suggested sending someone to climb the Rockefeller Center Christmas tree to protest, but other organizers rejected the idea. (Editing by Frank McGurty and Eric Walsh)
Popular in the Community