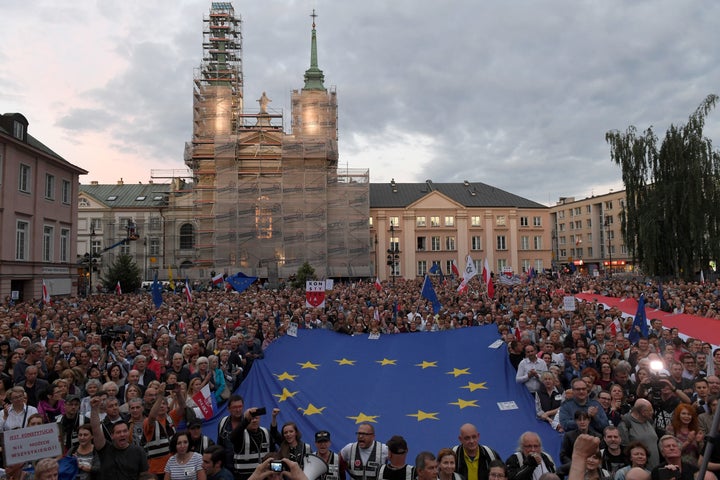 Tens of thousands of protesters took to the streets across Poland on Tuesday night and demonstrations continued into the next day as the government prepared to carry out a radical revamping of the country's Supreme Court.
Poland's ruling Law and Justice Party instituted a mandatory retirement age of 65 for Supreme Court justices earlier this year. Only the nation's president, Andrzej Duda, can make exceptions. The measure took effect at midnight, and will potentially force more than a third of the 72 justices off the bench.
Most notably, the measure will remove Justice Małgorzata Gersdorf, the president of the Supreme Court, whose six-year term was otherwise set to expire in 2020.
On Wednesday morning, Gersdorf defied the legislation and walked into the Supreme Court building for work. She was surrounded by hundreds of supporters chanting "constitution" and singing the Polish national anthem, Reuters reported.
"My presence here is not about politics, I am here to protect the rule of law," she said.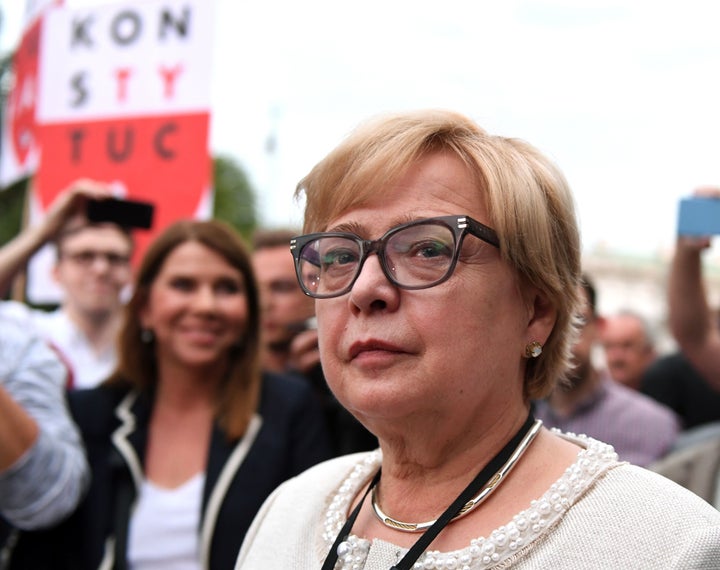 The purge is the result of a long-running clash between Poland's judiciary and its right-wing national government, which has accused the justices of obstructionism and has systematically worked to increase its own power over the country's legal system.
In the hours before the retirement age measure went into effect, protests erupted in dozens of cities around the country.
"We are here because of the destruction of the judiciary in Poland," one protester told The New York Times, as organizers distributed signs emblazoned with the word "Constitution."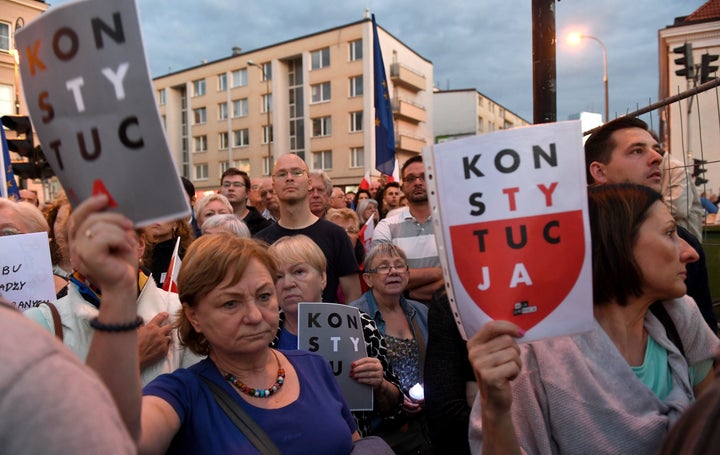 Last week, an assembly of Supreme Court justices responded to the pending purge by issuing a series of resolutions highlighting Poland's constitutional guarantee of judicial independence. The resolutions stated that Gersdorf and others facing forced retirement would not comply with the measure.
On Monday, the European Commission announced it was formally notifying the Polish government of the launching of a so-called infringement procedure over the mass dismissals.
"These measures undermine the principle of judicial independence, including the irremovability of judges," the commission said in a press release, "and thereby Poland fails to fulfill its obligations under Article 19(1) of the Treaty on European Union read in connection with Article 47 of the Charter of Fundamental Rights of the European Union."
The notice stated that the Polish government had one month to respond.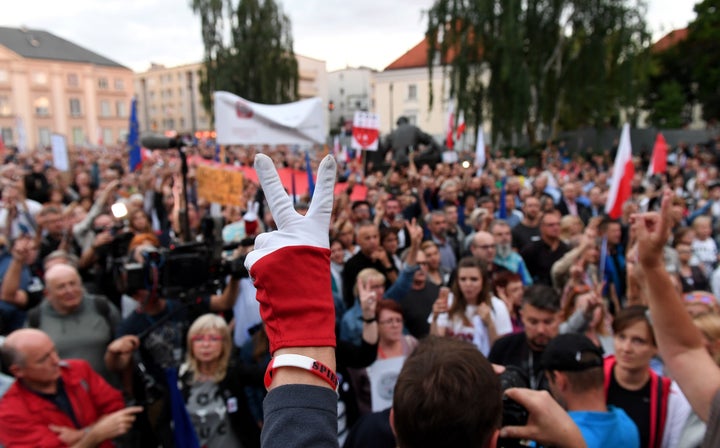 Gersdorf had said she planned to go to the office as usual on Wednesday.
"I will go to my office on Wednesday, but whether I will be let in is another matter," she told The Guardian on Monday. "It doesn't happen in well-developed countries that the executive and the legislative branches destroy the judiciary. With no guarantees of basic freedoms, the fundamental rights of Polish citizens will be destroyed sooner or later."
This story has been updated with details from Wednesday.
Popular in the Community