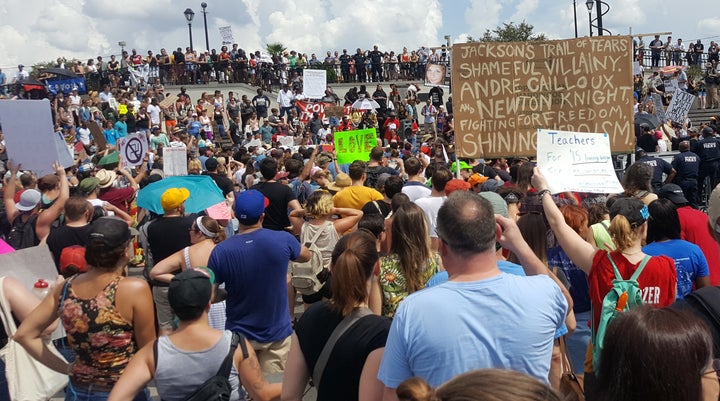 NEW ORLEANS ― Chants of "No Trump, no KKK, no fascist USA" echoed throughout the French Quarter on Saturday as thousands of people marched in a peaceful ― but loud ― protest against racism and white supremacy.
Under the scorching August sun, the demonstrators marched from Congo Square to Jackson Square, starting at 1 p.m. local time. They were led by Malcolm Suber, a New Orleans activist and member of the group Take Em Down NOLA, which advocates for the removal of racist symbols and monuments.
Suber told HuffPost the rally was organized for two reasons. "This is our solidarity with the people in Charlottesville, Virginia, as well as a notice to our local leaders that we want all statues dedicated to white supremacists taken down," he said.
On Aug. 12, a driver plowed into a crowd of pedestrians in Charlottesville, killing 32-year-old Heather Heyer and injuring 19 other people protesting white supremacists who were rallying in the city. 
Watch Suber speak during Saturday's protest in New Orleans, below.
The New Orleans march was one of hundreds of rallies that took place across the country to commemorate Heyer and show opposition to white supremacists. On the same day, tens of thousands of demonstrators showed up to protest a so-called "free speech rally" in Boston, forcing the rally to end earlier than scheduled.
Although dozens of law enforcement officers were on hand in New Orleans, no white supremacists showed up, and police did not make arrests this time, a New Orleans Police Department officer told HuffPost.
Suber said his organization is "not satisfied" with the city's removal of four Confederate monuments in April and May ― a response to the 2015 mass shooting of African-American churchgoers in Charleston, South Carolina. If other New Orleans monuments connected to white supremacy are not soon removed, the group will see to it that they also come down, Suber said.
"Just as they did in North Carolina, we will find a way to come and take them down ourselves," Suber said, referencing the toppling of a Confederate statue in front of the old Durham County courthouse on Monday. Nearly a dozen people have been arrested in connection with that incident.
In addition to removing certain monuments, Take Em Down NOLA is urging local authorities to rename schools and streets dedicated to white supremacists.
City officials have yet to respond to the demands protesters made at the rally.
"We are proud to carry the banner of freedom and liberation and to carry the banner of striking down these white supremacist symbols," Suber said.
PHOTO GALLERY
New Orleans March Against White Supremacy
David Lohr covers crime and missing persons. Tips? Feedback? Send an email or follow him on Twitter. 
Calling all HuffPost superfans!
Sign up for membership to become a founding member and help shape HuffPost's next chapter
BEFORE YOU GO