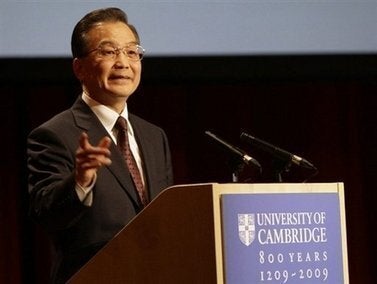 CAMBRIDGE, England — A protester threw a shoe at China's Prime Minister Wen Jiabao Monday while he was giving a speech at Cambridge University, police said.
The protester seated near the back of the auditorium stood up during Wen's speech and shouted: "How can you listen to this unchallenged?" before throwing a shoe that landed some distance from the premier.
Wen looked unruffled, paused a few seconds and then continued with his remarks. One of his aides quietly stepped on the stage, picked up the gray athletic shoe and removed it.
University officials quickly escorted the protester from the auditorium. Police arrested the man on suspicion of a public order offense.
"The university is a place for discussion, debate and considered argument, not for shoe throwing," said Tim Holt, a university spokesman.
The protester was taken to a local police station for questioning, police spokeswoman Shelly Spratt said.
In a similar incident, an Iraqi reporter threw his shoes at former President George W. Bush during a news conference in Baghdad in December.
Iraqi journalist Muntadhar al-Zeidi was scheduled to face trial in December on a charge of assaulting a foreign leader, but the court date was postponed after his attorney filed a motion to reduce the charges. He remains in custody in Baghdad.
Watch this CNN video of the speech.
Related
Popular in the Community