WASHINGTON ― Although Obamacare repeal appears to be down for the count, Democratic leaders encouraged activists to keep up the pressure at a rally outside the Capitol on Wednesday.
And judging by the protests at individual Senate offices shortly afterward, champions of universal coverage do not need much convincing.
Speaking at a rally of public school teachers and nurses organized by the American Federation of Teachers labor union, Democratic lawmakers mixed joy over the Senate GOP bill's apparent defeat with an appeal for vigilance.
"We have plenty of work to do. This is not over. This thing, like a zombie, keeps coming back to life. And we're going to bury it deep into the earth," said House Minority Leader Nancy Pelosi (D-Calif.).
Democrats' calls for vigilance are understandable: A bid to repeal Obamacare died in the House in March before being tweaked and then passing in May, thanks to a speedy, secretive whip effort by Republican leaders.
The Senate bill, already in its third or fourth iteration, could yet make a comeback, too, though it appears increasingly unlikely.
"I don't think it's done until we change who's in the Congress or we change who's in the presidency," AFT President Randi Weingarten told HuffPost.
The rally was limited to a few hundred AFT members who were in town for a union conference. A larger demonstration against the GOP health care bill outside the Capitol last month appeared to draw hundreds more protesters.
Weingarten argued that the union's members have a special insight on health policy because of their close contact with children and families who struggle to get medical care. She believes that the union's lobbying work contributed to the decision of three Republican women ― Sens. Lisa Murkowski of Alaska, Susan Collins of Maine and Shelley Moore Capito of West Virginia ― to announce their opposition to proceeding with an Obamacare repeal vote decoupled from an immediate replacement.
"They talked to us, and they were willing to hear what we were saying," Weingarten told HuffPost.
In addition to rallying union members against Obamacare, speakers denounced President Donald Trump and congressional Republicans' proposed budget cuts, which they argued would fall heavily on schools and other essential social services. The Trump budget, which functions as a blueprint for Congress, would cut federal funding for public schools by $9.5 billion while allowing $1 billion toward vouchers and other private education programs, according to AFT estimates of official data.
"I'm here today with one simple message: no budget cuts for public education," Sen. Elizabeth Warren (D-Mass.) told the crowd.
In a separate action that began while the rally was underway, activists mobilized by an array of progressive organizations held sit-ins outside the offices of Republican senators. Organizers of the coordinated civil disobedience, which included the Center for Popular Democracy and Housing Works, planned to have constituents of all 52 Republican senators risk arrest by blocking their office entrances.
The U.S. Capitol Police said in a statement that they responded to 45 locations in the Senate office buildings and had arrested about 155 people as of 5:45 p.m. Wednesday.
Outside the office of Sen. Pat Toomey (R-Pa.), more than a dozen Pennsylvanians stood, then sat down in front of the doorway and told stories of their difficulty acquiring health care and the pain that they expected the law's repeal would cause them. A crowd of supportive demonstrators repeated their words line by line in an Occupy-style human microphone.
One of the constituents who shared her story called herself Susan, a grandmother with HIV. Before the Affordable Care Act, she said, she was unable to obtain insurance for many years because being HIV-positive was considered a pre-existing condition.
"The Affordable Care Act saved my life," Susan said.
Once Susan and the other demonstrators had been sitting in front of the entrance to Toomey's office for several minutes, the Capitol police asked them to move twice and then arrested all of them.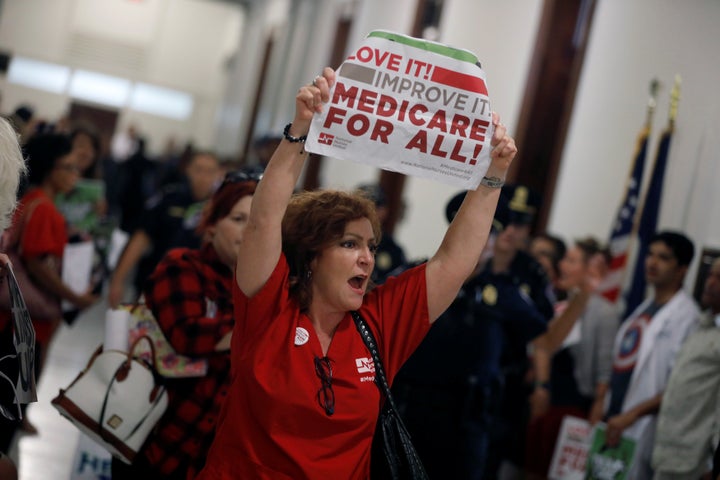 It is not clear whether the efforts helped persuade wary moderate Republicans not to back the repeal bill. Earlier this month, Collins, an early critic of the legislation, told The Washington Post she had received an outpouring of concern about the bill from her constituents and encouragement for her stance against it.
But the anti-repeal demonstrations were as much about the excitement of the Democratic base as they were about swaying Republicans ― and they reflected the diverse views among Democrats about how best to proceed if and when Obamacare repeal suffers its final blow.
The rally outside the Capitol and the loud, chant-filled arrests inside the Senate office buildings highlighted two very different, and arguably complementary, progressive strategies. The Senate demonstrators not only employed more disruptive tactics, they also were explicitly calling for the adoption of single-payer health care.
"We're ready to have full Republican support" for single-payer health care, deadpanned Tonya Cramer, a 44-year-old physician from Baltimore.
Madeleine Howard, a 27-year-old project manager who heard about the demonstration through the Boston chapter of Democratic Socialists of America, chuckled at the line. "Anytime they want to come [around to the idea]," she said.
Support for single-payer health care, a system in which the government insures all citizens, which is common in other developed nations, was until recently relegated to the far-left fringes of U.S. politics. But thanks to the 2016 presidential campaign of Sen. Bernie Sanders (I-Vt.) and the threat of Obamacare repeal, more Democratic senators have come around, including Warren and Kirsten Gillibrand of New York. Former Vice President Al Gore announced his support Tuesday night for government-provided, universal coverage.
But Democratic leaders in Congress have proved more reluctant to embrace the sweeping proposal. Pelosi said in May that, while she supports it individually, she believes the country is not ready and that she would like to see it enacted first on the state level. One such experiment was passed by the California state Senate only to have Democratic Assembly Speaker Anthony Rendon prevent it from coming up for a vote in the lower house in June, to the chagrin of many progressives.
In a sign that the mainstream wing of the Democratic Party may not be that far from the progressive edge, however, Rev. Charles King of Housing Works voiced his support for single-payer health care at the AFT rally. King, whose nonprofit group Housing Works helped organize the civil disobedience outside Senate offices, said he planned to join the demonstrators risking arrest after his remarks.
"We are going to be here every day, as often as we need," he said. "And we will go to jail as often as we need to go to jail to preserve Medicaid, to preserve Medicare, to preserve the Affordable Care Act and to fight for single-payer health insurance, health insurance for all."
Before You Go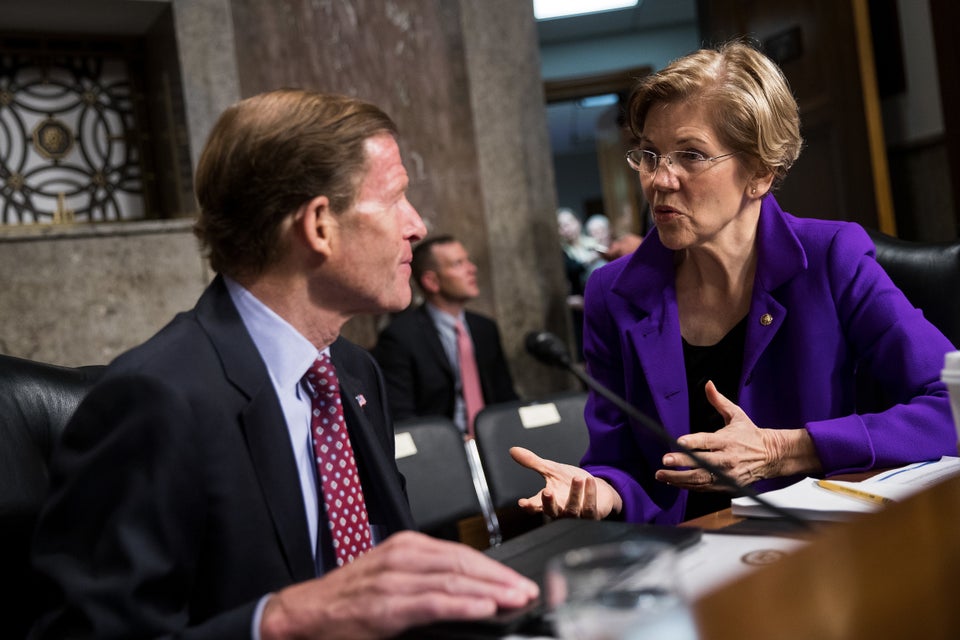 2017 Scenes From Congress & Capitol Hill
Popular in the Community