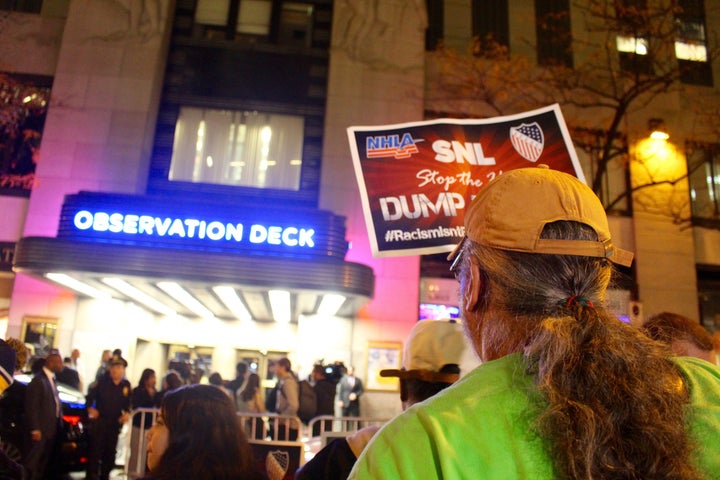 NEW YORK -- Several dozen activists gathered Wednesday in front of NBC's headquarters at 30 Rockefeller Center demanding the network rescind an invitation to GOP presidential candidate Donald Trump to host "Saturday Night Live" on Nov. 7 and vowing to pressure the network's advertisers to join their cause.
Tweeting with the hashtag #RacismIsntFunny, activists handed off petitions bearing more than 500,000 signatures asking NBCUniversal to find another guest host for this week's appearance, along with a letter to "SNL" Executive Producer Lorne Michaels and NBCUniversal President Steve Burke making the same demand.
The protest followed a flurry of pointed criticism from dozens of Latino advocacy groups and Hispanic politicians in recent weeks outraged that the network invited Trump to host "SNL" even after NBCUniversal severed its business ties with the candidate for describing Mexican immigrants as "rapists" who are "bringing crime" and "bringing drugs" to the U.S.
"[Latinos] do not want to see Trump's racism or his anti-immigration message being satirized," Escalante told The Huffington Post. "There's nothing funny about mass deportation. There's nothing funny about separating families. There's nothing funny about calling Mexicans 'rapists' and murderers. ... It's a very poor show of judgement and it's completely disrespectful to Latinos and viewers across the nation."
NBCUniversal did not respond to a request for comment.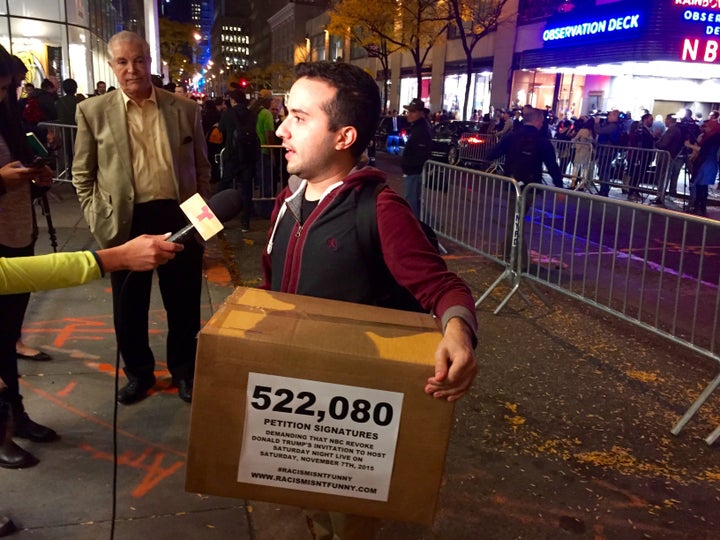 Corralled behind metal crowd control barriers at the south entrance to 30 Rockefeller Center, activists chanted slogans into megaphones like "Hey! Hey! Ho! Ho! Donald Trump has got to go!" and "Racism isn't funny," in both English and Spanish. Every now and then, an out-of-towner let out a cheer from a double-decker tour bus.
Off to the side of the main crowd, two people protested the protest, shouting demands to outlaw so-called "sanctuary cities" -- jurisdictions that limit their cooperation with federal immigration authorities.
"There's people here who are offended because someone who's running for president upholds American sovereignty," Diane Atkins, one of the counter-protesters, told HuffPost.
The chair of the New York Coalition of Hispanic Chambers of Commerce, Frank Garcia, told HuffPost that his organization had a historically strong relationship with NBC, and praised the network's diversity program. But he said he was disappointed in the network's willingness to continue offering Trump a platform even after severing business ties with him, and said his group would pressure advertisers with large Latino customer bases like Goya and the National Supermarket Association to stop advertising with NBC and Telemundo.
"That's the way we're going to hit them, through the economics," Garcia told HuffPost. "That's the only way that I think NBC understands."
Alex Nogales, the president and CEO of the National Hispanic Media Coalition and one of the rally's organizers, also said he would press the show's advertisers to pull out of Saturday's show.
"This is going to cost them," Nogales said. "They had a lot of goodwill from the Latino community when they cut ties [with Trump], and here they are bringing this guy back on, and making him look like a respectable, legitimate, non-racist. In fact, he's just the opposite."
"SNL" would not have invited a host who broadly characterized other minority groups as "rapists" or criminals, Nogales contended.
"If it were gays and lesbians, and he said anything like this about them -- if they were Jews, if they were blacks, you know very well that he wouldn't be on this show," Nogales said. "This shows a very unhealthy disrespect for Latinos."
Israel Ortega, a senior writer for Opportunity Lives who identifies as conservative, said he objected to Trump's comments about Mexicans, but stopped short of endorsing the campaign to pressure the network to boot Trump.
"The best way to show that the Trump rhetoric is not acceptable is to urge others not to watch on Saturday," Ortega told HuffPost. "But the idea of asking NBC to disinvite Trump just doesn't make any sense ... I can think of some more important areas where we could focus our attention as a community."
The controversy surrounding Trump's appearance on the show has done little to rattle the billionaire candidate, who boasted in an interview over the weekend with The New York Post that "SNL" had invited him to host the show because he'll bring eyeballs.
"It's called ratings," Trump said. "I go on Jimmy Fallon, he got his best ratings. One of the best nights he's had in years. Then I did Colbert's show. That got fantastic ratings. He beat Fallon by a lot. Since then, NBC and I get along great."
The Trump campaign declined a request for comment.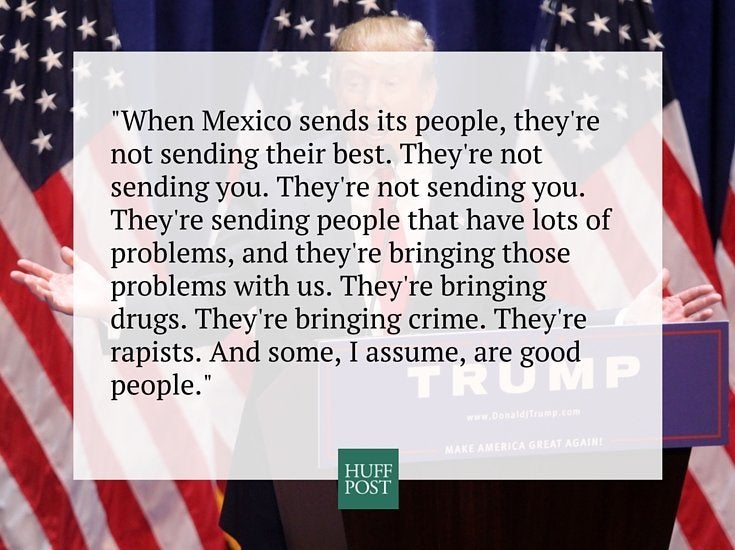 9 Outrageous Things Donald Trump Has Said About Latinos
Popular in the Community