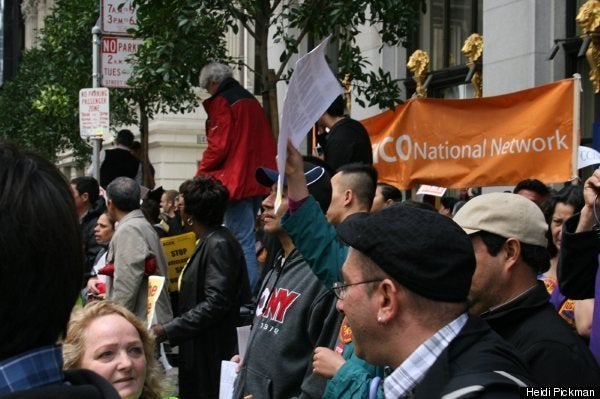 "Hey, hey, ho, ho - corporate greed has got to go"
"We Want Justice, We Want Justice"
"Wells Fargo, you can't hide, we can see your greedy side"
Those were among the many chants being sung by the large crowd that rallied in front of the Wells Fargo shareholders' meeting in San Francisco yesterday.
A coalition of 15 different community groups organized the rally to protest against Wells Fargo's recent lending policies. The coalition alleges that Wells Fargo was one of the biggest mortgage lenders of subprime and predatory loans in California.

"The American Dream has turned into the American Nightmare," said Reverend Dr. Mario Howell, a member of the PICO National Network. "We fear the grim reaper because he shows no mercy on this dire situation."
The coalition as a long list of demands for Wells Fargo that include a moratorium on all foreclosures until there's permanent loan modifications on 50% of eligible mortgages, offering all abandoned properties to local cities and non-profits to develop affordable housing, and the resignation of Jon Stumpf, CEO, among other demand.
Marilyn Reynolds participated in the rally. She bought her daughter and son-in-law a house in Buckeye, Arizona with a $179,000, 30-year mortgage loan from Wachovia at 8% interest. Reynolds says that three months later the house was appraised for $100,000 less and believes the original appraisal was fraudulent. "The broker wanted her commission and I'm stuck with this loan and I can't refinance." She is trying to modify her loan, but "all I get is the runaround,"
The Treasury Department says that Wells Fargo has modified - either permanently or on a trial basis - about forty percent of about 380,000 eligible loans in the Making Home Affordable program (HAMP) that began in May 2009. About 10 percent of those are permanent or about to be, and the number is growing. Many of Wells Fargo modifications are happening outside of the HAMP program.
Chris Hammonds, a spokesperson for Wells Fargo said, "From January 2009 through March of this year, Wells Fargo has done more than 520,000 trial and completed mortgage modifications."
Unsurprisingly, Wells didn't respond directly to the demands, but Chris Hammonds did offer this:
Wells Fargo cares and we recognize Americans are demanding more from their financial institutions during these difficult economic times. We're doing what we can to help our customers who may be feeling financial distress. We're also doing all we can to help with job creation, including last year alone Wells Fargo provided $711 billion in loans and lines of credit to help get the economy going again. Wells Fargo is top small business lender and among the most generous corporate givers with more than $202 million donated to nonprofits last year.
For the protesters, Wells and the other big banks are not doing enough. "The stagecoach is robbin' us," said Reverend Howell.
Popular in the Community