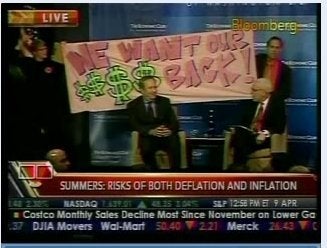 Larry Summers' address before the Economic Club in Washington D.C. on Thursday was interrupted for several minutes as a group of protesters jumped on the stage and held up a large sign behind Summers' head that said, "We Want Our $$$ Back!"
The protest came as Summers was addressing a question on whether a second stimulus would be needed, and it stopped the conversation in its tracks.
"Larry Summers is part of the problem," screamed one of the activists. "He is a toxic mess."
In the audience, another demonstrator began to shout out the money and positions that Summers had earned during his time outside of government. "$5.2 million, this man made working one day a week," screamed one.
The crowd, mostly business officials from D.C., offered applause at Summers' hefty earnings.
There was, it appeared, no security at hand, so the sign-holders remained on stage for a few minutes as they were showered with boos from the crowd. After being escorted away, one activist offered a final salvo: "Thank you, thank you, I speak for the people," she said.
Summers seemed to take it all in stride, and the event moderator followed the fracas by asking (to a big laugh) whether he ever had "second thoughts about coming back to Washington."
Right on time, a protester yelled: "Resign Larry, the people are asking you to give Obama a fair shot!"
Summers then deadpanned, "There are moments that are more pleasant and some that are less pleasant. ... Honestly, I felt honored to be asked by the president to help at this moment."
Popular in the Community