Residents of the Mexican border city of Tijuana protested the arrival of thousands of Central American migrants, who are hoping to seek shelter while they await an opportunity to enter the United States.
Mexican police in riot gear faced off against the group of protesters, estimated in the hundreds, outside of a sports complex that was turned into a makeshift migrant shelter on Sunday. They carried signs saying "no to the invasion" and, according to NBC News, implored the migrants to return home. Many expressed their concern that the group of migrants aren't legitimate asylum-seekers and could instead create a danger to their community. 
"You're unpatriotic to be protecting a bunch of drunks and meth-heads, stoners and drug addicts," one demonstrator shouted at police, The Daily Beast reported. "Your mother should have taught you better."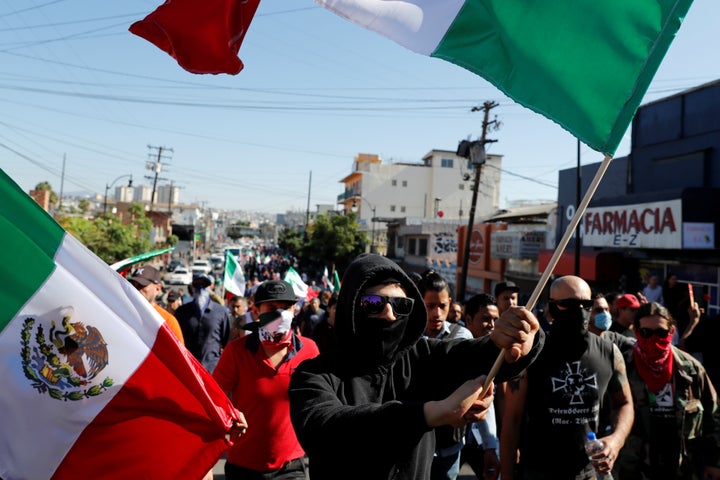 Opposition to the influx began last week, when migrants reported being pelted with rocks in the middle of the night and being shouted at to go home.
"We didn't come here to cause problems, we came here with love and with the intention to ask for asylum," Carlos Padilla, a Honduran migrant, told The Associated Press. "But they treat us like animals here."
A group of several hundred migrants, including LGBTQ asylum-seekers, were the first members of the caravan to arrive in Tijuana early last week. About 3,000 more have arrived since, with more expected in the coming weeks. Some of the city's residents have stepped up as volunteers, helping to provide the migrants with food, clothing and water. 
But Tijuana Mayor Juan Manuel Gastelum railed against the arrivals, complaining that the city isn't equipped to handle such an influx and estimated people would stick around for months as they wait for an opportunity to apply for asylum at a U.S. port of entry. U.S. officials are only processing about 100 applications per day.
President Donald Trump has also been attempting to derail the caravan for weeks, claiming it's rife with criminals and terrorists. He continued to press people to turn away from the U.S. in a series of tweets on Sunday:
Calling all HuffPost superfans!
Sign up for membership to become a founding member and help shape HuffPost's next chapter