Meet America's sisterhood.
In New York City, waves of people rallied in Manhattan to march toward Trump Tower. Train stations all over the city were packed with sign-toting protesters, and streets in Midtown were clogged with people.
Paul Williams, a 43-year old father of four daughters, brought the whole crew out for the historic march in the city.
"For my children's entire lives, they've known Obama and his progressive agenda," he said. "Having four black daughters, we've talked to them about civil rights. It's a bit of a jolt that now we have to work to make sure everything we've built doesn't go away under Trump."
His daughter, 7-year-old Zorra, said she was excited to be at the march, but also a little nervous because "there are so many people!"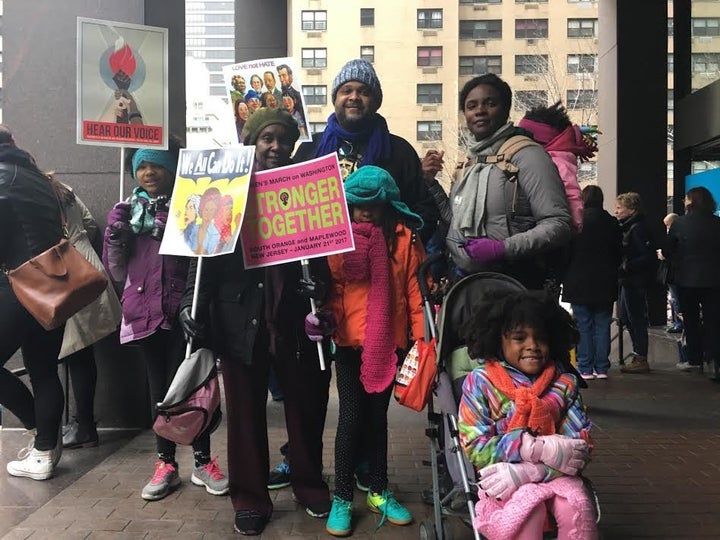 Protesters also came out to show their support for the LGBTQ community. Nick Reid, a 25-year-old gay black man, worries that under Trump, discrimination will be normalized.
"I already face discrimination every day, and now I think people are going to be more vocal about their hate," Reid told The Huffington Post.
Seattle, Denver, Miami, Los Angeles, Houston and other major cities saw similar crowds. Though many of the national numbers were estimates, several news sites reported that their cities were on track to make protest history.
"This march and its global scale … we haven't seen something like this," Margaret O'Mara, an associate professor of political history at the University of Washington, told The Seattle Times.
Rail services and other public transportation were at a standstill in major cities on the East Coast as hopeful demonstrators purchased last-minute tickets to various events, according to The Associated Press.
Sisters Christina and Elizabeth Kim, 26 and 15, marched in Los Angeles to support undocumented immigrants. They're undocumented themselves, and said they hoped to show Trump that they are "hard-working people who hope to make this country a better place."
Christina, who's pursuing a Ph.D. in musicology, told HuffPost: "I'm here because I believe Obama has let me go to my dream school, UCLA. I am incredibly thankful for his help and the help of countless others who have let my dreams come true."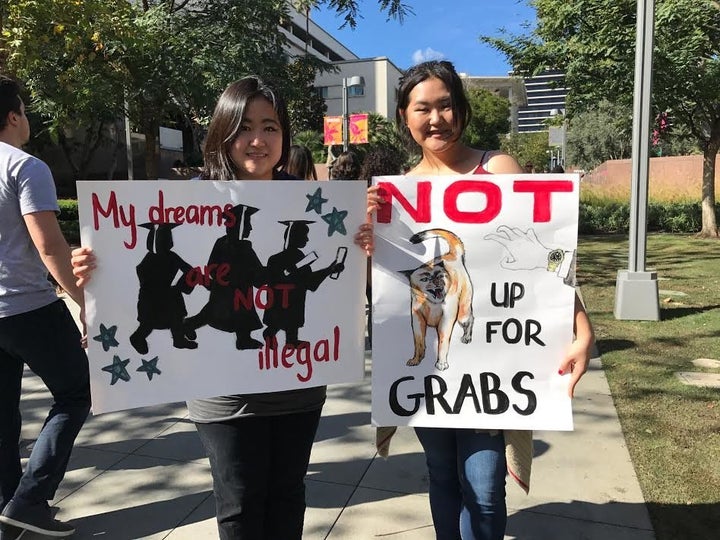 Even in smaller jurisdictions, people accumulated in the thousands. In Bellingham, Washington, protesters assembled with Canadians who'd crossed the border to show their support, according to Carolyn Nielsen, a journalism professor at Western Washington University.
The grassroots women's march movement began on election night, when a grandmother in Hawaii created an event on Facebook in the hopes of gathering people to protest Trump's win. Forty of Teresa Shook's friends agreed to march in Washington, D.C., the day after Trump's inauguration. By the next day, 10,000 people had signed up.
"Our mission is to provide a safe and accepting platform for supporters of equality to rally and march in promotion of civil rights for every human regardless of gender, race, sexual orientation, ethnicity, disability, religion or creed," Katherine Siemionko, the chief coordinator for the New York's Women's March, said in a previous statement.
In the months following Trump's electoral win, people outraged and frustrated over the future of the country have made periodic pilgrimages to Trump Tower. The day after the election results were announced, thousands of people swarmed the building in protest. And they did it again. And again. And on Saturday, again.
Friday, the day of Trump's inauguration, pockets of violence sprang up with the protests in Washington, D.C. Some people smashed the windows of local businesses and set a car on fire. More than 200 people were arrested.
Flights to the nation's capital over the last few days were packed with women ready to protest.
Those traveling to the nation's capital on Southwest Airlines were treated to a show of solidarity when the flight crew turned on pink lights.
"It was unexpected and unannounced," passenger Jennifer Moran told NBC news. "There was no announcement explicitly from the staff and no one screamed this is for the March. Nothing, just spontaneous and everyone knew exactly why they were cheering."
Sebastian Murdock and Kate Auletta reported from New York City. Anna Almendrala reported from Los Angeles.
This story has been updated with additional quotes from protesters and experts.
Before You Go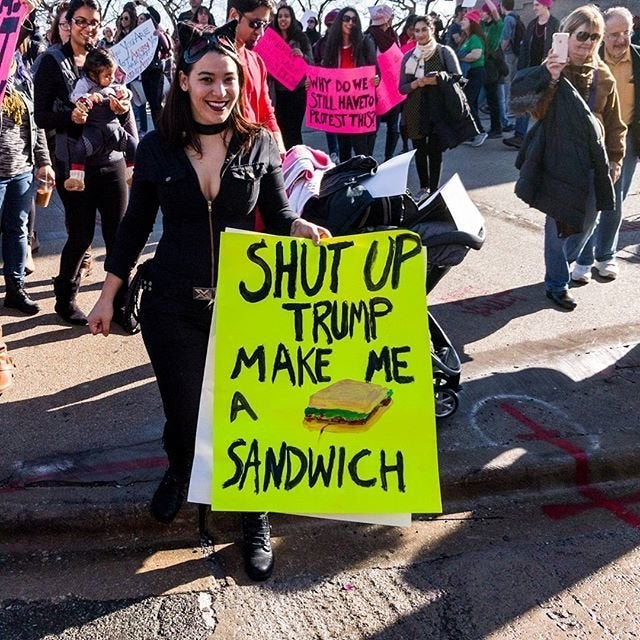 Signs from 2017 Women's Marches
Popular in the Community