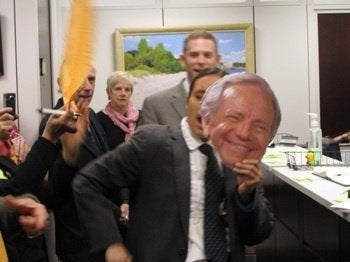 Protesters returned to the office of Sen. Joe Lieberman (I-Conn.) on Tuesday, staging a theatrical demonstration and urging the senator to stop taking money from health insurance corporations. Six demonstrators were arrested after spreading fake dollar bills throughout the building showing Lieberman's face and the words "Insurance Money Kills Democracy."
About a dozen demonstrators came to the Senate's Hart office building in the morning and asked Lieberman's aides to bring him out to pledge to stop accepting campaign contributions from insurance companies. Lieberman had left his office a matter of minutes before the protesters arrived, on his way to a Homeland Security and Government Affairs Committee hearing.
After being denied a meeting with the senator, one protester pulled out a cardboard cutout of Lieberman's face and marched throughout the building, pretending to return insurance company contributions. She scattered fake money in the hallways and into the building's large foyer. "I've had a change of heart," she yelled, "Senator Lieberman's giving the money back; he doesn't need it anymore!"
She then went back to the office, and joined other demonstrators who refused to move until they were granted an audience with the legislator. Capitol police were at the office within minutes, and five protesters were arrested as they sang songs about universal health care and accused Lieberman of selling out his constituents.
Among the arrested was Sam Pullen, 31, who said that his mother was denied a lifesaving bone marrow transplant by an insurance company. Pullen was previously arrested during a sit-in at the Los Angeles office of Blue Cross.
"I think that he heard our message loud and clear that he should stop taking insurance money donations," said Lacy MacAuley, spokeswomen for Mobilization for Healthcare for All. "The days are numbered that senators are going to be able to keep on accepting large donations from insurance companies at the same time that those insurance companies are sitting there denying people care."
UPDATE: A concurrent sit-in was organized at Lieberman's Hartford, Conn., office. Four protesters were arrested, according to the local NBC affiliate.
Popular in the Community