Depending on where you hang politically, a Donald Trump penis costume is either nutty or ballsy.
The group's mission is to protect and promote freedom of speech and religion, especially the separation of Church and State.
Church members dressed as members are planning to wear the Trump tallywacker during today's Florida primary. However, such a display provokes all sorts of reactions.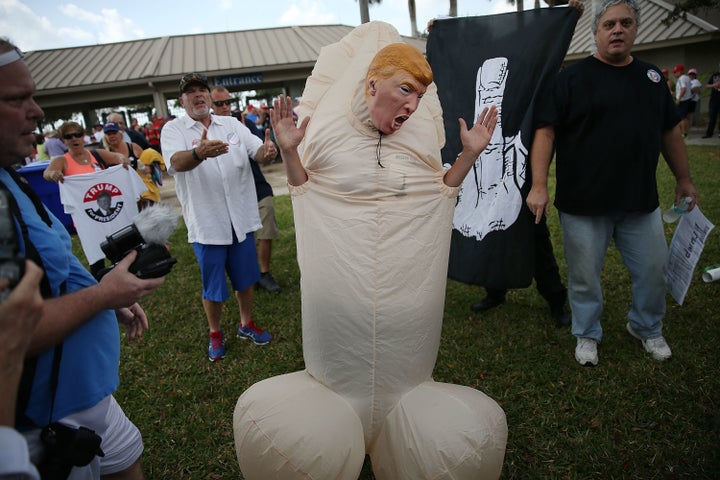 Group leader Chaz Stevens said a church intern wore the costume at a Trump rally in Boca Raton on Sunday and "it was surreal."
"The guy in the costume walks 100 feet when suddenly you hear, 'Is that a 6-foot-tall penis?'" Stevens told HuffPost. "You have to understand, this is a tight costume and the testicle waddle."
Stevens said the giggles kept coming until the oddly dressed intern got near the entrance of the arena.
"Then the tone changed," Steven said. "People said we had no right to be there, even though we were doing everything legal."
Stevens says one presumed Trump supporter was so angry at seeing the face of his chosen candidate glued to a giant penis that he tried to tear the costume to shreds.
"I said, 'What the f*** are you doing? That's assault!'"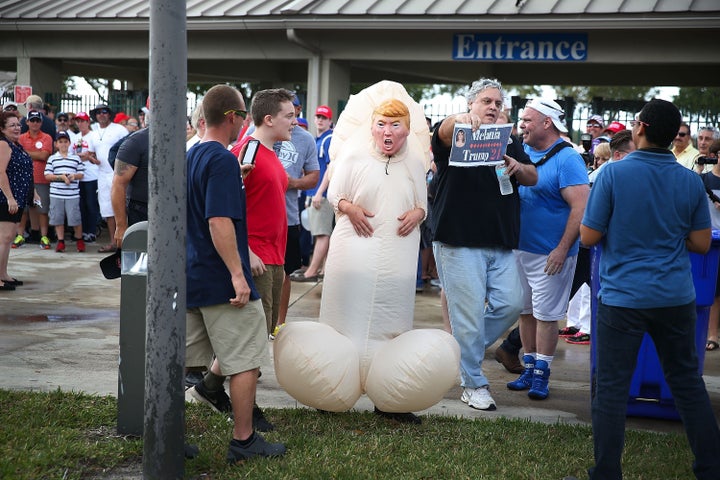 Stevens and his penis-clad comrade managed to avoid injury, but he said he's been warned about wearing the penis outfit on primary day.
But Trump may not be able to avoid seeing his mug on a giant member.
Stevens claims he's buying up as many giant penis costumes as he can and has already sent six of them to Trump's Mar-A-Lago club in Palm Beach.
Calling all HuffPost superfans!
Sign up for membership to become a founding member and help shape HuffPost's next chapter
BEFORE YOU GO