On Wednesday, April 20, 2016, I joined my friends Cheryl Laux and Linda Porter at the Indiana State Fairgrounds in protest of GOP presidential candidate Donald Trump's appearance in Indianapolis.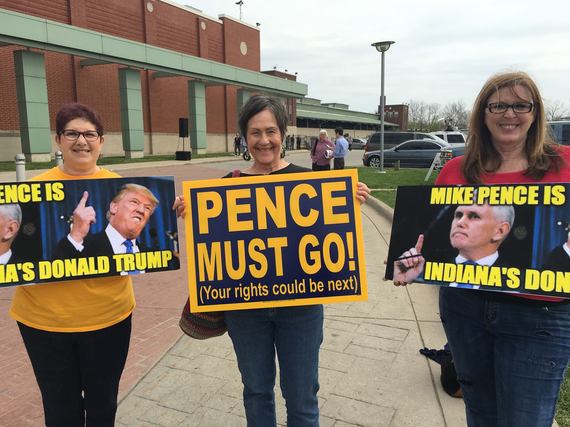 Cheryl, Linda, and I are middle-aged women who are local advocates for various causes - we support women's rights, LGBT rights, the unions, and climate change. Two weeks ago Cheryl and I organized a major Rally for Women's Rights at our statehouse that saw over 3,500 in attendance.
We decided to protest Trump's appearance because we had learned that Trump was going to meet with our governor Mike Pence before the rally. Pence is on our shit-list and we are actively trying to push him out of office. As Cheryl explained to reporters today, Trump and Pence have similar platforms regarding women, LGBT's, and immigration, to name a few. Pence recently signed one of the worst anti-abortion bills in the country. Trump suggested that women who obtain abortions should be jailed. Pence refused to allow Syrian families to resettle in Indiana. Trump wants to deport millions of immigrants.

We arrived at the fairgrounds a bit early. We were a bit nervous because we'd heard that Trump rallies often become violent, but we saw security guards, police, and the FBI milling around. We positioned ourselves outside of the pavilion where the rally would occur, and held up our signs.
Since we were the only protesters there so far, the media made a bee-line to us. We were interviewed by TV and newspaper reporters. We explained why we were there and what our message was.
We also learned that not everyone who came to the rally are Trump supporters. We met some high school students who were given the day off in order to attend the rally -- what teenager doesn't want a day off from school? Others attending were protesters like we were, and who were curious to see what a Trump rally would be like. And of course most of them were Trump supporters. Quite a few of them brought their children. It's never to early to brainwash your children!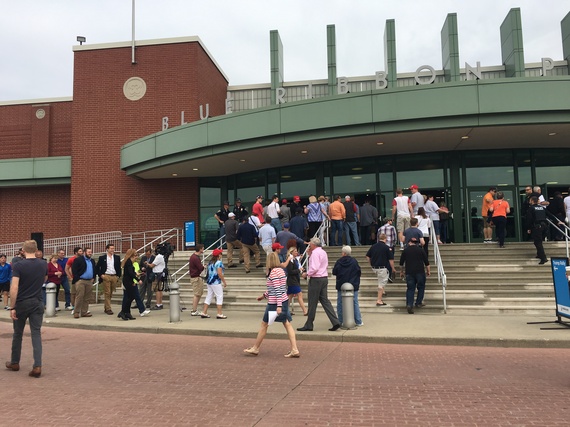 After a few hours more protesters began to arrive. One of them was a young woman who carried a sign with a swastika on it, proclaiming Trump to be the next Hitler. I was offended by that sign and distanced myself from her and her friend. And whereas Cheryl, Linda, and I were quiet and respectful as people entered the pavilion, some of the young people yelled and taunted the Trump supporters. Again, I did not approve of this and kept away.
As I said before, people came in a steady flow, but it was not overwhelmingly crowded. I remember the Obama and Hillary rallies I attended in the past and they drew so many more people! And Cheryl was laughing when we heard a man over the loudspeaker implore the people inside to chant "Trump, Trump." You would never have to beg people to do that for Obama or Hillary!
We were still outside when the rally began. By that time even more protesters had assembled. There was much more diversity among our group than among the rally-goers! One young Latino woman spoke to a reporter why she opposed Trump and his would-be policies. We also stood with African-Americans, gays, and of course women. Someone had a megaphone and we formed a big circle and began chanting. It was all very peaceful, despite the fact that someone with an anti-abortion sign was taunting us and asking if there were any "homosexuals" among us.
Cheryl, Linda, and I left at 3:00. When I got home I began reading news accounts of the rally. One comment that Trump made caused me to become very angry. Trump was quoted as saying that "the protesters gathered at his rally this afternoon don't seem very defiant." "I'm a little disappointed in Indiana," he said.
What did Trump mean? Was he disappointed that Cheryl Laux, Linda Porter, and I didn't carry on like lunatics? Was he disappointed that one of us didn't engage in a shouting match with a Trump supporter? Was he disappointed that I didn't punch someone out? Trump has said he does not think he has inspired any violent actions. "I hope not, I truly hope not," he said. For someone who claims that he doesn't have anything to do with the people causing trouble at his rallies, he sure is passive-aggressive.
Donald Trump is disingenuous! In reality he loves the yelling and arguing and discord that he foments. He urges his followers to engage in hateful rhetoric and violence.
This evening I learned that one of my friends was arrested at the rally. A man sitting near her yelled a racial slur at her, so she answered him back. SHE got arrested for defending herself - using words - nothing more! Who was this man and why didn't HE get arrested? She had every right to be at that rally - and yet found herself being handcuffed for simply defending herself! She was told that she cannot enter the Indiana State Fairgrounds for one year!
So I need to apologize to Donald Trump for behaving like a lady today. And I suppose that my friend needs to apologize for behaving like a lady when she was verbally attacked. I imagine that Trump would have loved it if she had hit the man who verbally abused her. Or if I had yelled obscenities to people walking into the rally. Trump is really an instigator. He likes to play mind-games. However, that type of behavior is NOT presidential. If Trump was disappointed because three middle-aged women were not defiant enough to his supporters at a rally, I cannot imagine how he would behave as the leader of the free world. It's too scary to imagine!
REAL LIFE. REAL NEWS. REAL VOICES.
Help us tell more of the stories that matter from voices that too often remain unheard.