This protest had serious spirit.
An estimated 2,000 demonstrators took to the streets of Atlanta on Saturday to peacefully protest the racism and hate on display the previous week in Charlottesville, Virginia. Demonstrators also expressed their frustrations at President Donald Trump, who inflamed tensions with comments that blamed "many sides" for the violence in Charlottesville and for saying that "very fine people" were among those attending the white supremacist rally there.
Saturday's peaceful march from the downtown Atlanta area to the tomb of Martin Luther King Jr. included a unique chant directed to the president.
"Move Trump, get out the way," protesters sang. "Move Trump. Get out the way, Trump, get out the way."
That's a riff of the hit song "Move Bitch" by Ludacris.
Atlanta was one of many anti-racism protests held across the United States on Saturday, spurred in part by the death of Heather Heyer, 32, when a white supremacist allegedly drove a car into a crowd of counterprotesters in Charlottesville.
Atlanta had no reports of counterprotesters or arrests during the march across the city. Organizers expressly told anyone who had intentions of sparking violence to leave before the march started, according to the Atlanta Journal-Constitution.
"Right now is the time to make sure our voices are heard,"Jamae Morris, a local teacher who brought her 12 -year-old daughter, Amari, along with her to the march, told the newspaper. "I wanted her to know that her voice is important too."
Ludacris posted a birds-eye view of the march to his Instagram page, where the rapper expressed solidarity with the #MoveTrump group.
Before You Go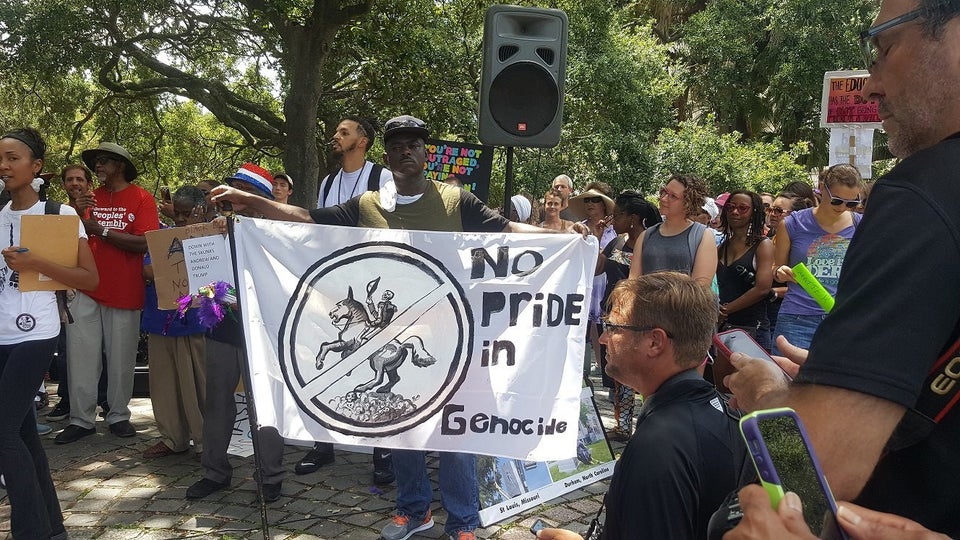 New Orleans March Against White Supremacy
Popular in the Community