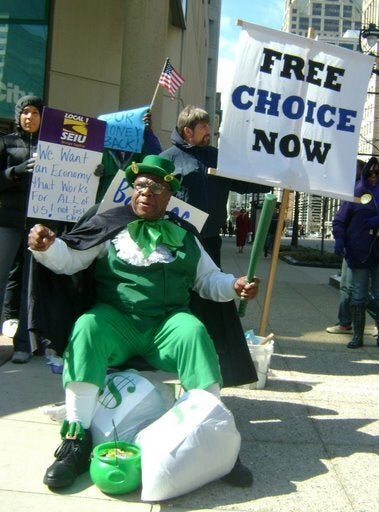 Reporting by Natasha Chen, Daniel Howes, Karen Kilpowicz, Pamela Mays McDonald, Linda R. Monk, Dorothy Noble, Elizabeth Ross, Jim Stevenson, Betty Teng, and Gerald Trumbule. Sign up here to become a HuffPost citizen journalist.
Protesters took to the streets on Thursday to express their outrage over the bonuses being dolled out by firms that received billions in taxpayer dollars. The nationwide demonstrations, organized by groups including Service Employees International Union, MoveOn.org and ACORN, featured events in 32 states and over 100 cities.
Huffington Post readers from across the country shared ground-level reports from 11 cities. Gatherings ranged from only a couple protesters to over a hundred, and while anger over executive excess was pervasive, the message in each location differed to address the financial strife facing local workers.
In one of the day's largest gatherings, over 100 people marched in front of American International Group's K Street offices in Washington D.C.
President Andy Stern spoke at the building's entrance, looking like a member of TV's Prize Patrol Sweepstakes, with a supersized "reality check" made payable to AIG executives, reports citizen journalist Linda Monk.
"We're here today because after 25 years of corporate excess, of greed, of speculation, these corporate leaders have brought the greatest economy on earth to its knees," he said. "It is time to end an economy that only works for some and make an economy that works for all."
Stern also demanded improved health care and passage of the Employee Free Choice Act, which would make it easier to organize unions, reports monk.
The day's other 100-plus-person event took place in San Jose, where mostly janitors who are members of SEIU turned out to protest in front of Cisco Systems. Natasha Chen writes that while the protesters supported the national goal of spotlighting executive excesses and passing the Employers Free Choice Act, the day primarily focused on the more immediate problem of massive layoffs:
According to the SEIU, about 50 percent of Cisco's janitorial staff has been laid off since last November, compared to 10 percent of Cisco's thousands of other employees. Approximately 70 people have lost their jobs in total, the majority of whom are women.

"We have to fight back because the job cuts are unfair and unjust," said Mike Garcia, president of Service Employees International Union Local 1877. The remaining hundred janitors clean up after the same number of employees, essentially doubling their workload while receiving the same pay. Those who are still employed have been given 30-pound vacuum packs to help them finish the work faster, according to Garcia.
In Greensburg, Pennsylvania, Elizabeth Ross reported on a handful of protesters who marched outside Merrill Lynch.
"I'm fed up with taxpayers' money being wasted," Kevin White, organizer of the Greensburg, PA protest said. He was hoping that more would be joining him to spread the word at the door to an office building where a small Merrill Lynch investment office is located.

A couple fellow members of SEIU, and a minister who was equally annoyed with the way TARP funds have been handled by A.I.G joined Kevin. They were not satisfied with the current talk of voluntarily returning funds, public listings of executives' names, or high tax rates on the bonuses. "I never got a bonus," Kevin continued. "We're out here struggling to make ends meet. It's downright criminal."

In spite of the frustrations over the current situation with A.I.G., the protesters seemed willing to recognize that bailouts in general could be necessary. "Next time around, set rules," Rev. Ted Erickson stated, echoing the papers the protesters were handing out to people as they entered the building. The handouts were calling for "Strong banking reform to make sure the financial services industry can never again bring our economy down by prioritizing huge profits and executive pay over responsible lending"

The protesters remained outside as I went inside to get a comment from anyone in the Merrill Lynch office. Employees were aware of the protesters, but could make no comment. I received a statement from a Bank of America employee on behalf of Merrill Lynch: "Bank of America respects the right of the people to voice their opinions. Bank of America is lending because of TARP funds, to both individuals and businesses. We do not intend to ask for more funds, and will pay back TARP fund as soon as possible," Ann Pace stated.
Denver, the site of the Democratic National Convention in 2008, held a protest of four. Gerald Trumbule, says "I often wonder what it will take to get the people of Denver riled up. Apparently 10 trillion down the rabbit hole (so far) is not enough." Trumbule produced a video of the gathering.
Pamela Mays McDonald reported on San Francisco's demonstration, where over one hundred spilled onto Montgomery Street in the city's Financial District.
At issue was the fact that Wells Fargo Bank, after receiving a $25 million Federal bailout, has joined other financial institutions to fight the Employee Free Choice Act introduced by Bay Area congressman George Miller and Senator Ted Kennedy in February.

After forty-five minutes at the Wells Fargo Bank location, protest organizers led the group on a brief march to a building on nearby California Street, the second-highest skyscraper in San Francisco and the former headquarters of Bank of America, where the original group was joined by another group holding signs and chanting. At this second location, the protest shifted its full attention to a condemnation of insurance behemoth AIG and its controversial executive bonus program. Apparently, AIG maintains offices in that building and others in the surrounding blocks.

Protesters chanted, "AIG, you can't hide, we can see your greedy side". Today being a glorious, sunny day with temperatures in the 70s, a multicultural group of workers from inside the building sat on the building's wide, distinctive, carnelian granite steps, quietly eating their lunches. When asked if the noisy protest disturbed their break, one group of young office workers shook their heads, saying "Of course not! We agree with them."One young woman in the group, commenting on the bonuses, suggested "There should have been more research before they gave the banks that money. This whole thing was done without our voices". A young man suggested that the fault for the country's financial mess rested with the Federal Reserve Bank, "They should go to that building over there, the Fed. It's their fault. They created this mess...all this "free" credit; they were taunting people with money and the idea that there would always be more money".

Asked if the nation's financial difficulties and the bailout controversy had in any way dimmed their support for the new President, the entire group shook their heads. They did not blame the current administration at all. Another member of the lunchtime group spoke up, "No, it's not his fault. He just got in there. Let him do something first; let him work first."
In Seattle, approximately 30 people protested in front of AIG's offices despite the rain. Daniel Howes reports that an hour into the demonstration
the group moves into the parking garage and heads for the elevator. An officious looking woman finds us and informs us "this is private property. You need to leave." Two bicycle cops and a scrawny security guard accompany her. They insist again that we leave, but we all pack into the elevator and head for the building's lobby.

A leader of the protest goes to the front desk, saying we've got an appointment with AIG, and asks to go to the 16th floor. The security continues to deny us, and eventually we voluntarily expel ourselves from the building.
In Hollidaysburg, Pennsylvania Dorothy Noble attended a protest of just over a dozen locals.
Asked if she thought change would happen, one demonstrator thought a minute and said, "If you sit and do nothing, nothing changes." SEUI combined the populist protest against bonuses with their core political issue of passing the Employee Free Choice Act. People held signs call for "Real Change" and for "Workers Choice".

SEIU organizer Danette Staruch said, "Wages are stagnant. It's time to bring money back into the workers' hands."
Support HuffPost
The Stakes Have Never Been Higher
Popular in the Community