WASHINGTON, April 21 (Reuters) - Hundreds of demonstrators gathered in Baltimore on Tuesday to protest the death of a 27-year-old black man who died after being arrested by local police.
The U.S. Justice Department is looking into the case of Freddie Gray, who was arrested on April 12 and a week later in a hospital after slipping into a coma, a spokeswoman said.
A preliminary autopsy showed Gray died from a spinal injury.
Baltimore police have identified six officers who have been suspended over the death, which sparked outrage in the largely black city and renewed concern about law enforcement treatment of minorities in the United States.
The crowd of protesters gathered on Tuesday evening outside the city's Western District police headquarters and marched to the spot a few blocks away where Gray was arrested, according to aerial footage on local television.
The protest was peaceful and was winding down at about 9 p.m., CNN reported.
Officers arrested Gray because he fled when they approached him on a street, an incident captured by bystanders' video recordings.
They found a switchblade knife in his pocket and put him in a police van for transport to a station. When Gray was taken from the van, he was unresponsive and transported to a hospital.
Demanding "Justice for Freddie," the protesters were calling for the six officers to be charged with first-degree murder, according to CNN.
They could be seen raising their hands in the air, in what has become a protest sign since the August 2014 death of Michael Brown by a white police officer in Ferguson, Missouri.
Some witnesses said Brown, an unarmed 18-year-old black man, had put his hands in the air and said "Don't shoot" before he was killed. The U.S. Justice Department in a report later said it could not confirm those accounts and said they were not credible.
In the Baltimore case, a Justice Department spokeswoman said: "Based on preliminary information, the Department of Justice has officially opened this matter and is gathering information to determine whether any prosecutable civil rights violation occurred."
Police identified the officers suspended with pay as Lieutenant Brian Rice, 41, Sergeant Alicia White, 30, Officer William Porter, 25, Officer Garrett Miller, 26, Officer Edward Nero, 29, and Officer Caesar Goodson, 45.
Gray's death follows a series of killings of unarmed black men by white police. The deadly encounters include incidents in New York City and North Charleston, South Carolina.
(Additional reporting by Ellen Wulfhorst in New York, Suzannah Gonzalez in Chicago and Julia Edwards in Washington; Writing by Ian Simpson; Editing by Lisa Von Ahn, Ted Botha, Sandra Maler and Leslie Adler)
Before You Go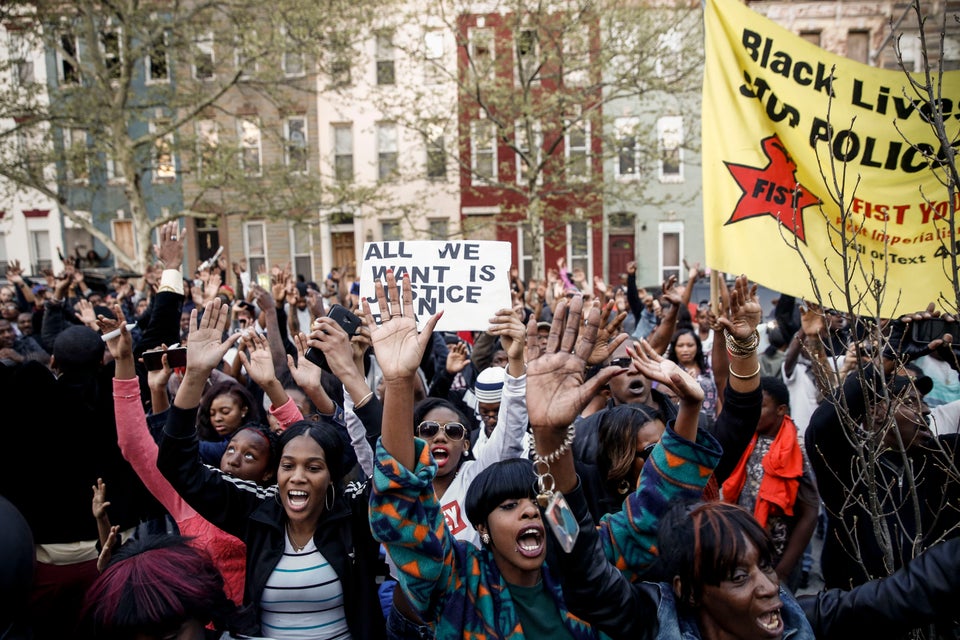 'Justice For Freddie Gray' Protests
Popular in the Community