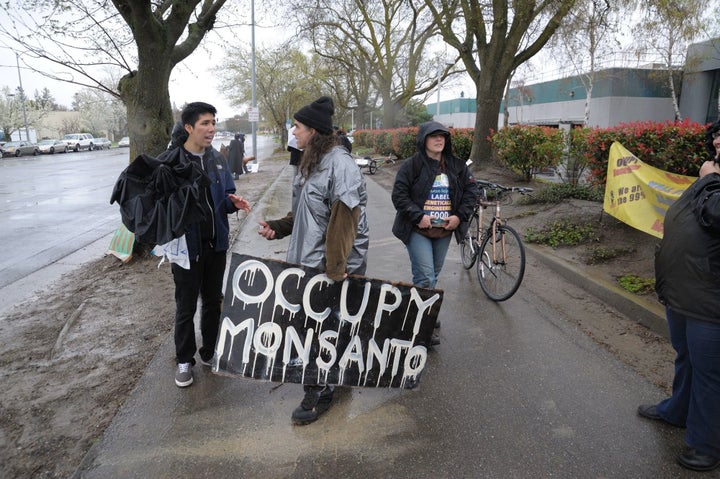 A coalition of activist organizations demonstrating at the Monsanto office in Davis CA. successfully caused a shutdown of the multinational chemical and biotech company offices there on on Saturday, March 17.
The shutdown took place on the first day of a planned weekend of activities in Davis, intended to spotlight and oppose the activities of Monsanto in this country and abroad. Upon announcement of the shutdown, Monsanto instructed employees to stay away from work.
Monsanto is known for developing controversial chemical products for farming, landscaping and pest-control such as DDT, PCBs, Agent Orange, rBGH (Bovine Growth Hormone), and Roundup. Over the last 20 years the corporation has shifted its research focus to bio-engineered seeds and GMOs (genetically-modified organisms). Significantly, the University of California, Davis is a top-ranked research university recognized as a leader in agriculture and sciences.
Monsanto has been the target of legal action, moratoriums and/or outright bans in Brazil, Peru, Haiti, India, and several European countries including Austria, France, Germany, Greece, Hungary, Italy, Poland, Switzerland, and others. So far the company has been able to operate with little resistance in the U.S., due to its multi-million dollar lobbying efforts and close ties within the White House and Food and Drug Administration.
Sponsors of the weekend action included The Anti-Monsanto Project, Peace & Freedom Party, and Occupy Woodland/ Occupy Sacramento/ Occupy UC Davis.
The first day's action began at 6:30 a.m. with around 150 demonstrators picketing and setting up tents from which to distribute information. Despite the steady rain all day, a small but dedicated group maintained a vigil in front of the Monsanto complex.
Tents blocked the entrances to the parking lot, and a single security guard was posted at the main entrance to the building. Many passing cars honked their horns in support of the protestors, notable in this agriculturally-dependant town.
According to Steven Payan, a farm worker and organizer of the event allied with the Yolo County Peace & Freedom Party, the shutdown took place peacefully and without incident. The protest will continue on Saturday.
Payan also said that the coalition's next efforts will be to draft a set of anti-Monsanto resolutions, and to bring their demands to the United Nations.

Popular in the Community