WASHINGTON ― Americans took to the streets for a second weekend to protest President Donald Trump's now-blocked executive order banning travel and immigration from seven majority-Muslim nations.
In Washington, thousands of people descended on the White House on Saturday afternoon for a rally followed by a march down Pennsylvania Avenue, past the Trump International Hotel, to the U.S. Capitol building. The crowd held a sea of creative signs, including, "We bombed them, now we ban them," and "Instead of being afraid of brown people, we should be more concerned over orange monster."
Anti-Trump gatherings also were reported in New York, Missouri, Salt Lake City, Los Angeles, Houston, and West Palm Beach, Florida, where Trump is spending the weekend at his Mar-a-Lago resort.
The Washington march was organized by "Peace for Iran," a small group of Iranian American young professionals who first came together to promote the Iran nuclear deal. Marchers, however, came from a variety of backgrounds. Families from the Virginia and Maryland suburbs joined college students and teenagers from the city in chants like, "When Muslims are under attack ― what do we do? Stand up, fight back."
Nader Davoodi, 67, and his wife Mahin, 64, are Iranian-born American citizens who came to the demonstration from Gaithersburg, Maryland. The last time they came out to a protest was against an Iranian government official visiting Washington several years ago.
Although as citizens they are not affected by the ban, Nader Davoodi said, "I come for everybody else all around the world. We need a peaceful government ― not Donald Trump."
Sara Krautbauer, 29, a master's student in international development at George Washington University, came with about 20 of her fellow volunteers at the Refugee Assistance Program, an organization that helps refugees resettling in the Washington area.
"It's awesome for visa holders and green card holders, but we're here for refugees as well," Krautbauer said. "Walking back the ban only so far isn't good enough. They need to walk it all the way back so we can start bringing back refugees again."
More than 200 miles north in Manhattan's West Village, thousands of supporters of LGBTQ rights demonstrated against Trump's ban and other policies outside the Stonewall Inn, the site of the historic showdown over gay rights.
"Whether we're straight, gay, immigrant, Native American ― no matter who you are, we're all standing up to fascists," said Marie Carianna, a 57-year-old lesbian.
The American Civil Liberties Union, which has challenged the ban in court, asked Twitter users to share photos of their protests .
People responded with photos and video of demonstrations in major cities, including Philadelphia, Salt Lake City and Los Angeles, as well as smaller ones: Wilkes-Barre, Pennsylvania; Raleigh, North Carolina; and North Adams, Massachusetts.
They were joined by solidarity demonstrations in London and Paris, as well.
In Trump's backyard, Saturday marked the third straight weekend in which Washington was the site of anti-Trump demonstrations. On Jan. 21, progressives from all over the country converged on the capital for the Women's March. On Sunday, a short-notice rally against Trump's travel and immigration executive order packed Lafayette Square park in front of the White House.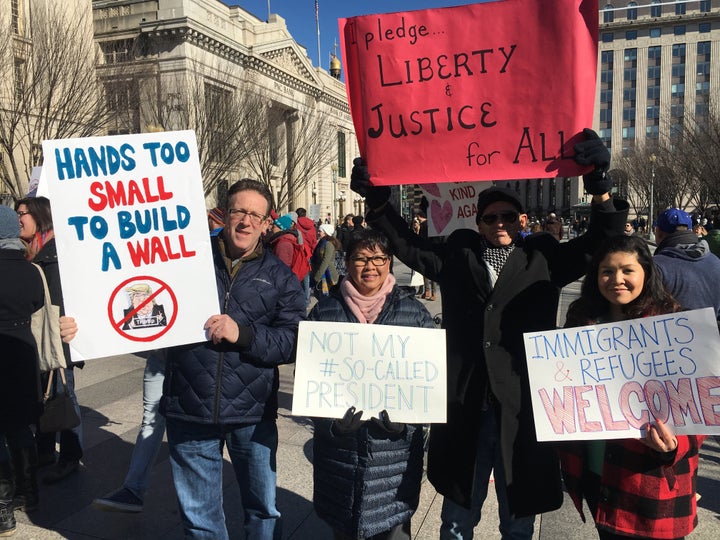 But activists at Saturday's White House demonstration said they are pressuring Congress as well. Krautbauer uses a Google spreadsheet circulated on the internet with the names of members of Congress who support the new restrictions on refugee admission and said she calls two of them every day.
Jon Sokolow, 57, who came to the rally from Reston, Virginia, with his wife, Diana, and their daughter, Christina Dawson, 26, has been combining his protests with calls to Sens. Mark Warner and Tim Kaine (D-Va.). He is urging them to resist Trump's agenda.
Asked whether that included filibustering Trump's Supreme Court nominee Neil Gorsuch, Sokolow was unequivocal.
"Absolutely! It's a stolen seat," he said, referring to Republicans' refusal to consider Obama's nominee Merrick Garland.
Sebastian Murdock contributed reporting.
Before You Go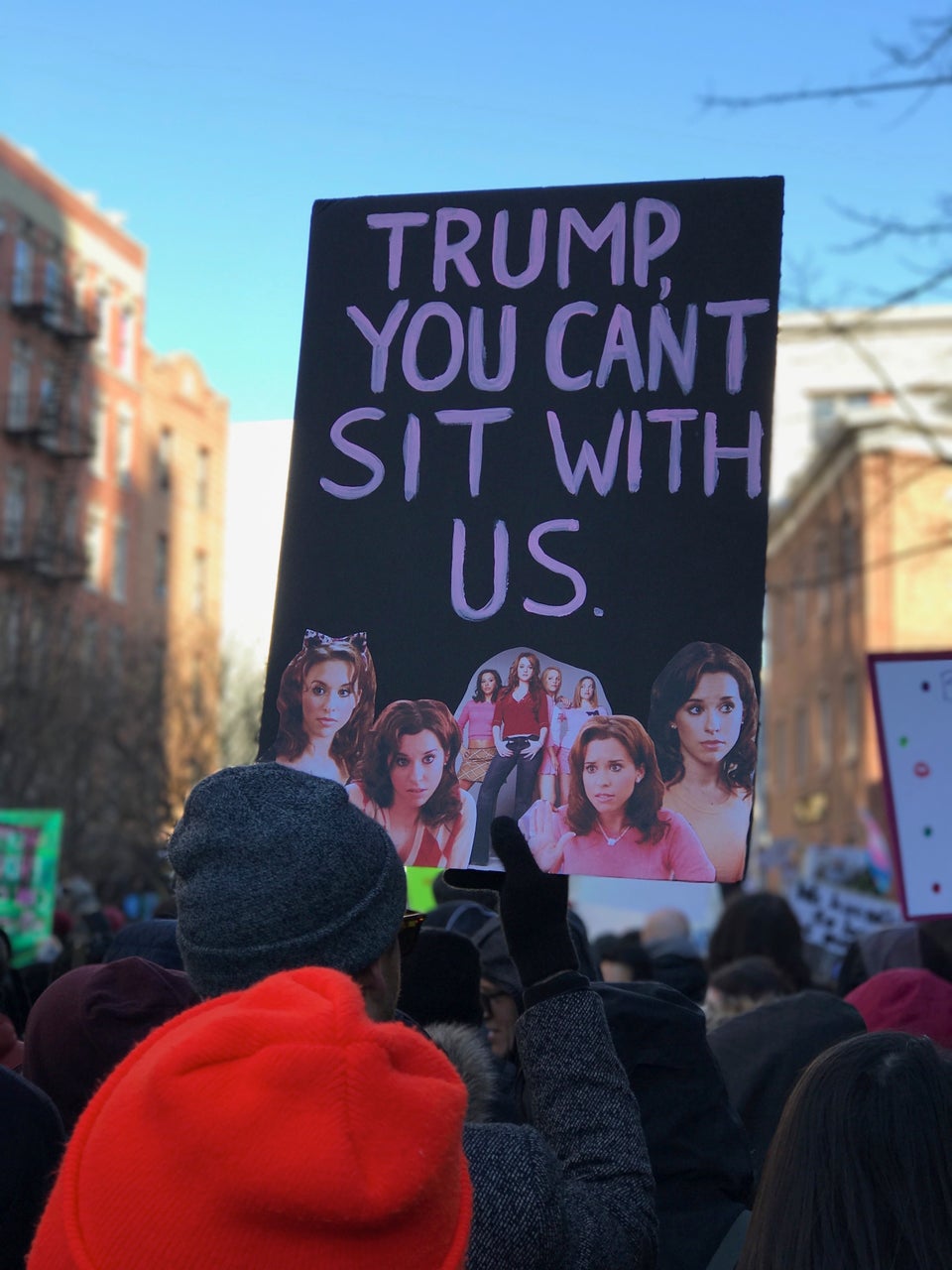 The LGBT Solidarity Rally 2017
Popular in the Community