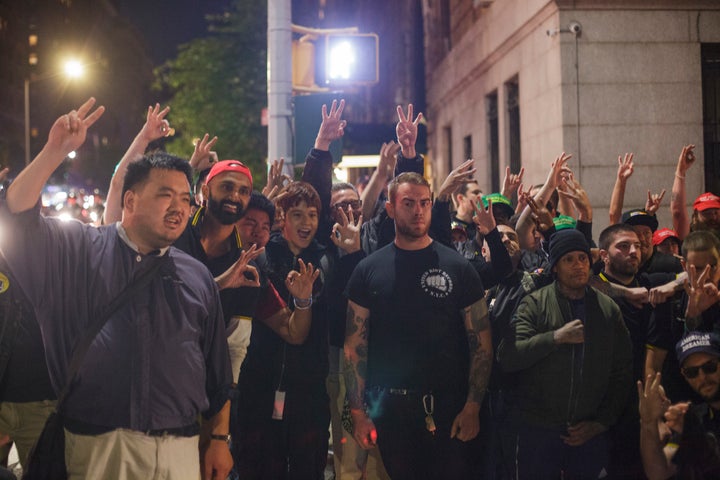 The arrests of three members of the Proud Boys have led to more revelations about the gang's fascist roots ― as one of the arrestees is affiliated with a skinhead crew in New York City.
The New York City Police Department collared Douglas Lennan, Maxwell Hare and Irvin Antillon on Monday as part of a sweep of Proud Boys connected to a vicious attack outside a GOP event in Manhattan on Oct. 12. Antillon and Lennan, both from New York, were charged with rioting and assault. Hare, of Harrisburg, Pennsylvania, faces the same charges plus additional charges of gang assault and criminal weapons possession, according to the Daily Beast.
Antillon's arrest, specifically, shows the type of member the Proud Boys seek to attract: The 41-year-old Queens resident also has connections to the primarily Latino skinhead group Battalion 49, according to Gothamist. Separately, he was in Charlottesville, Virginia, during the first Unite the Right rally on Aug. 12, 2017, rolling with the Fraternal Order of Alt-Knights, a Proud Boys affiliate created as "an accelerant for violence at right-wing rallies," according to the Southern Poverty Law Center.
Joe Bola and Dennis Davila, two other Proud Boys that SPLC and Raw Story identified at the scene of the crime, are members of the 211 Bootboys, 
a far-right nationalist skinhead group based mostly in New York. It's unclear if police were looking to charge the pair.
It's quite common to find close connections between Proud Boys and white nationalist or other fascist extremist groups. Antillon, for example, was reportedly pictured next to white nationalist group Identity Evropa during Unite the Right. The Proud Boys have also acted as bodyguards for Patriot Prayer ― which has previously aligned itself with white nationalist groups like Identity Evropa and Cascade Legion ― during violent rallies along the West Coast. They're also self-described "Western chauvinists" who send out enforcers to intimidate those they don't agree with.
The NYPD is looking for nine Proud Boys in total. So far, five have been arrested. A police spokesman wouldn't comment on the remaining arrests, but prosecutors reportedly said that the "single most vicious" member of the crew, John Kinsman, was behind bars as of Friday.
Proud Boys founder Gavin McInnes ― a violent extremist who also founded Vice Media ― said last week that he was arranging for the remaining gang members' surrender, but so far, that hasn't happened.
Calling all HuffPost superfans!
Sign up for membership to become a founding member and help shape HuffPost's next chapter