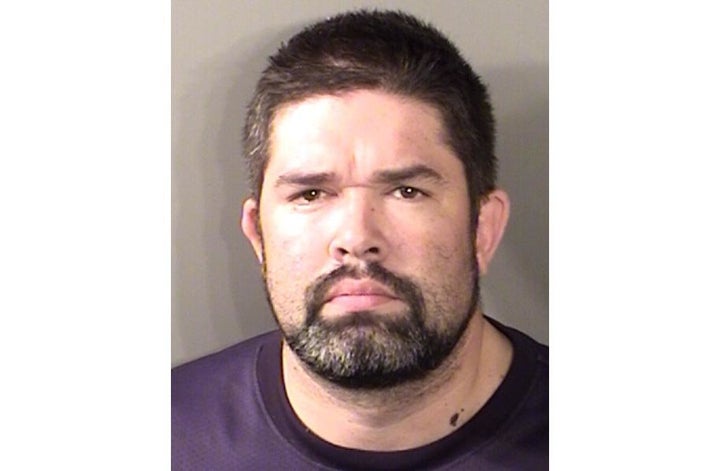 Jason Lee Van Dyke, a lawyer for the far-right group Proud Boys known for making violent, racist threats against those who oppose him, was arrested on Friday in Texas for allegedly making a false report.
He is accused of falsely claiming that his guns were stolen from his truck when he called police to his home in Oak Point, the Daily Beast first reported. When officers arrived on the night of Sept. 13, they confirmed that three of his guns and his backpack, along with his roommate's camera gear, were missing. Also, Van Dyke's truck was damaged. He claimed that he grabbed another gun from inside his house and chased the burglar off the property.
However, his roommate, identified only by his first name, Isaac, poked a big hole in that story, saying Van Dyke called police only after Isaac realized his camera equipment was missing. The apparent burglary occurred earlier in the day.
It's unclear whether Van Dyke was involved in the disappearance of the camera equipment. The truck, meanwhile, appeared to have been damaged by a brick that came from a fire pit in Van Dyke's backyard.
He was arrested on a misdemeanor charged of filing a false police report and was released from jail that night on a $1,000 bond, according to county records.
Van Dyke, who often represents himself in court and sues those who disparage him, told The Daily Beast that he "completely denies these allegations" and said he would be exonerated. When HuffPost reached out to him for comment, he was more terse with his response: "Fuck you," he said via email.
The arrest adds to his laundry list of infractions and violations.
Last year he was suspended on Twitter after tweets from him threatening to kill an entire family resurfaced. He admitted to making the threats on a call with HuffPost.
"Look good and hard at this picture you fucking n****r," Van Dyke tweeted in 2014, alongside a picture of a noose. "It's where I am going to put your neck."
"The statements attributed to this individual are reprehensible and contrary to the values we hold as Texas lawyers," Vick told HuffPost in November.
The state bar doesn't comment on pending investigations, so HuffPost could not confirm whether there are any open cases against Van Dyke by the agency's disciplinary arm. A spokesperson for the bar said Wednesday that Van Dyke has "no public disciplinary history" but couldn't comment on whether he has any pending matters or private grievances.
Popular in the Community