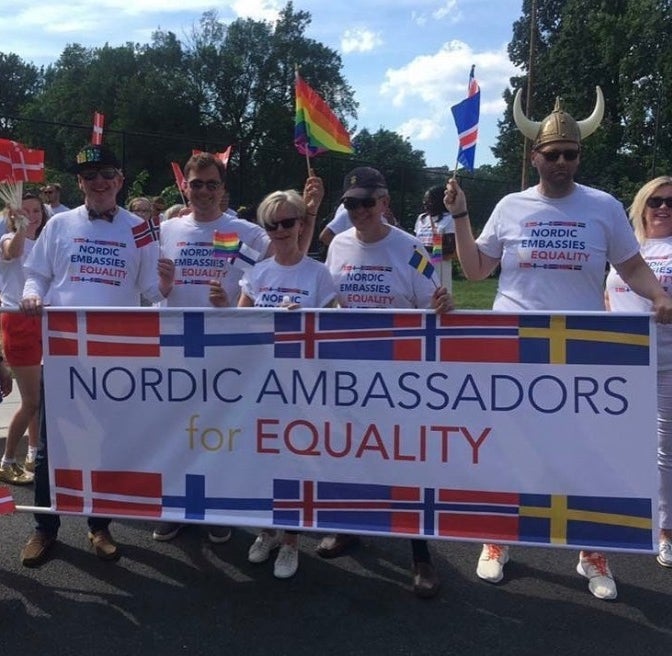 In the mid-14th century, there was an attempt to remove King Magnus Eriksson of Norway, Sweden and Skåne (then a part of Denmark) from his throne. Plotting in true Game of Thrones-style, noblemen defamed him, spreading rumors that he was gay. It has forever earned him the sobriquet "Magnus the Caresser."
The Nordics – Denmark, Finland, Iceland, Norway and Sweden – have come a long way since then. Granted, being LGBTQI meant exposure to controversy, skepticism and taboo well into the 1980s in all five countries, but nowadays, hardly anyone raises an eyebrow seeing two women holding hands, or two men "mothering" a child.
Instead, Danes, Finns, Icelanders, Norwegians and Swedes celebrate diversity. National action plans are in place to make sure gay, lesbian, bisexual, transgender, queer and intersex people enjoy the same rights, are ensured possibilities to prosper, and secured well-being and participation in society.
All five countries are also ardent supporters of LGBTQI rights internationally ― celebrating and promoting equality in dignity and rights, regardless of sexual orientation and gender identity.
While still not perfect, the Nordic region has become one of high levels of tolerance, acceptance and equal rights promotion. Denmark was the first country in the world to recognize same-sex partnerships in 1989. Norway and Sweden are among the most important funders of international LGBTQI efforts. Iceland ranks first in Planet Romeo's gay happiness index Few other countries would publish stamps with images as provocative as those of "Tom of Finland."
Human rights is a core value of the countries' foreign policies; not limited to speeches in the UN, funding of support mechanisms, and rainbow flags at embassies. In true Nordic tradition, the countries engage at the grassroots level, knowing that realization of rights requires local ownership and true societal acceptance.
Partnership with civil society is crucial in the way the Nordics approach these questions. That goes for action at home and abroad. At home, LGBTQI organizations receive support and contribute with vital knowledge in policy shaping processes. In international efforts, supporting grassroots organizations, working with faith communities and facilitating partnerships between national and Nordic LGBTQI organizations to strengthen civil society's resilience.
In the U.S., the Nordics partner with the Human Rights Campaign (HRC), the nation's largest LGBTQ civil rights organization. HRC Global works to strengthen the global equality movement by supporting the efforts of LGBTQI organizations and advocates abroad, raising awareness of discrimination and persecution faced by LGBTQI people, and advocating for an LGBTQI-inclusive U.S. foreign policy. HRC recognizes the critical role that ambassadors play in advancing LGBTQI equality, around the world and right here in the U.S. where LGBTQI people everywhere still face attacks and struggle for their full humanity and dignity. The power of Pride events in June is yet another opportunity for Nordic embassies and HRC to elevate voices for equality and freedom. This month we are partnering to acknowledge our history, progress and commitment to do even more work for global equality.
In addition to waving rainbow flags and donning feather boas in the Capital Pride Parade, the five Nordic ambassadors and HRC are equally proud to team up for a Twitter Town Hall meeting on the occasion of Pride month. Celebrating the realization and promotion of rights, we should investigate best practices, possibilities for improvement and next steps.
We hope you will join the conversation by tweeting your questions and thoughts to #AskNordicAmbs from now and until 8 June. We look forward to engaging with you.