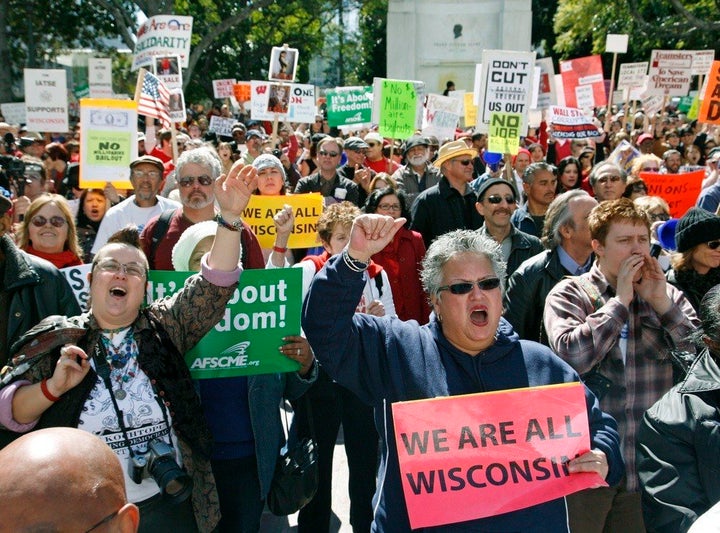 When I first decided to become a teacher, I didn't think about being part of a union. It wasn't the reason that I became a teacher. I became a teacher because I wanted to help the community by providing an excellent education to the kids that I would be serving. I truly believed in my mission that by being a great teacher that I could change the life of a child. Ultimately this could have a significant impact on the community in which I chose to serve.
Never did I think that the career I chose a little over a decade ago would be facing such horrendous attacks from the right and the left.
Every single day that I stepped foot into my classroom, I gave more of myself to my students than I sometimes gave to my own family. This is something that many of us who teach in a high poverty urban area often do. This is because sometimes the need is so great that to give less than everything would mean to be a failure -- not necessarily to our students, but to ourselves.
With the demands that are often placed on teachers in high poverty urban areas, there is a great need to have a strong contract. In my almost ten years in a classroom, I've been accused of being a racist on more than one occasion. This is the unfortunate reality that many of us face regardless of the color of our skin when we are teaching in a diverse community.
As union president, I've seen more than one complaint come through lodged by a parent against a teacher. Many of these complaints stem from dissatisfaction with something that the teacher has done in the classroom. On more than one occasion a complaint has been filed, then followed with some type of disciplinary action. This has been done before the site administrator has contacted the teacher to discuss the situation.
Imagine being accused of something without being able to give your side of the story. Is there anyone out there who really believes that a teacher shouldn't have the right to meet with a parent who has lodged a complaint against them? (Please note that this does not include complaints that clearly break any laws under the penal code.)
It has made me angry that the profession that I entered into over a decade ago has become a scapegoat for all that is wrong with our country. Teachers can no longer count on friends on either side of the aisle as we deal with both democrats and republicans who have bought the idea that public education is a failure.
Each month, I pay my bills, my husband and I provide food and shelter for our family, and we make do with what we have. In our over 25 years together, the only help we have received from anyone has been within our own extended family. All either of us have wanted was to live the American dream.
How does that make me a villain? How does me wanting to give back to my community in a real and tangible way make me a "pathetic slob" feeding at the trough of the taxpayer? (This is a line I've seen more than once in reading comments around the web.) The sacrifice of my time with my family and friends has at times been all consuming. It was all done with the intention of wanting to do what is best for the students I serve.
My own kids used to cringe when I would refer to my students as "my kids." For my three, they saw me as their mom. They have always known (for the most part) stability, something that too many of my students did not experience. It makes no sense that the selflessness that I sought to give can now be viewed as selfishness from those who have never done this job.
As assaults on teachers, their unions, and the middle class increase, it makes me even more proud that not only am I glad to be a part of a union, I am more proud to serve over 800 teachers as their leader.
REAL LIFE. REAL NEWS. REAL VOICES.
Help us tell more of the stories that matter from voices that too often remain unheard.