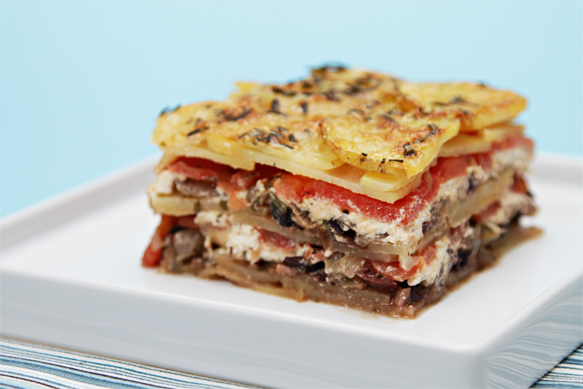 In Provence, gratins are called "tians" for the colorful earthenware vessel they're cooked and served in. But it's not their name that makes these gratins unusual; it's that they are typically cooked without cream or milk. This makes Provençal tians very distinct and very light.
I concocted this gratin with Provence in mind, gathering all the flavors of that blessed land -- olives, ripe tomatoes, loads of fresh herbs and creamy goat cheese -- in one beautiful dish. The juiciness of the ripe tomatoes is what gives this gratin the moisture it needs to cook, while the super-thinly sliced potatoes and the caramelized onion bring substance and depth to it.
Provençal Summer Vegetable Gratin with Olives and Fresh Goat Cheese
Serves 6
Active time: 1 hr
1 tablespoon sea salt (for the boiling water)
2 lbs (905 g) Yukon Gold potatoes - unpeeled, cut in 1/8" slices (use a mandoline or the blade attachment of a food processor)
3 tablespoons extra virgin olive oil
2 large Spanish onions - skinned and cut in 1/4"pieces (4 cups)
4 large garlic cloves - skinned and finely chopped
1/2 cup finely chopped fresh herbs (Italian parsley, oregano, thyme, rosemary...)
2/3 cup pitted Kalamata olives - coarsely chopped
1/2 teaspoon sea salt
freshly ground black pepper to taste
10 oz (285 g) fresh goat cheese (or 2 cups ricotta) - crumbled
2 large, ripe beefsteak tomatoes (1 1/2 lbs) (680 g) - cut in 1/8" slices
extra sea salt and ground black pepper to taste (to season the tomatoes)
2 tablespoons extra virgin olive oil (to brush the mold and the last layer of potatoes)
1/2 cup finely grated Reggiano Parmesan
1 tablespoon coarsely chopped rosemary
1 medium ceramic baking dish (9" x 12" x 3") - lightly brushed with olive oil
Step 1: Bring 6 quarts of water to a boil. Add the salt and potato slices, stir well and boil for 3 to 4 minutes, until the potatoes are al dente. Drain and let cool.
Step 2: Heat a large heavy-bottomed skillet to medium-high heat. Add the olive oil and onions and sauté for 8 to 10 minutes until golden-brown, stirring from time to time. Add the garlic, herbs, olives, salt and pepper. Stir and sauté for 1 minute. Transfer to a bowl and set aside.
Pre-heat oven to 400°F (200°C).
Step 3: Lay one third of the potato slices at the bottom of the prepared pan, so that they cover the whole surface. Top with half the onions. Dot with half the crumbled goat cheese and top with one layer of tomato slices. Sprinkle with a little salt and pepper. Repeat the process one more time. Then top with the balance of the potato slices. Brush the potato slices with the olive oil. Sprinkle with the Parmesan and rosemary. Cover with foil and bake for 30 minutes. Uncover and bake for an additional 25 to 30 minutes until golden-brown and bubbly. Remove from oven and let cool for 10 to 15 minutes before serving.
Cook's note: The gratin can be baked, cooled and refrigerated for up to 2 days. To serve, bring to room temperature and bake at 400°F (200°C) for 8 to 10 minutes until warm.