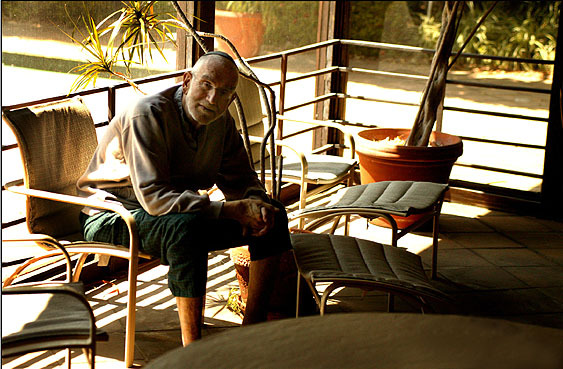 During the Shiva sitting following my father's death in March, a rabbi spoke of how my father's great spirit would manifest in many unexpected ways in the lives of those close to him. This echoed what I'd written many years ago in a poem for the crew of The Crow after Brandon Lee's tragic passing: "Within and through us he shall live on, and our lives shall ever be enriched by him in ways wondrous and untold."
Perhaps influenced by longing, I have lately experienced things that support this notion... I'm at work today on the Universal back lot in Los Angeles and I call my friend Aaron in New York. I met Aaron last year -- he never met nor knew my father.
He answers his phone in a noisy store on the east side of Manhattan. "How ya doing?" he asks, with his high-energy Brooklyn voice. "Here, say hello to my friend from Israel!"
"Hi, I'm Robert," I say to Aaron's friend.
"I'm Eli," he replies over the din. "I'm here from Israel, visiting for a few days."
"Where are you from in Israel?" I ask.
"Jerusalem," answers Eli.
I tell Eli, "My father was in Jerusalem recently. He passed away in his sleep at the King David Hotel on March 29."
Eli is silent -- I can only hear the background noise in the store. Then he speaks: "I am a paramedic with Israel Rescue. I was a first responder, trying to revive your father. I remember him very clearly."
We are both silent, in awe of this moment. Then we exchange information and vow to keep in touch. And I somehow know that my father is reaching out, as only he can, through Aaron and Eli.
When I go to his house, I know that he will not be sitting in his porch, but I will feel his spirit there. And outside the porch, in the garden, his esrog and olive trees will remain, basking in sunlight, giving off their fragrance, singing silent hymns in his honor.
info@kindsightfoundation.org
www.robertzuckerman.com