PROVINCETOWN, Mass. -- A caravan of SUVs was snaking through the sand dunes that stretch for miles along the coast of Provincetown at the northern tip of Cape Cod. In one of the vehicles, James Husson-Cote, a local tour guide, pointed to a dip in the sand where a cluster of tenacious scrub oaks and pines had taken root.
Years ago, he said, the whole area was covered with forest. Then the pilgrims came and turned the place into a miniature Sahara. But there was hope for the little oaks and pines that had somehow staked a claim to this desolate waste. "This is a good beginning of a new forest," he said. "Give it a couple hundred years."
Inside the SUVs, there was evidence of far more rapid change. Jocelyn Pritchett and Carla Webb had come up from Mississippi the last week of July with their two kids, Ethan and Grace. They were there for Family Week, an annual summer gathering of LGBTQ parents and their kids, now in its 20th year.
"It's like a breath of fresh air," Pritchett said, and she wasn't talking about the heady aroma of salt water and ripening beach plums. "I can breathe at last."
This annual gathering, which has grown exponentially each year, has mirrored the progress of the gay rights movement as it has shifted its focus from the rights of individuals to families.
Two decades ago, when the event started, Provincetown already had a well-established gay scene, but, as the event's co-founder Scott Davenport put it, the "dance boys from Boston" who came over on the ferry didn't bring kids with them. Strollers weren't allowed in the restaurants. The scene largely conformed to the prevailing stereotype of gay men, he said. This summer, in a thoroughly unscientific survey, a reporter stationed on Commercial Street counted 15 strollers passing by within a five-minute window.
As Davenport sees it, the recent success of the gay rights movement and the growth of Family Week are not unrelated. Family Week is organized by the Family Equality Council, an advocacy group based in Washington, D.C., that has helped shape the conversation around same-sex marriage. "Telling our stories as families helped other people see us as something other than that party-boy stereotype," Davenport said.
When Family Week started back in the mid-'90s, nearly a decade before Massachusetts became the first state to legalize gay marriage, the parents who showed up in Provincetown were as pioneering as the religious dissidents who arrived there nearly 400 years before.
Gregg Cartagine and his partner, Reed Chaikin, visited for the first time in 1996, when their baby was still just an embryo in their surrogate's womb. (The surrogate came, too.) Just knowing that the event existed was a factor in Cartagine's decision to start a family. "He saw that it was possible," Chaikin said.
At the time, there were only a few other families at the gathering, but they were enough. Chaikin, who works in presales at IBM, jokingly described Cartagine's decision in business terms. "He was OK with one or two anecdotal points of evidence," he said.
 This is their 19th year at Family Week. Their son, Travis, is now 18. He doesn't go to many organized activities anymore, preferring to spend his time at Puzzle Me This, the game store, or walking around town catching up with old friends. But he has been involved in recent summers with The Outspoken Generation, another project of the Family Equality Council, where he tells prospective parents about what it's like growing up with two dads. "We say, 'Look, we've turned out OK," he said. "If you're nervous, we've done it already."
Four years ago, Roberta Kaplan, one of the leading lawyers of the gay rights movement, began coming to Family Week with her wife, Rachel Lavine, and their now 9-year-old son, Jacob. The following year, she appeared before the Supreme Court to argue the case of Edith Windsor, the 86-year-old widow who sued the federal government over the estate taxes she was forced to pay on her inheritance of her wife's estate.
Their landmark victory toppled the federal ban against recognizing same-sex marriage and set the stage for the Supreme Court decision in Obergefell v. Hodges, the case that made gay marriage legal throughout the land in June. Now Kaplan is a Family Week celebrity. One night this summer, she and Windsor, who stayed with her at a rented beach cottage on the edge of town, were having dinner at Victors, a seafood spot, when a stranger walked up to them, thanked them, and bought them a round of cocktails.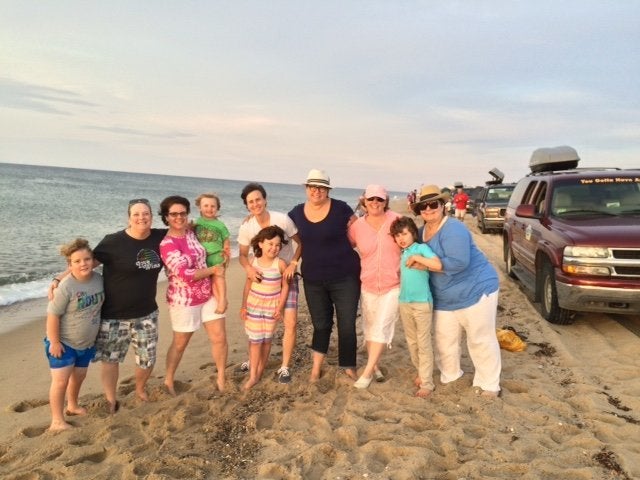 The next day, she and her wife and son were among the families who toured the dunes at sunset. Pritchett and Webb, the Mississippi couple, had come to Provincetown (and the dunes) at Kaplan's suggestion. Having triumphed in the Windsor case, Kaplan had turned her attention to Mississippi, a state so opposed to gay marriage that its leaders banned it three times -- first by executive order in 1996, then by statute in 1997, and finally by voter-approved constitutional amendment in 2004.
In October 2014, Kaplan took up the fight against the state's same-sex marriage ban on behalf of Pritchett and Webb, as well as the Campaign for Southern Equality and one other couple. This was just one of many similar lawsuits that were filed against state marriage bans around the country in the wake of the Windsor decision.
Kaplan won this case, too, and although the state fought back, the Supreme Court's ruling in June settled the issue for now. Mississippi, like every other state, is now required by law to marry same-sex couples. Pritchett, buoyed by her first foray into activism, has decided to go on and run for state auditor; she is the first openly gay Mississippian to run for a statewide position.
The dune ride came to a stop on the beach as the sun was sinking toward the sea, filling the sky with the brilliant hues that have long made Provincetown a favorite haunt of painters. The kids kicked off their shoes and ran back and forth at the water's edge, chasing the sea as it slid away from them, fleeing the waves as they came curling and crashing back into the sand.  
Kaplan beckoned her son to come over and answer a few questions. What did he think of Family Week? He made a metallic noise -- "Ting!" -- and ran off to join the other kids. Kaplan explained that he'd been going through a robot phase. After a few minutes, her thoughts turned to another beach town. She recalled walking down the streets of Tel Aviv during her first visit to Israel and being struck by the realization that everyone in the street was Jewish.
"Even though I grew up in a very Jewish neighborhood, there's a kind of liberation that comes with that," she said. "Family Week is exactly the same thing."
A few minutes later, the plump moon rising in the sky, the kids reluctantly said goodbye to the seals bobbing just offshore and folded back into the SUVs. Next week, the group would be scattered across the United States, back to their regular lives, but for now, there were dinner reservations and swim dates to plan.
Calling all HuffPost superfans!
Sign up for membership to become a founding member and help shape HuffPost's next chapter