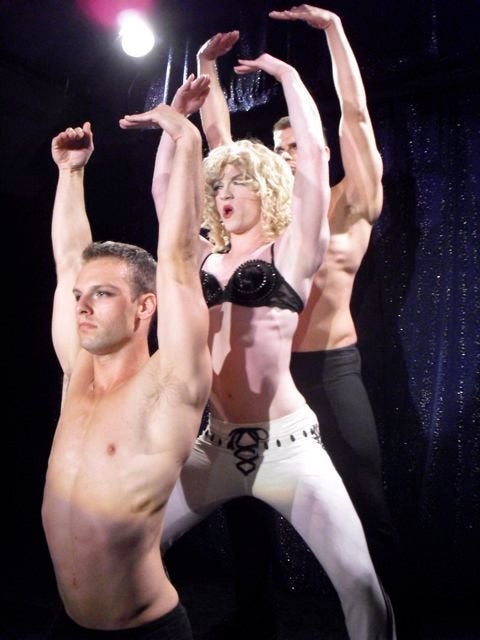 I love Provincetown. The dunes, the artists, the gayness, the glitter eyeshadow on men. It is a party town, as edge of the world towns usually are, and, as such, swarms with tourists out for a good time. It is like New Orleans during Mardi Gras, but with fewer beads, more high heels and more men in those high heels. It is also the very start -- or end, depending on which direction you head -- of U.S. Route 6.
Bishop, CA is just 3205 miles away.
As I mention in my book Stay On Route 6, Provincetown is where the Mayflower Pilgrims landed first, before decamping to the more protected Plymouth. And yes, there's a great obelisk monument to climb -- The Pilgrim Monument -- considered to be the tallest all granite structure in the world.
Rob Costa of Art's Dune Tours has been driving visitors around the Provincetown, MA sand dunes for 30 years, since he was a mere 18 years old. His Dad, Art, launched the company in 1956, and though there were imitators over the years, Art's remains the sole surviving Dune Tour operator on Cape Cod. Among the eminent guests that Art escorted around were Steve McQueen and Faye Dunaway who were in Provincetown filming the Thomas Crowne Affair. Rob continues that folksy tradition. He's got an encyclopedic knowledge of Provincetown and its sandy habitat, informing us that "The Cape Cod National Seashore, a National Park established by President John F. Kennedy, takes up nearly 75 percent of the whole of Cape Cod" and that "Marlon Brando crawled across these dunes when he was rehearsing for A Streetcar Named Desire."
He points out the tenacious plants that cling to life in this sandy environment, rosehips, beach plums and cranberries that thrive in fresh-water pools found throughout the dunes. Poets, painters and writers (Eugene O'Neil, Thoreau, Jackson Pollock, for example) stayed in squatters shacks originally built in the 1850's as temporary shelters for heroic "Surfmen" who patrolled the beach, ever ready to rescue shipwreck victims. A bit over 100 years later, the U.S. Government removed all but 19 of these primitive dwellings -- and now a few are available to Artists In Residence willing to live without electricity, fresh water or plumbing (but with one of the best vistas on the planet) for a few weeks at a time.
For a change of pace, watch six-pack abs and Katie Perry Drag Queens vie for your attention at one of the shows that puts Provincetown on the map. Though Crown and Anchor is more famous, hit up the Post Office Cabaret for the ICONS show. You've never seen prettier or more hunky boys gyrating and lip-syncing to the tunes of Lady Gaga, Madonna, Donna Summer, the dearly departed Whitney, (I'm not sure who will replace her. Possibly the "not a real Rapper", Nicki Minaj?) and others.
Grab a VIP ticket to sit in the front row and you get their sweat for free.
Stay at the Crowne Pointe Inn - a charming upscale B&B. The "E's" at the end of Crown and Point might lead you to believe it's pretentious or hokey. It isn't. And neither is it associated with the large Crowne Plaza Hotel chain as I had first assumed. Former NYC Fireman, David Sanford and his partner Thomas Walter, purchased this 1700's whaling captain's home in 1998 (it was a guesthouse at the time), sunk a bunch of bucks and wit into its renovation and, viola - a nice and quiet inn just one block from zooey Commercial St. Serene cottage-like rooms encircle a redwood and brick courtyard where a rubber alligator head floats languidly around a small kidney-shaped pool and Buddha gazes down on a bubbling hot tub. A bountiful wine and cheese hour and made-to-order breakfast are included in the room price. Oh and parking, too. In the "Land Of No Parking Spots," this amenity is golden.