"My work touches upon the rat race, the dread of expectation and the long corridor of closed doors. With our constant striving for happiness without knowing what that might actually be, it's easy to get stuck in society's linear path that's mapped out for us." - Hrair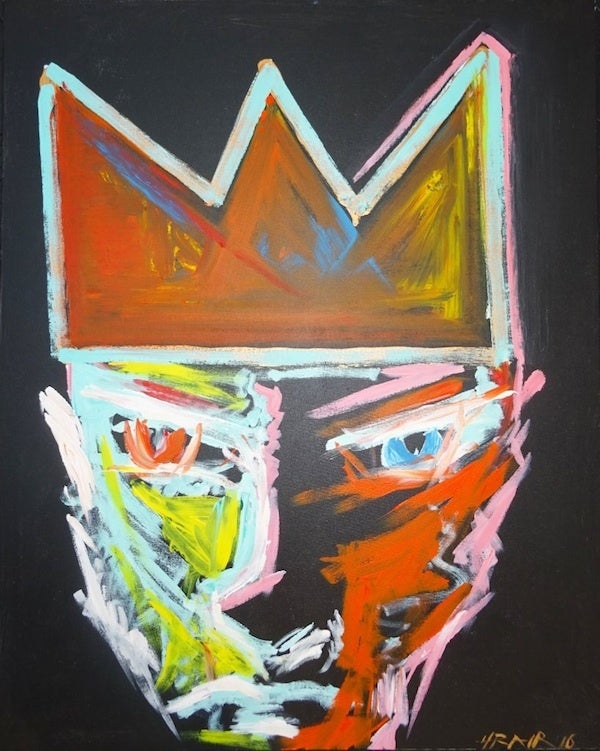 Born in 1973, New York based artist Hrair grew up among the era of "Gen-Xers" coined as educated, independent thinkers with a cynical view of the corporate world and a more individualistic approach to life. It was also a generation that embraced cultural diversity and inspired a pop culture melting pot fueled by skateboarding, street art, MTV, grunge and hip-hop. And while many of these elements have influenced his thematic and aesthetic style of paint, it is also his unique perspective through his own life journey and provocative social commentary that makes Hrair one of the more compelling artists of today.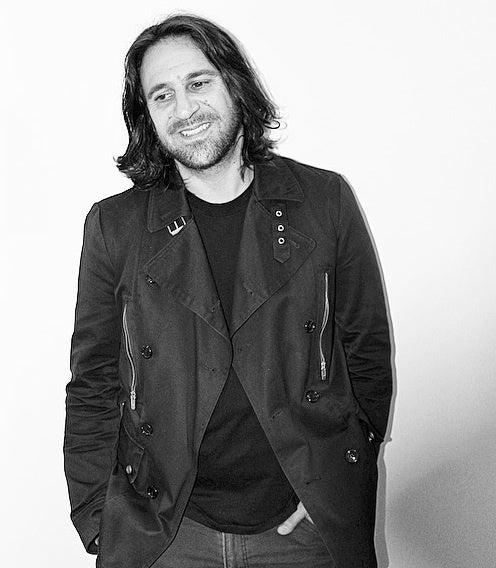 Most renowned for his "Crown" and "Halo" series, Hrair immediately captures viewers with the allure of his bright colored palate, mixing oils and acrylics to create vibrant, multi-layered faces on the canvas. But the real intrigue is looking beyond the bold colors, symbols and layers to the unsettled souls of the characters staring back at you. He shows us the many masks worn in a hierarchal rat race of inherited royalty, false prophets, puppets and paupers, and he invites us to scrape away the layers to get a glimpse of the private souls behind the armor.
"I've always been an observer of people and explorer of the world. But it was working as an investment broker and living in different cities around the world that really exposed me to the rat race and the masks we present to survive," Hrair explains. "My work aims to unveil the public persona and catch a glimpse of the private soul. To capture the emotion and internal struggle within a character, which may on the surface appear one dimensional, but can reveal different feelings in each viewer."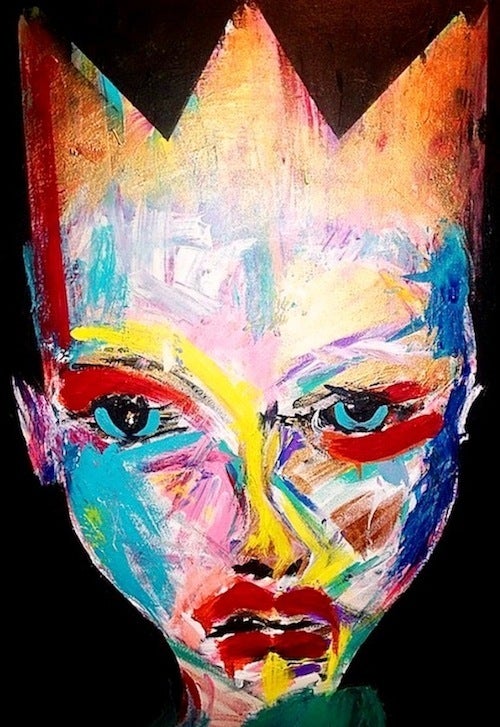 Growing up in London, Hrair discovered his passions for art and music at a young age when he became intrigued by his father's record collection. "He had a huge collection of ranging from The Beatles, Jimmi Hendrix, Stevie Wonder, Pink Floyd…I became fascinated with the artwork on the album covers and of course the music itself. It was at that point I developed an interest in drawing and also became a lifelong vinyl collector."
During the 80's and 90's, Hrair also became immersed in the worlds of skateboarding and DJ'ing. Inspired by board graphics and the street art emerging in London and New York at the time, his artistic interests evolved from drawing to painting. He began studying the layering techniques of early impressionists and the bold styles of abstract expressionists such as Pablo Picasso and Jackson Pollock. Seeing the parallels between their experimental approach to paint and the improvisational works of great jazz musicians such as Miles Davis and John Coltrane, Hrair sought to create work that could be felt by audiences rather than evaluated for technical precision.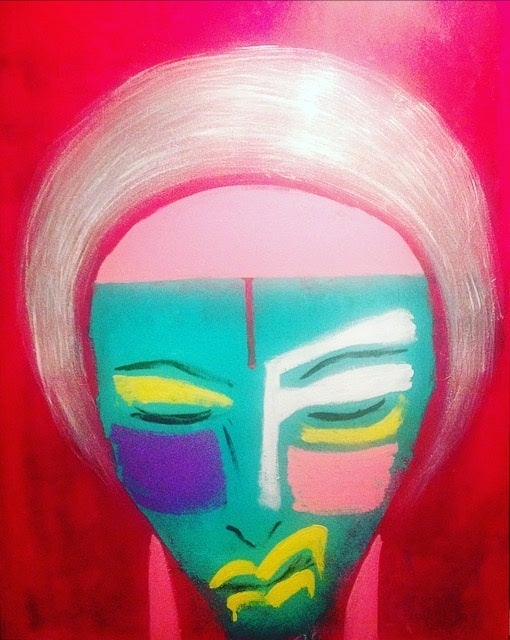 Taking this non-structured, improvised approach to the creative process, he developed his own free form technique of applying layers of paint directly on to the canvas using a palette knife rather than a paintbrush. Channeling a direct connection from his subconscious to the canvas, he applies and scrapes and shapes layers of paint to create the intricate foundation and subtle details of his evocative subjects.
"I never pre-plan my work. Each piece is determined by my frame of mind and also what music I'm listening to in my studio at the time," Hrair explains. "The style of music definitely influences how I apply the paint, whether it's jazz, hip-hop, 70s krautrock, or progressive rock. It could be anything."
Hrair says it was his interest in music that also inspired him to move to Japan for a short period of time simply for the purpose of collecting more vinyl. But while scouting the record shops of Tokyo, he became fascinated with Japanese street art and says it has significantly influenced the color scheme and characterization of his work today.
"Whether it was Tokyo, London, Paris, Berlin, Singapore, Spain or the Caribbean, every city I've lived in or traveled to has a completely different aesthetic sense and a different cultural vibe, which have all influenced my work in some way. But living in New York for the past 5 years, I feel this is where my creativity flows the freest. Every corner, nook and cranny in this city offers something artistic, vibrant and inspiring. It's the apex for art and for being alive."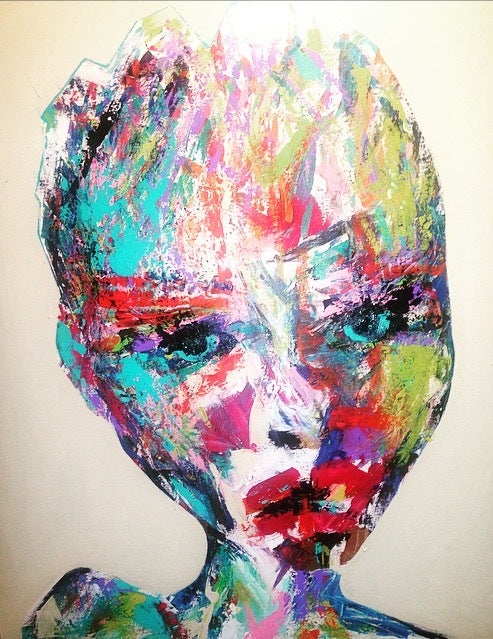 Today, Hrair is back in his Tribeca studio working on his new "Urchin" series. Inspired by Victorian slum children, he describes the subjects of this series as individuals whose expressions reveal a whole lifetime lived in just a few short years.
"The current political and social climate is one of struggle, but also passion and I feel there is a lot we can all connect over. This series gets more into the raw emotions of things, and the understanding and expressing of the emotions we share."
Represented in collections throughout the world, Hrair's work is currently on display at London's Maddox Gallery and he also has commissioned pieces across the US, Bahamas, Europe, and Japan.
Hrair is also selling privately to an international clientele through his website: www.hrairart.com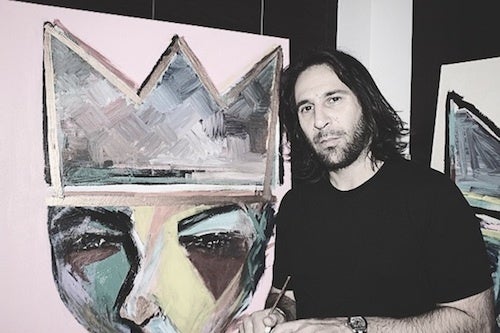 Calling all HuffPost superfans!
Sign up for membership to become a founding member and help shape HuffPost's next chapter
This post was published on the now-closed HuffPost Contributor platform. Contributors control their own work and posted freely to our site. If you need to flag this entry as abusive,
send us an email
.