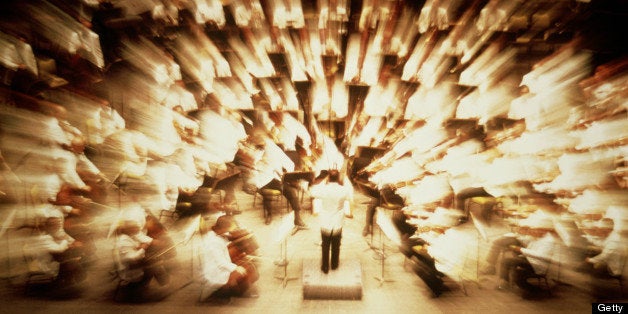 Two striking visions of the future came my way last week. First was a presentation by Elizabeth Merritt, the keynote speaker at the League of American Orchestras national conference in Saint Louis, themed "Imagining 2023." The second came from Claire Chase in the form of her commencement address to students at Northwestern University's Bienen School of Music.
Elizabeth is the mind-bending founding director of the Center for the Future of Museums, an initiative of the American Alliance of Museums. Claire is the founding director of the International Contemporary Ensemble, a group ablaze with virtuosity and creativity. While covering very different dimensions they both agree on one thing: we can see signs of the future right now, and ignoring them is a sure path to marginalization.
Elizabeth points to the new ways people are engaging with culture, e.g. shareable, social, participatory, mobile, distributed, multi-sensory, fragmented and with mass personalization. Not exactly how we think of museums or symphony orchestras. The opacity of their structures alone seem to encourage opposite, traditional forms of participation. But she is quick to illustrate how museums are meeting the public in this new terrain. To see how a museum wall can be a portal, not a barrier, check out the Museum of the Moving Image's "Dead Drop." This is a literal hole in an exterior wall where anyone can insert a blank DVD, 24 hours a day and moments later the DVD pops back out loaded with a digital art exhibition. Or the Walker Arts Center's mind-boggling Internet Cat Video Festival which drew 10,000 submissions and a live audience of 10,000 to view the winning videos. I am not a "cat person" but I know their numbers are legion. People love-making videos, and museums help us discern quality. What a perfect fit!
With charm and a matter of fact directness, Elizabeth concluded by noting that there will always be room for the traditional, old way of doing things. But, she cautioned, those organizations should be prepared to occupy increasingly smaller spaces and see others step in to fill the spaces the public is calling out for.
And that brings us to Claire Chase. Claire is the MacArthur Award-winning flutist and founder of ICE, the International Contemporary Ensemble, based in both New York and Chicago. Claire describes ICE as "a new model for a new century: a contemporary, innovative, modular, artist-driven organization that transforms new ideas into new music and new music into new ideas. By dissolving the lines between the artist and the producer, ICE empowers the artists of its generation to create groundbreaking new work."
Are ICE and the dozens of other exciting artist led groups filling a space orchestras are unwilling or unable to enter? Claire tells the young NU grads:
You can open the paper any day of the week and you will read about the supposed death of classical music, about the implosion of symphony orchestras and the bankruptcy of opera companies, about the narrowing number of jobs available to an exponentially growing workforce. You will read and hear all this as if it's a tragedy, as if the difficulties concomitant with a career in music are insurmountable and as if musicians had never been confronted with challenges like this before. We, all of us here today, are artists, and our sacred duty is to create, to show the way to others, to think more widely and creatively and to be more daring than the rest. So let us not mourn a tragedy, let us use our gifts for free and creative thinking and our broad vision to seize this tremendous, one could argue, historically unprecedented moment of opportunity as young artists in the year 2013.

Whether we like it or not, the calling of our generation is not to occupy positions created for us. Our calling is to create positions for ourselves and others, to improvise and blow the ceiling off of anything resembling a limitation. In a word, our calling is to be entrepreneurs. Classical music isn't dying-it's just now being born.
Claire has given voice to a reality that has been with us for some time. The list of artist-led ensembles breaking new creative ground and forging exhilarating ties to venues, audiences and funders would fill this page.
Claire loves orchestras; she told me so. But she makes clear that she is not shedding any tears about the loss of the good old days. She, and I'll use her as a proxy for her many peers, represents a seismic eruption of creativity. Orchestras are meant to be places of creativity. But for too long, their extreme specialization has led to a separation from what have historically been essential creative influences: other art forms, different genres, new technology and decades-long commitments to living composers. Or as Claire puts it: "...new performance practices that put creators, interpreters, historians, educators and theorists in the same entrepreneurial spaces. It's ...the intersections of science, literature, technology, visual and conceptual art and in ways that we haven't seen since the Renaissance era."
So if you are as attracted to this notion of creativity as I am, a question to ask is, how well suited are orchestras to provide an environment that invites and nourishes this kind of creativity? Are orchestras the "go to" place for the most creative talents and entrepreneurs coming out of university schools of music and conservatories? Do orchestra auditions serve to identify talent that extends beyond the execution of a series of excerpts played behind a screen?
And what about the job of an orchestral musician? A frequent comment from their ranks is that they spend their professional lives being told what to do by a conductor. Can we not imagine a way to structure the employment of orchestral musicians that draws upon their full creative potential? The Knights, another young and vibrant, musician led ensemble spend their summers at "Knights Camp." For two weeks, they go on a retreat to learn new works, to refresh, to experiment, to plan.
Orchestras have some choices ahead. They can observe these developments as interesting and positive but ultimately not relevant to their futures. Or they might want to find ways to affiliate and partner with these ensembles, leveraging their respective assets. Or they might even go so far as to recruit musicians into their orchestras, the ones who will push at the current boundaries and "create positions" for themselves.
There are welcome signs of the future unfolding in orchestras before our eyes. The YouTube Symphony's highly participatory (30 million web views) and high quality performances and the London Philharmonia's "Orchestra App" introduced at our conference last week are just two signs among many that orchestras are on their way to the participatory and the mobile.
The Detroit Symphony has worked with the Knights, the Seattle Symphony with ICE and the Indianapolis Symphony has made the group Time for Three (billed as the first classically trained garage band) their artists in residence.
Ultimately Elizabeth and Claire both challenge us to be very clear about what really matters, stick to it and let the other stuff fall away. For Elizabeth, the audience, current and future, holds the center. For Claire, it is creativity itself. These two pillars are tough to argue with.
Popular in the Community