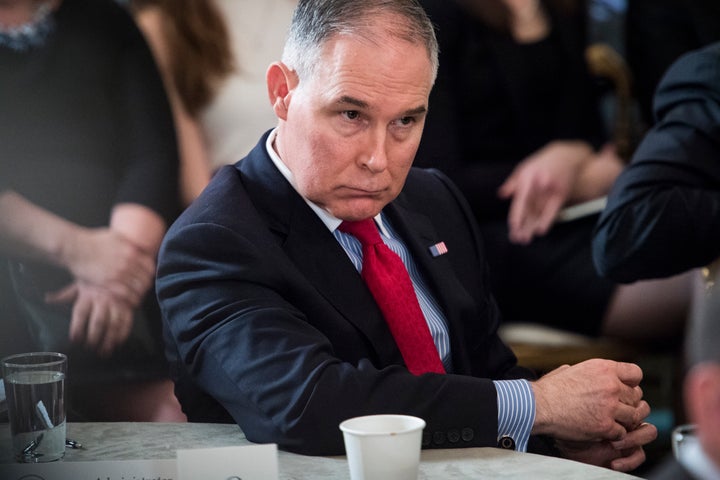 The Environmental Protection Agency defended embattled Administrator Scott Pruitt against Republican criticism Tuesday over his use of multiple email addresses, insisting it was "standard practice since the Clinton administration."
In an email sent Thursday under that subject line, Jahan Wilcox, a top agency spokesman, said Pruitt only used one of his four email accounts for correspondence, while the others were used to receive emails from the general public and allow staff to manage his calendar. The fourth address, he said, was deleted.
Pruitt's email accounts, revealed five days ago by The Washington Post, raised concerns that the EPA failed to disclose emails linked to the secret accounts in public records requests. The controversy added to the rapidly cascading series of corruption scandals and ethical lapses that have caused dozens of Democrats and at least three Republican members of Congress to call for his resignation.
Wilcox listed the four email addresses Gina McCarthy, Pruitt's predecessor, used, and linked to a 2012 Politico story detailing a controversy over former Administrator Lisa Jackson's secondary email address. In that article, officials from former President George W. Bush's administration said the "arrangement is nothing new."
But that didn't quell concerns from Sen. John Barrasso (R-Wyo.), a staunch supporter of the Trump administration's environmental agenda, who asked the Pruitt to "affirm that the EPA does in fact search all your official email accounts when responding to FOIA requests" in a letter sent to the administrator Friday.
"During your confirmation hearing, I specifically asked you to 'refrain from taking any action — that makes it difficult or impossible for the public to access your official written communications under the Freedom of Information Act,' " Barrasso wrote to Pruitt, according to a transcript published by The Hill and The Washington Post. "You agreed to my request."
After the Government Accountability Office released a report Monday saying that the $43,000 the EPA spent on a soundproof phone booth for Pruitt was illegal, Barrasso escalated pressure on the administrator by demanding that he "give a full public accounting of this expenditure and explain why the agency thinks it was complying with the law."
In a separate memo, Wilcox outlined the agency's defenses on the phone booth and another controversy involving five-figure raises given to EPA political appointees under the Safe Drinking Water Act after the White House rejected requests to bump their salaries. The latter scandal blew up two weeks ago when Pruitt struggled to defend himself during a surprisingly aggressive Fox News interview.
Calling all HuffPost superfans!
Sign up for membership to become a founding member and help shape HuffPost's next chapter
BEFORE YOU GO
PHOTO GALLERY
Climate Marches Across The U.S.