During his time as Oklahoma attorney general, Scott Pruitt, the newly sworn-in Environmental Protection Agency chief, forged an alliance with industry players to fortify oil, gas and utility companies' legal challenges against Obama-era regulations that they said amounted to a "war on carbon," according to more than 7,500 pages of emails published Wednesday.
The public release of the emails was ordered last week by a judge in Oklahoma and comes just five days after the Senate narrowly voted to confirm Pruitt as EPA administrator. Pruitt's nomination faced fierce protests from environmentalists and some Democrats, who argued that his confirmation vote should be delayed until after the release of the emails.
The emails reveal a chummy relationship between Pruitt and the companies whose pollution he's now tasked with reining in. The document dump sheds new light on Pruitt's frequent strategizing with Devon Energy Corporation, the Oklahoma City-based oil and gas giant. Pruitt's ties to the company, uncovered in a similar email dump published in 2014 by The New York Times, became a flashpoint during his confirmation process. In particular, critics railed against Pruitt's 2011 decision to allow the company to write a three-page complaint to the EPA under his letterhead.
In 2013, Pruitt's office solicited feedback from the company before suing the federal Bureau of Land Management over proposed rules to curb emissions from methane, a potent natural gas. In a victory for Pruitt, other state attorneys general and the oil and gas lobby, a judge struck down the regulation last June.
"I thought we should insert a sentence or two regarding the recent EPA report indicating their initial estimates on methane emissions were too high," P. Clayton Eubanks, who served as Pruitt's deputy solicitor general, wrote in an email to William Whitsitt, then an executive vice president of Devon. "Any suggestions?"
The document release did not include attachments to the emails, although sometimes the names of attached files are listed, so it's unclear to what extent Devon's edits made it into the attorney general's final letter. But as DeSmogBlog noted, Pruitt's deputy later wrote: "thanks for all your help on this."
In July 2013, Pruitt gave lawyers at Devon a first crack at a letter he planned to send criticizing proposed federal restrictions on methane emissions from natural gas drilling sites. Brent Rockwood, a director at Devon, suggested edits even on a granular level.
"[O]ur legal team took another review of the AG letter, and a good recommendation was made to include footnotes to source the quotes/legal arguments," Rockwood wrote in an email sent to Pruitt's office and Whitsitt, the Devon executive. "The attached version is the same one I originally sent to you, and which we just discussed, with the exception of the added footnotes."
"Thanks for putting the AG letter into action," he added. "I think that this letter will make a strong statement and a real difference."
The emails also show Pruitt was in contact not just with individual companies but with fossil fuel industry groups as well. Pruitt met with the lobbying group American Fuel and Petroleum Manufacturers to discuss ozone limits and the renewable fuel regulations in 2013 in Washington, D.C.
After the meeting, Pruitt had his assistant put Eubanks in touch with Sarah Magruder Lyle, then a top executive at the AFPM. Lyle sent Pruitt's staff industry talking points and research on those topics, which argued among other things that clean air standards hurt the refining industry. (Lyle now runs a group that is sponsored by pipeline companies and utilities.)
Pruitt later opposed the Obama administration's Renewable Fuel Standard and ozone limits.
The White House on Wednesday did not immediately respond to a request for comment on Pruitt's emails.
Pruitt made his name suing the EPA 13 times, repeatedly joining oil, gas and coal players ― including Oklahoma Gas & Electric and the Domestic Energy Producers Alliance, an industry-backed group ― in filing lawsuits to stop federal regulations. Pruitt championed the rights of Exxon Mobil Corp. in investigations into whether the oil giant committed fraud by covering up evidence that burning fossil fuels changes the climate. During his confirmation hearing, he claimed he was unsure how much lead was safe for humans to consume. Between 2002 and 2016, he received more than $300,000 in donations from the fossil fuel industry, and even more money went to a political action committee and a super PAC that paid for the former Oklahoma attorney general's trips to Hawaii and New Orleans.
"The newly released emails reveal a close and friendly relationship between Scott Pruitt's office and the fossil fuel industry, with frequent meetings, calls, dinners and other events," said Nick Surgey, research director at the Center for Media and Democracy, the watchdog group that sued to release the emails.
"And our work doesn't stop here," Surgey added. "We will keep fighting until all of the public records involving Pruitt's dealings with energy corporations are released ― both those for which his office is now asserting some sort of privilege against public disclosure and the documents relevant to our eight other Open Records Act requests."
Pruitt didn't just practice a pro-fossil fuel agenda, he preached it too. In 2014, Pruitt gave a 20-minute presentation at a panel on climate regulations at George Mason University. Ahead of the event, Henry Butler, dean of the college's law school, set the tone of the discussions in an email sent to Pruitt and other panelists.
"For purposes of our discussion, please assume that there is a war on carbon and that there are some benefits to the reduction in carbon emissions," he wrote. "What is often missing from the policy discussion is the costs."
And just in case the energy industry and conservative backers needed reminding that they had Pruitt's pen, and full support was at their disposal, Pruitt's office pushed press clips praising his work against climate regulation out to some of the same organizations that helped to direct Pruitt's efforts.
In July 2013, conservative magazine The Weekly Standard published an article praising Pruitt and other Republican attorneys general as "the unsung heroes in challenging the Obama agenda."
Two days after the story came out, Aaron Cooper, Pruitt's director of public affairs, forwarded the link to Matt Ball, the Oklahoma director of Americans for Prosperity, a conservative political advocacy group that receives funding from the Koch brothers.
"It's a good read and possibly worthy of use on social media. :)," Cooper wrote.
Later that day, Ball responded, saying, "Just tweeted this from AFP acct."
This article was updated to include comment from Surgey.
Sign up for the HuffPost Must Reads newsletter. Each Sunday, we will bring you the best original reporting, long form writing and breaking news from The Huffington Post and around the web, plus behind-the-scenes looks at how it's all made. Click here to sign up!
Support HuffPost
The Stakes Have Never Been Higher
Before You Go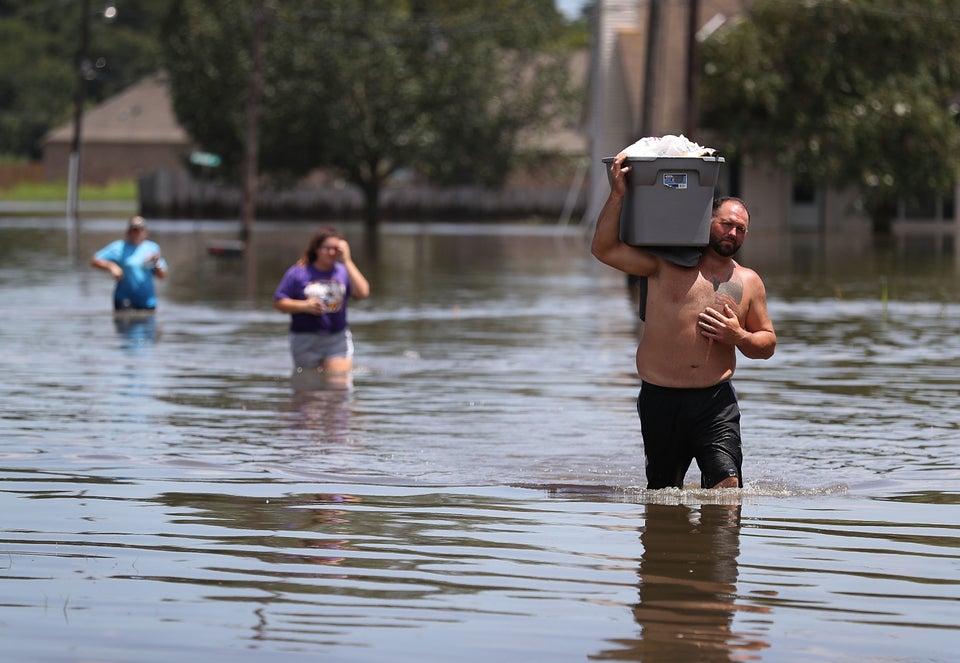 Climate Deniers
Popular in the Community