But he wasn't talking about industry pollution or conserving nature. He was referring to his critics' political rhetoric.
"Forgive the reference, but it's a very toxic environment," the controversial new administrator said in the speech, which lasted under 20 minutes.
"Civility is something I believe in very much," he added. "We ought to be able to get together and wrestle through some issues in a civil manner."
Then, at last, he began to outline his vision for the EPA. He described an agency that prioritized making it easier for polluters to comply with regulations. He promised to listen intently to companies before saddling them with new regulations. He admonished his new employees, some fearing layoffs amid looming budget cuts, for acting outside the agency's legal mandate and running roughshod over states' rights.
"Regulations ought to make things regular," Pruitt said. "Regulations exist to give certainty to those they regulate. Those we regulate ought to know what's expected of them so they can place and allocate resources to comply."
He did not mention climate change or environmental destruction.
Pruitt, the former attorney general of Oklahoma, was sworn in last Friday after the Senate voted 52-46 to confirm his nomination. His confirmation came a day after Judge Aletia Haynes Timmons of the District Court of Oklahoma County ruled that the Oklahoma attorney general's office must turn over more than 2,500 emails and correspondence between Pruitt and oil and gas firms. The ruling was in response to a lawsuit from watchdog group Center for Media and Democracy and the American Civil Liberties Union alleging that his office had violated Oklahoma's open records law.
"Scott Pruitt's going to have a lot of questions to answer," said Nick Surgey, the director of research at the Madison, Wisconsin-based Center for Media and Democracy, referring to the emails. "The head of the Environmental Protection Agency, on day three, is already talking about putting the interests of the environment against the interests of industry."
Democrats had sought to delay a vote on his confirmation until after those documents were released. Pruitt's former office is expected to respond by the judge's Tuesday evening deadline.
Pruitt made his reputation suing the EPA 13 times, repeatedly joining oil, gas and coal players ― including Oklahoma Gas & Electric and the Domestic Energy Producers Alliance, an industry-backed group ― in filing lawsuits to halt regulations. He forged what The New York Times in 2014 called an "unprecedented, secretive alliance" between Republican attorneys general and oil and gas companies to undermine environmental regulations. In 2011, he allowed Devon Energy, an Oklahoma oil and gas firm, to write a three-page complaint to the EPA under his letterhead, which he signed. Pruitt also championed the rights of Exxon Mobil Corp. in investigations into whether the oil giant committed fraud by covering up evidence that burning fossil fuels changes the climate.
"I believe we as an agency and we as a nation can be both pro-energy and jobs and pro-environment," Pruitt said Tuesday, regurgitating a line he used during his confirmation hearing last month. "We don't have to choose between the two."
Pruitt's contentious confirmation drew scorn from a variety of critics. He even plans to request an around-the-clock bodyguard from his agency, according to a report by E&E News. A senior energy official at the U.S. Chamber of Commerce, the country's largest trade group with a history of combatting environmental rules, warned the new administration against repealing a 2009 EPA endangerment finding that classified greenhouse gases as a threat to public health and welfare. The comment underscores growing acceptance of the science of man-made global warming, particularly given that the Chamber's official policy priorities for 2017 "oppose EPA efforts to regulate greenhouse gases under the existing Clean Air Act, including the endangerment finding."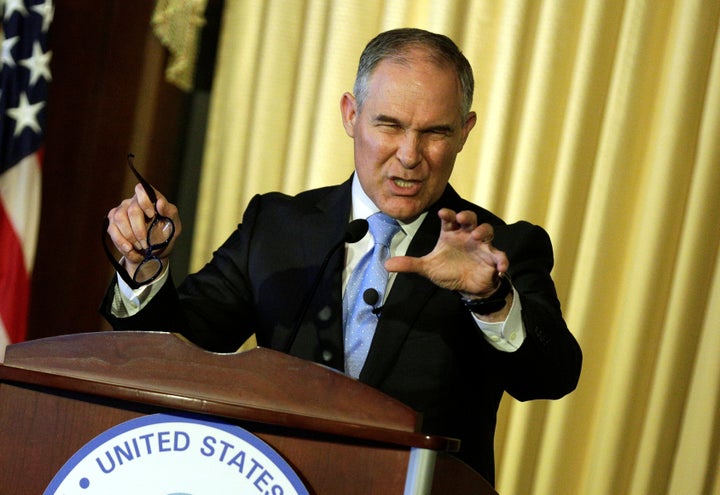 "There's going to be hell to pay from, you know, soccer moms and soccer dads all throughout the country," Christopher Guith, the energy official, said last month, according to a transcript published by the nonprofit Energy and Policy Institute. "People who probably voted for Donald Trump."
President Donald Trump has made slashing environmental restrictions a top priority, and the EPA is a prime target of his regulatory bushwhacking. He tapped Myron Ebell, a once-fringe contrarian who peddles conspiracy theories about climate change, to lead the EPA transition team. Soon after the inauguration, the White House ordered the EPA to freeze grants, putting a vast array of projects and personnel in limbo. That freeze has been lifted, but the White House is considering gutting the EPA's budget, which makes up just 0.22 percent of federal spending. A policy memo leaked to Axios proposed deep cuts to the EPA's budget, including axing hundreds of millions from grants to states and Native American tribes, climate programs, and environmental programs and management.
Trump's transition team also instructed agency employees to halt all press releases, social media, blog posts and external speaking engagements ― giving rise to rogue Twitter accounts claiming to represent the views of the silenced regulators. The team announced plans to review all EPA studies before publication, stoking fears that the new administration might stifle research on issues such as climate change.
For some, Trump's proposed cuts may not go far enough. Rep. Matt Gaetz (R-Fla.) introduced a bill to "completely abolish" the EPA by the end of next year, as HuffPost reported.
Now that Pruitt is in place, Trump is expected to issue executive orders undoing Obama-era EPA rules on climate and water pollution as early as this week.
Support HuffPost
The Stakes Have Never Been Higher
Before You Go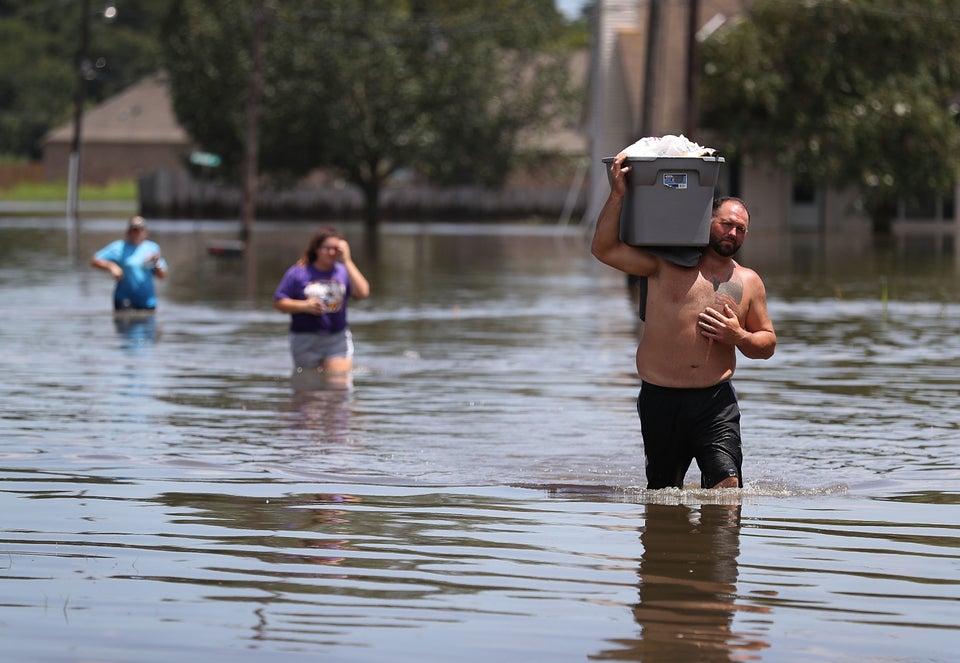 Climate Deniers
Popular in the Community