Environmental Protection Agency Administrator Scott Pruitt proposed a new rule Tuesday to overhaul the way science is used to write regulations at the agency, disqualifying huge amounts of peer-reviewed public health research and giving favor to industry-funded studies.
The new rule, widely condemned by scientists and environmental groups as an "attack on science," comes nearly two weeks after the White House quietly revamped clean air rules by executive order. Pruitt made the announcement at a 2 p.m. event live-streamed from the EPA, flanked by Rep. Lamar Smith (R-Texas) and Sen. Mike Rounds (R-S.D.), who both introduced but failed to pass bills on which the proposed regulation is based.
In a twist for an event billed as a step forward in transparency, Pruitt took no questions, and the EPA did not invite reporters from major news outlets to attend. The agency did not immediately release a copy of the proposal or respond to questions about when it would become public, issuing only a press release containing seven soundbites praising the rule. Roughly an hour and a half after the event, the EPA sent HuffPost a 27-page PDF of the proposal.
"Today is a red-letter day," Pruitt said, decrying the EPA's reliance on traditionally peer-reviewed studies as "wrongheaded." He added, "It's a banner day."
The rule, first reported by The Washington Post and confirmed by HuffPost Tuesday morning, would deliver a change long sought by conservatives who say "secret science" unfairly cripples industry. But critics of the new EPA proposal say it blocks the agency from using traditional, peer-reviewed studies that rely on anonymity granted to interview subjects to collect data on their personal health.
"It effectively says our premier public health agency will be prohibited from using many or most public health studies," said Andrew Rosenberg, director of the Union of Concerned Scientists' Center for Science and Democracy. "It's a perfect catch 22."
The proposal aims to do by EPA writ what has been a pet issue for Smith, the controversial head of the House Committee on Science, Space and Technology, for years. Smith has pushed two bills aimed at forcing the EPA to rely solely on research whose raw data could be publicly released, a bow to big industry players, particularly petrochemical companies who complained about research finding higher rates of asthma and other respiratory ailments that resulted from airborne particulates spewing from their plants. The bills passed in the Republican-controlled House, but failed in the Senate.
"In general we strongly support the general concepts in the Lamar Smith bill, which is the basis of what Pruitt is doing," said Myron Ebell, director at the libertarian Competitive Enterprise Institute and the former head of Trump's EPA transition team.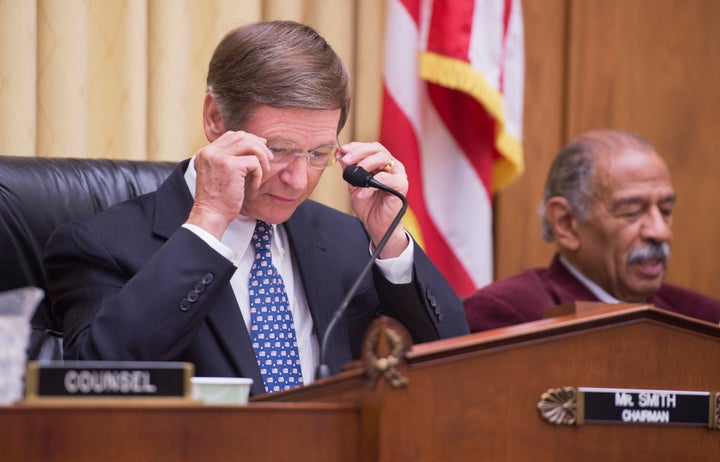 The concept attacks the fundamental scientific ethical standards that have guided science for more than a century. Scientists conduct research, collecting personal information from individuals under the supervision of universities' institutional review boards. That research is then reviewed by peers who scrutinize the methodology and statistics, and a study is ultimately published in a journal. Requiring that raw data be released with any research used to write regulations not only discounts the majority of peer-reviewed health studies, it dramatically slows down the rulemaking process, potentially forcing reviewers to replicate decades-long studies down to the most minute data points.
"God forbid this means no regulation until then. We're back in the Dark Ages," said Tom Burke, a professor at Johns Hopkins Bloomberg School of Public Health and a former EPA science adviser until January 2017. "Do we turn back the clock and start over? And it's open season to industries that brought us such pervasive contaminations?"
"I'm hoping during the comment period cooler heads will prevail," he added.
The new EPA move builds on a strategy long employed by the tobacco industry to sow doubt as mounting research linked smoking to cancer. The playbook dates back to 1996, when Christopher Horner, a former fellow at the Competitive Enterprise Institute, wrote a memo outlining plans to combat the EPA's finding that tobacco smoke is carcinogenic by constructing "explicit procedural hurdles the agency must follow in issuing scientific reports."
The fossil fuel industry's concern dates back to around the same time. In 1993, the industry bucked a groundbreaking Harvard University study that linked polluted air to premature deaths after tracking thousands of people for nearly two decades. The New York Times described the research, called the "Six Cities" study, as "one of the most influential public health examinations ever conducted" and "the backbone of federal air pollution regulations."
Steve Milloy, a former tobacco lobbyist who recreated himself over the past decade as a staunch climate change denier and online troll to scientists and reporters, has long pushed for a "transparency" rule, bemoaning the "EPA's secret science" in a Fox News op-ed as far back as February 2001. On Tuesday morning, he took credit for the EPA proposal.
"We're back in the Dark Ages."
"I look at it as one of my proudest achievements," Milloy told E&E News. "The reason this is anywhere is because of Steve Milloy."
The proposal builds on moves Pruitt has already made to shackle scientists whose peer-review process Republicans call into question. In October, he banned scientists who receive EPA research funding from serving on the agency's advisory boards, effectively turning over control of the oversight panels to industry-friendly researchers. That change, made by executive order, similarly mirrored a bill Smith proposed: the Science Advisory Board Reform Act of 2017. The legislation, as The New Republic's Emily Atkin noted in an article this month declaring Republicans had won the "war on science," "is based on the presumption that environmental scientists who have received money from the EPA for research — as many of them have — are biased in favor of regulation."
"The liberal media and alarmist environmental groups continue to argue against this common sense approach," Smith said Tuesday before introducing Pruitt at the event.
But the rule proposed Tuesday outlined exceptions for industry-funded research. Emails released in response to a public records request show Nancy Beck, the deputy administrator of the EPA's Office of Chemical Safety and Pollution Prevention, warning that new "transparency" proposals put corporate trade secrets at risk. (The EPA released the documents before then removing them from its website, but the Union of Concerned Scientists re-published them online.)
"It's a competitive issue," Beck, a former chemical industry lobbyist, wrote in an email. "These data will be extremely valuable, extremely high quality, and NOT published. The directive needs to be revised."
The text of the proposal states that the EPA administrator can provide exemptions for "confidential business information" on a case-by-case basis.
The new EPA proposal comes as Pruitt faces mounting pressure to resign after a month-long whirlwind of ethical scandals and federal investigations into his spending and management of the agency. After weeks of signaling strong support for the administrator, the White House started telling Republicans to hold off on defending Pruitt, according to a Bloomberg report.
Smith, who is not seeking re-election to another term this year, bucked the directive and repeatedly praised Pruitt.
"I know of no other administration official who goes on the offensive, who isn't intimidated and who does what he thinks is the right thing regardless," Smith said. "That's why we appreciate the job that the administrator is doing."
But, on Monday, three of Pruitt's staunchest allies, including Sen. James Inhofe (R-Okla.), said they supported holding hearings on the Senate Environment and Public Works Committee to investigate Pruitt's actions. At least one former EPA official suggested the rule unveiled Tuesday was meant to smokescreen Pruitt's weakening grasp on the agency.
"They're trying to distract from the ethical questions and fiscal scandals that are going on," said Liz Purchia, who served as the EPA's communications director until January 2017. "Right now, it'll be a proposed rule and it's unclear if it will ever go into effect."
Popular in the Community