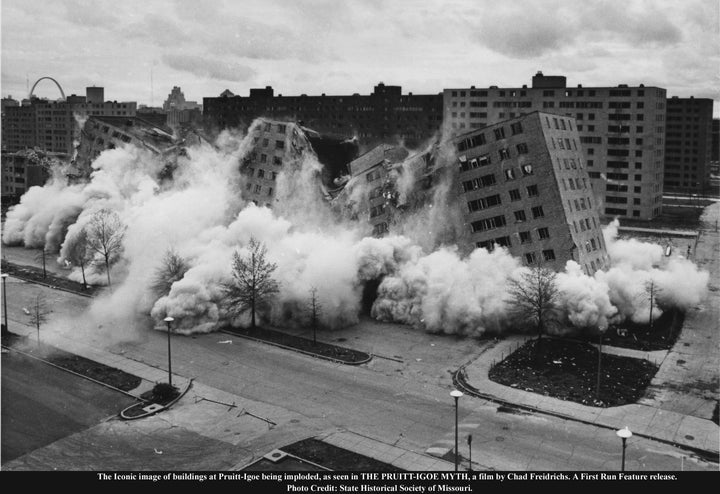 The images of its destruction are some of the most iconic in all of modern architecture. Less than 20 years after they went up, the towers of the Pruitt-Igoe public housing project in St. Louis went down. Trash-strewn, dilapidated and intensely segregated -- their residents were almost all black by the time of its destruction -- the buildings symbolized all that was wrong with the commanding visions of men like Minoru Yamasaki, the architect who designed both the project and the World Trade Center.
Critic Charles Jencks famously said that "Modern Architecture died in St. Louis, Missouri, on July 15, 1972, at 3.32 p.m. (or thereabouts), when the infamous Pruitt Igoe scheme, or rather several of its slab blocks, were given the final coup de grace by dynamite."
But now, that assertion is getting its own form of demolition. The story Jencks told, endlessly repeated in introductory architecture courses thereafter, was not the story that the filmmaker behind a new documentary called "The Pruitt-Igoe Myth" is interested in telling. For Chad Friedrichs, Pruitt-Igoe's failure wasn't about the death of modern architecture. It was about the pains of the American city during the 1960s and 1970s.
"This film does in a way act as a lesson in the limits of one profession," Friedrichs told HuffPost. "Architects couldn't have solved this problem, because this issue is so much bigger than architecture."
What the destruction of Pruitt-Igoe actually symbolized, Friedrichs argues in his revisionist film that has been receiving raves from critics, was a failure of politicians on both the local and federal levels to support the public housing they had paid for in the first place. Instead, they were busy encouraging white and middle-class Americans into the suburbs, opting to simply forget about the problems of the city.
Growing up in the St. Louis suburb of Wentzville decades later, Friedrichs noted, people in his circle rarely talked about the section on the north of the city where the high-rise buildings once stood. When they did, it was as a place to avoid -- "What if our car breaks down?"
But a few years ago, while Friedrichs was redesigning his mid-century modernist house in Columbia, Mo., with his wife, he took an interest in modernist architecture. That led to one of those references to Jencks' comment on Pruitt-Igoe, and his ears perked up. Nobody, he discovered, had ever made a movie about the place. So he set out to unearth its history, and what he found was a story much more complicated than most people realize.
He found a 1991 paper with the same name as his movie by Katharine Bristol, then affiliated with University of California, Berkeley, that argues the complex's failure was "shaped by profoundly embedded economic and political conditions in postwar St. Louis." And while interviewing people who had lived in the projects, many of them had "different kinds of memories than just drug dealers and crimes." Even at the end, Friedrichs said, crime inside the complex was often no worse than across the street in private low-rise housing.
"My favorite image in the film is the shot of the Boy Scouts," Friedrichs said. "Because there's nothing more normal than Boy Scouts. It just reeks of American normality."
Of the nine former residents he talked to, most who grew up in Pruitt-Igoe as children, "many of them fully admit to a lot of the problems that were endemic and reported in those years," he said. "But they also tell you a story about homes that formed a community. They also tell you stories about how their parents decorated their interiors of their homes, even if their exteriors were run down."
Those exteriors, and a waste incinerator that was supposed to burn all the trash that eventually piled up, were left to deteriorate by the St. Louis Housing Authority. The film, Friedrichs said, "speaks to the universals of how America has not only treated people without housing or with housing problems, but about how America has treated its poor, especially poor minorities."
Still, Friedrichs isn't willing to go so far as to suggest that high-rise public housing should be resurrected, as part of the U.S. vital infrastructure, when so many people are struggling to put a roof over their heads. He just wants to see people housed, whether in public or private buildings.
He sees the issue of housing, he said, "less as like a natural human right, and more as something that's just good for society."
"The Pruitt-Igoe Myth" opened in New York on Friday.
REAL LIFE. REAL NEWS. REAL VOICES.
Help us tell more of the stories that matter from voices that too often remain unheard.
BEFORE YOU GO