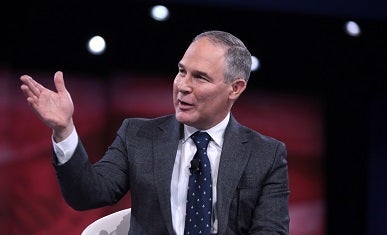 Scott Pruitt, who has been chosen by President-elect Donald Trump to run the Environmental Protection Agency, has made clear that he's coming to Washington to dismantle clean air protections. He's sued EPA at least 14 times to block rules liming toxic mercury, smog, acid gases, and other dangerous pollutants.
But a new report shows just how far Pruitt will go to hobble enforcement of environmental rules. Energy & Environment News reports that as Oklahoma Attorney General, Pruitt shut down the Environmental Protection Unit when he was elected in 2010. Instead, Pruitt opened a special office run by his solicitor general to mount legal challenges against EPA.
In other words, Pruitt traded his environmental enforcement unit for an office meant to undo environmental rules.
Mr. Pruitt's actions match the rhetoric Trump used on the campaign trail. The President-elect famously announced that "I would say 70 percent of regulations can go," specifically citing limits on carbon pollution and other EPA clean air rules. If Trump plans to follow through on his threat to essentially dismantle EPA, he can lean on Pruitt as someone with direct experience in shuttering environmental offices.
The program Pruitt closed was established in 1996. It led investigations into water contamination from refineries, lead paint waste and illegal dumping. It also fought companies over pollution in the Illinois River basin.
Pruitt also starved his office's environmental enforcement efforts of funding. E&E reports that "state budget documents show that funding for 'environmental law' in the attorney general's office fell from $463,000 in 2010 — the year before Pruitt arrived — to zero in 2014." He literally zeroed-out spending on environmental law.
Was it just a misguided effort to save money for Oklahoma taxpayers? Not likely. The office established to fight EPA rules had a budget that eventually reached over three and a half million dollars.
Closing the office seems to have been a deliberate signal to industry that there would be few legal consequences for fouling the air and water in Oklahoma.
Related
Popular in the Community