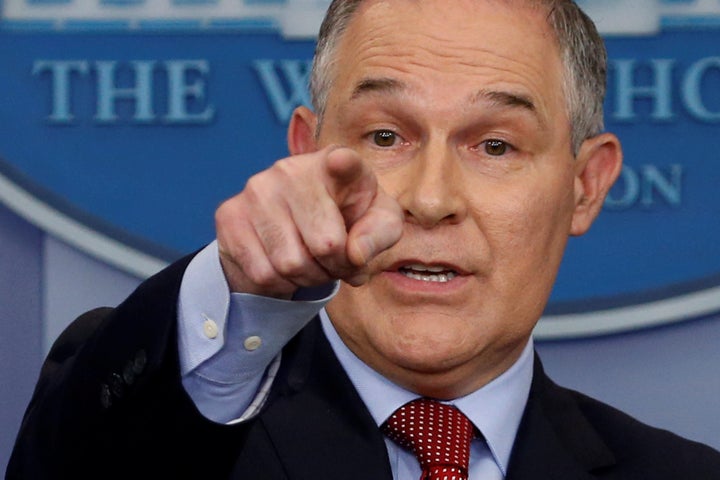 WASHINGTON – The nation's top environmental official on Sunday again refused to answer whether his boss, President Donald Trump, believes that climate change is real and caused in some part by humans.
As he did all last week after Trump announced his decision to withdraw from the 2015 Paris Agreement to limit carbon dioxide emissions, Environmental Protection Agency Administrator Scott Pruitt dodged direct questions from "Fox News Sunday" host Chris Wallace.
"The president has indicated the climate changes. It's always changing. I've indicated the same," he said. "What the president did on Thursday was put America first, and say to the United States and say to the world that we're going to remain engaged. But we're also going to make sure that as we remain engaged, we put America's interests first."
Wallace grilled Pruitt on a number of related topics, including Trump's claim that he pulled out of Paris because it was costing the United States jobs. Wallace pointed out that the United States already has twice as many people working in the solar energy sector than those working in the coal mining industry.
"Aren't you focusing on the wrong thing?" Wallace asked. "Aren't you and the president focusing on protecting the horse-and-buggy business just as cars come online?"
Pruitt answered that the U.S. needs all forms of energy. "We should not penalize sectors of our economy," he said, attacking former President Barack Obama's environmental policies. "The past administration declared a war on coal."
Every night on the TV news now is like a nature hike through the Book of Revelations. People are noticing this.

former Vice President Al Gore
Energy experts, though, agree that coal's biggest problem is the expansion of natural gas drilling through hydraulic fracturing, which has led to much lower prices for that fuel, which produces much less carbon dioxide per unit of energy produced than does coal.
Ironically, Pruitt cited the increased use of natural gas as another reason for leaving the Paris Agreement: that it wasn't necessary because the U.S. was already reducing carbon dioxide emissions.
Chris Wallace's next guest was former Vice President Al Gore, whose 2006 documentary "An Inconvenient Truth" helped make climate change a more prominent issue. Gore met with Trump during the transition and urged him to stay in the agreement.
"It makes no sense to me. I think it was a reckless decision, an indefensible decision," he said, adding that it was no longer necessary to trust the scientific near-unanimous consensus that human-generated carbon dioxide is largely responsible for climate change. "Every night on the TV news now is like a nature hike through the Book of Revelations. People are noticing this."
REAL LIFE. REAL NEWS. REAL VOICES.
Help us tell more of the stories that matter from voices that too often remain unheard.
BEFORE YOU GO
PHOTO GALLERY
4 Surprising Places At Risk From Climate Change