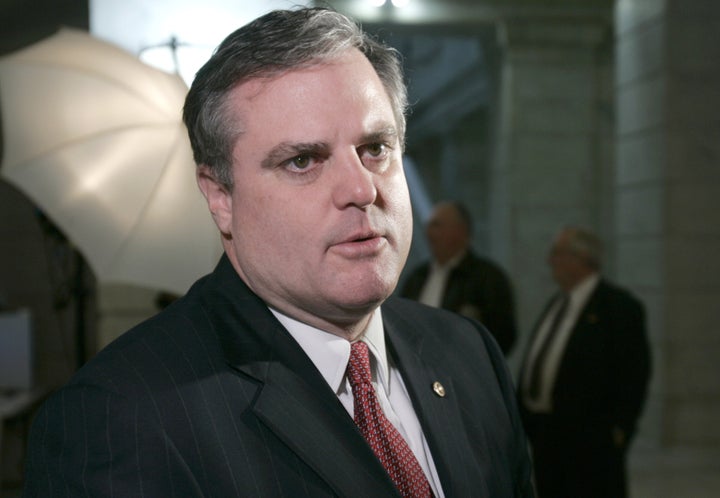 A key conservative Democrat told reporters Thursday that he was "open to a public option" as part of the final health care reform package. Sen. Mark Pryor (D-Ark.) added that "it depends on how it's structured on whether I can support it... I just haven't decided."
The Senate health-care debate is unfolding on multiple levels. On one level, Democrats need 60 votes to overcome a GOP filibuster and proceed to a floor debate on the merged bill currently being pulled together by Senate leaders and White House representatives. The group gathered in Senate Majority Leader Harry's Reid's office Wednesday night and, aides say, the public option was the main topic of discussion, though no decision was made on whether to include it in the bill.
"My impression is they're working through what a public option would look like in the bill, if anything. I don't know if they know yet," said Pryor.
Once it's on the floor, the bill would again need 60 votes, after amendments, to defeat a GOP filibuster and proceed to a final floor vote. That final floor vote only requires 50 votes, with Vice President Joe Biden breaking the tie.
Pryor's openness to a public option is important not necessarily because he'll vote for the final bill, but because it means that even if he doesn't vote for final passage, he's unlikely to vote against his leadership's motion to proceed to a floor debate -- the key vote.
Indeed, that's just what he told blogger Mike Stark in a recent interview. "I don't think you'll see me or any other Democrats do that," Pryor said when asked if he'd join a GOP filibuster.
Sen. Mary Landrieu (La.), one of the few Democrats on record against the public option, also said that she'd rather not join a Republican filibuster. "I'm not right now inclined to support any filibuster," she told HuffPost.
The refusal of the GOP to participate meaningfully in negotiations has soured her on joining them in a filibuster. "For the Republican Party to kind of step out of the game is very unfortunate," she said. "I'm not going to be joining people that don't want progress."
Sen. Ben Nelson (D-Neb.), another public option foe, said it's too early to embrace the strategy laid out by Sanders and others. "I believe in playing chess, but that's about three moves ahead of me, and I'm not prepared to make those moves until I see some other moves in between," he told HuffPost.

Calling all HuffPost superfans!
Sign up for membership to become a founding member and help shape HuffPost's next chapter