"Taste of Venice"... it was the first "official" year that P.S. ARTS would present the event. Originally dubbed Taste of Abbot Kinney, the event was conceived and presented by Inside Out Community Arts for the past several years. Last year, P.S. ARTS took part in the planning of the annual food event, and more Venice food establishments were invited...hence the updated name. New changes continued this year with the addition of "Tastemakers" (foodie tour guides), which was the brainchild of Amy Shapiro, Executive Director, Advancement & Operations for P.S. ARTS.
Shapiro had previously attended the event and was part of an informal group that included Adam Gertler (television personality and chef), who participated in the early years of the event. "I loved hearing Adam's take on the food, where he most wanted to go, and other general foodie feedback," said Shapiro. "I wanted everyone to have that experience. We are an educational organization after all...there should be a learning component available."
The event (September 14, 2014) kicked off with an opening reception in the parking lot of the Electric Lodge. Attendees then divided into individual tours (about 20), which were led by restaurateurs, food writers, and professional chefs. It was followed by a closing reception.
I've attended this event many times, so I knew first hand that the opening reception would provide more than enough food. Knowing this, my staff writer (from LA Art Party) and I did try to pace ourselves...however, we were not aware of the generous portions that would tempt us later on the tour. We were first seduced by incredible tastes at the opening.
Every foodie will tell you that your choice of wine/beer/spirits is important to bring out the flavor of a meal. My first pour of the day was a sparkling red by Vina Sympatica, which was quite refreshing for this extra hot day in September.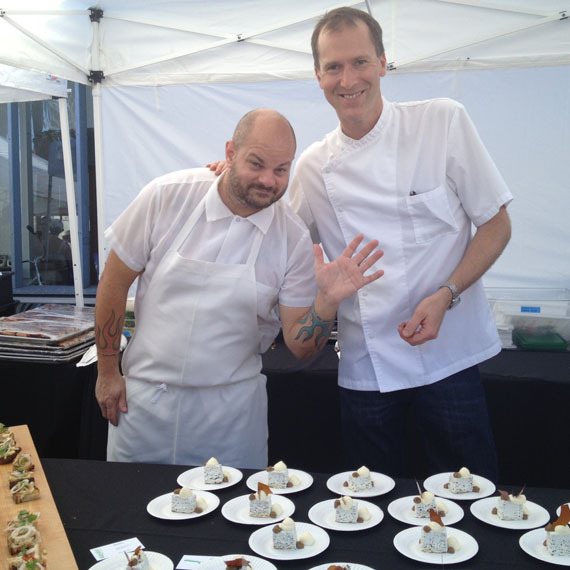 Photo courtesy of LA Art Party; Executive chef Jason Travi and pastry chef Lincoln Carson of Superba Food and Bread
One of the first food booths we came across at the opening reception was Superba Food and Bread. Here, one enjoyed a tasty smoked trout crostini along with a delectable serving of tiramisu. Although my taste buds were still in the midst of the savory stage of this culinary experience, I had to partake of the scrumptious tiramisu beckoning to me.
Pastry chef Lincoln Carson described his tiramisu as an espresso-soaked milk sponge cake sprayed with white chocolate, espresso "glass," espresso curd, mascarpone mousse, and chocolate dust. It was light and exquisite on the palette...a true delicacy.
Close by...Guillermo Hernandez, manager of Wurstküche, was busy handing out tastes of gourmet sausages from the popular eatery. Samples included bratwurst, hot Italian, duck & bacon with jalapeno peppers, and vegetarian smoked apple sage.
Across the parking lot, an animated vendor named Frankie Scanlon caught my eye (OK...it could have been the bar next to him) as he described his salt company - Gustus Vitae (Taste of Life) - to one of the attendees. Salt...really? As I edged my way in to find out what all the fuss was about, Scanlon revealed his love of salt. "I'm passionate about salt and seasonings in general because they can open up and enhance what's best about a meal (or even just a single ingredient) without overpowering or overwhelming it." He went on to explain that fresh, local ingredients should always be the star of the show, but the job of a great salt is to offer that little boost to help the food go from good to great.
Gustus Vitae's salt blends include: Taste of Bordeaux, Taste of Greece, Truffle Sea Salt, Taste of Tuscany, Red Cayenne and more. "What we've tried to do is craft blends that taste like places, making it healthy and easy to enjoy the authentic flavors of many of the great culinary traditions and destinations of the World." Scanlon admitted that although he was not a professional chef, he loved to cook and started making blends of salts to give as gifts to his family and friends. He was then invited to participate at the Venice Beach Farmers Market, and soon his business began.
Feeling a bit more educated about salt and its use in cooking...I decided a glass of red wine was in order. Solminer California Central Coast Craft wine offered a zesty Syrah (2012 Santa Ynez Valley), which was a perfect match for Hostaria Del Piccolo's incredible pasta dish of rigatoni with tomato cream sauce and Italian sausage. Piccolo really hit the mark on this one.
Poke-Poke, located on the Venice Boardwalk, specializes in made-to-order poke (Hawaiian style tuna tar-tar), and was offering several versions of its namesake. Co-owner Jason McVearry explained that he first introduced Poke to his wife Trish while they were vacationing in Hawaii. His wife became the driving force behind their company which was born in 2010. "We came up with the made-to-order process after we'd opened...to give poke a new dimension," said McVearry.
Other delicious bites came from Café Gratitude, Santinos, Groundwork Coffee, Cerveteca/Venice Beach Wines, etc.
Moving on to the tour...We hit a minor snare, as our designated tastemaker did not make it to the event. However, we quickly merged with another group led by Catherine McCord of Weelicious...onward and upward.
Starting at Lemonade, we enjoyed three choices of fresh salads. Then we headed straight to Nice Cream, for a scoop of our choice. Once again, dessert seemed to interrupt my savory vibe, but who can turn down ice cream? Other venues included Abbots Pizza, Chop Daddy's, Kreation, Primitivo, and Toms Roasting Co.
My personal standouts were Joe's Bar and Grill, Another Kind of Sunrise, Casalinda, as well as my favorite - Willie Jane, which I'd like to spotlight below.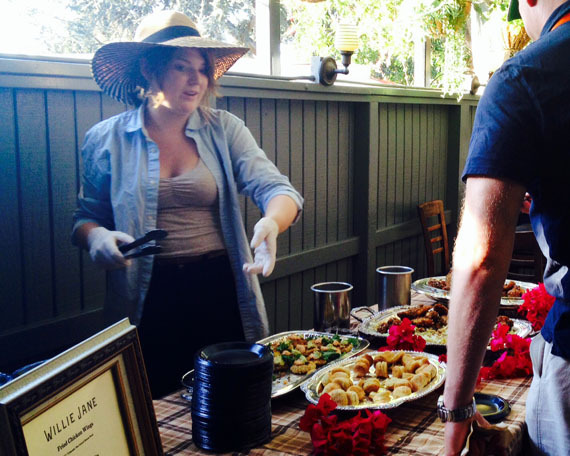 Photo courtesy of LA Art Party; Willie Jane offered quite a spread in a relaxed setting on the back patio
Willie Jane first arrived on Abbot Kinney in March of 2013 and offers California inspired Southern cuisine. As part of the tour, we were treated to benne seed maple ginger glazed wings with mini biscuits as well as a vegan crab cake. We took a moment to sit down and enjoy the outdoor patio. Chef Ryan Costanza explained that the glazed wing is a new twist on Willie Jane's popular fried chicken dish. He added, "The vegan crab cake is a seasonal signature dish that both meat eaters and vegans love! We like to let people know we do have vegan options on the menu."
What I personally loved about this year's new tour portion of the event was that many participating venues (like Willie Jane, Lemonade, Joe's Bar and Grill, etc.) also offered a place to stop and sit for a moment. My memory of this part of the event in previous years was rushing down Abbot Kinney to hit every eatery as fast as possible before the allotted time was over. This year, the vibe was completely different...perhaps because our tour guides were in charge, which also took some of the control out of our hands. This was a positive change for me, although some other attendees said they felt a bit constrained. Hey...as long as I'm being fed, I'm happy.
Finally the attendees were invited back for more dessert based food...alas I was just about too full to try anything...but I managed to try some vegan chocolate which was surprisingly delicious from The Sweetness of Being (pictured above), as well as WTRMLN WTR, (pure watermelon with a splash of lemon). A brand new product, WTRMLN WTR, which was thoroughly refreshing, is now available at Whole Foods.
All in all, the TASTE of Venice was an incredible event. I was able to follow up with Amy Shapiro of P.S. ARTS, who said she was quite happy with the event. She added, "We are just beyond grateful to the restaurants, Tastemakers, host committee and guests who made this event a success and we are already looking forward to next year!"
Popular in the Community