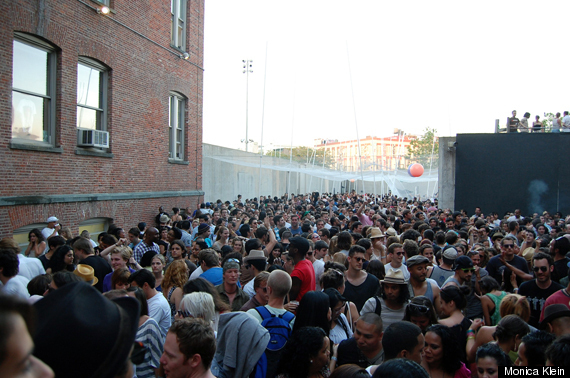 If you're one of those Manhattanites skeptical of the contemporary art scene in Long Island City, then you can easily recognize the incredible feat that P.S.1 has pulled off with their infamous summer DJ-dance-and-drinking series, Warm Up. Far from museum mile, P.S.1 has managed to entice an eclectic mix of concert-goers and museum-viewers into their courtyard in Queens each Saturday for the past twelve years, holding phenomenal 7-hour dance parties throughout the summer.
This Saturday marked the first Warm Up of the 2010 summer series, which lasts from July 3rd to September 4th. Throughout the afternoon, various DJs and bands graced the stage, from Korallreven, John Talabot and Glasser to Janka Nabay and the Bubu Gang. Finishing off the afternoon was a live set from Spanish indie-dance band Delorean, a Barcelona-based group formed in Zarautz.
While crowds streamed in and out of P.S.1's newest Greater New York exhibition, many preferred to remain outside, sipping pricey beers and lounging amid "Pole Dance," the museum's newest courtyard installation.
Though Delorean finished their set before 8pm, the crowd continued dancing for over an hour, squealing like slightly-tipsy children when enormous beach balls and balloons were released over the courtyard. While the city suffers through triple-digit highs, P.S.1's combination of refreshing drinks, innovative DJs and impressive installations will keep the crowds coming throughout the sweltering summer.
Check out P.S.1's 2010 Warm Up Series Line-Up.
Related
Popular in the Community