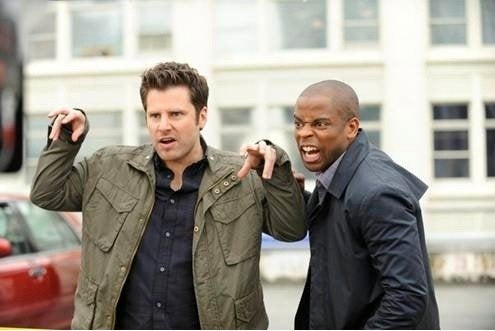 There's a reason "Psych" is USA Network's longest-running series on air, and it probably has something to do with the chemistry between the psychic crime-solving duo, Shawn and Gus, played by funny guys James Roday and Dule Hill respectively. The new season of "Psych" promises to be even more star-studded and pop-culture influenced than ever, and they're kicking things off with a tribute to one of the most iconic franchises of all time -- "Star Wars."
Roday and Dule spoke to The Huffington Post to give us the scoop on Season 6, channeling their inner vampires and dancing with new kid on the block, Joey McIntyre.
I loved the premiere episode, but I have to ask, are you guys actually "Star Wars" fans?
JR: I didn't see the new ones. I know, it's ridiculous. But I think "Empire Strikes Back" will always be my favorite.
DH: I can't say that I am. I like the old movies, but I wasn't really a fan of the newer ones. After the first prequel, I kind of gave up on that. I was a big fan of Luke Skywalker though.
But that's a huge part of the show, right? All of the pop culture references are great.
JR: Yeah, we really jam them in there, huh?
DH: And I would say that about 90 percent of it, I have no idea what I'm talking about.
What's been your favorite so far?
JR: Well, the good news is that we've pretty much covered all of the 80s and 90s, and we've even started dipping into the 70s, so it's pretty much a bottomless treasure chest of films and fads and music. I think the best for me is when we remind people of something that existed that they had forgotten about that was especially ridiculous, but that is immediately associated with a certain time in their lives. We did a couple of "Summer School" references this year, and for me, that move defined an entire summer of my life. I was in this tiny little town in Northern California where my grandparents lived, and there was only one movie theater and it played "Summer School" for about a month. It was the only movie that they had. I must have seen it 17 times. So, for me, if I was watching the show and there was a "Summer School" reference, I would be like, oh my god, I remember that summer I watched it 17 times.
DH: I'm waiting for "Psych" to do a reference to "Sweet Sweetback's Baadasssss Song," but I don't think that's ever going to happen. Personally, I would loved to do a musical episode because that's where I started. I know we've talked about doing it for a few seasons, so hopefully, we can do it for Season 7.
James, are you willing to start singing?
JR: Yeah, I think we've shown that we're willing to put our voices on the line [singing]. Dule and I always have the same answers. We don't consider ourselves singers, but we can sing. So if it's something that is funny and it's something that we think people will dig, then we'll dust off the pipes. I also think that we're due for a "Boogie Nights" episode. I don't think I'm going to be able to sell anyone on that.
That actually sounds awesome. What about this Halloween episode coming up where you play Lestat from "Interview With a Vampire?"
JR: Well, for the writers, it was a no brainer for Gus. Just the facial hair that you get for the Blacula character alone is worth the price of admission for me. Plus, there's just less iconic black vampires throughout history to choose from. And then, for Shawn, we thought about Jason Patrick from "The Lost Boys," which also would have been appropriate, but we managed to land an even better tribute to that film in the episode, which left the door open for Lestat. You know, Tom Cruise's nose is almost as big as mine, so it looked good on paper.
So, there was never a conversation that you would be Edward Cullen from "Twilight"?
JR: No, we kind of made that decision right off the top, that we were going to try and steer clear of "Twilight." It feels like it's a little over-exposed at the moment. It's a little too current for us.
DH: Yeah, "Twilight" is way too current for Shawn and Gus. They probably have no idea who the "Twilight"-ers are. They think they're cool because they're old school.
JR: Then they realize that what they though were going to be the show-stopping ensembles really make them stand out.
Now, this season has so many guest stars this season, from William Shatner, Danny Glover, Kristy Swanson and Cory Feldman to John Rhys-Davies, Jason Priestley and Molly Ringwald. I mean, the list could go on, but I'm pretty excited to see Joey McIntyre.
JR: He was such a good sport. We even convinced him to do The Pendulum with Dule, which fans will get to see in the form of a psych-out. He was a really grounded guy. He was actually in the middle of his reunion tour. It was a little surreal for me because even though Dule and I weren't at the concerts, we remember the phenomenon that was New Kids on the Block.
DH: I remember hating New Kids on the Block from the sidelines because all of the girls loved them. They would just fawn over them. 'Oh my gosh, Joey I love you!' When I was younger, I really couldn't stand them. But Joey is a really cool dude, and I really enjoyed having him come on the show.
And now you get to dance with him.
DH: Exactly, you know what I mean? Look who's cool now.
Season 6 kicks off Wed., Oct. 12 at 10 PM ET on USA. If you can't wait, check out this hilarious scene from the premiere, "Shawn Rescues Darth Vader," below.
Calling all HuffPost superfans!
Sign up for membership to become a founding member and help shape HuffPost's next chapter