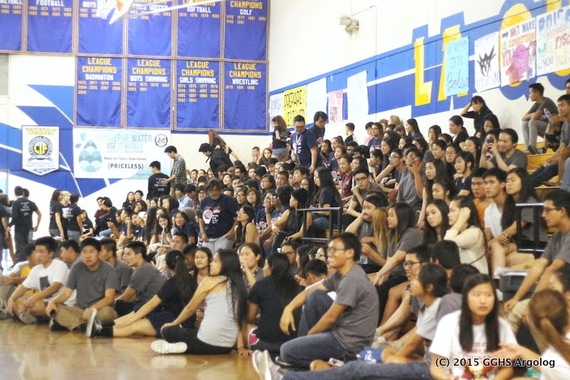 Imagine a gym full of 500 actively engaged high school students competing, cheering, and chanting, "we will psych you." You would think this was a sports event, right? It was actually the scene from a competition called the Psych Bowl, which six Garden Grove (Calif.) Unified School District high schools hold in April. Each of these schools has an Advanced Placement (AP) Psychology course, and while the students compete in the Psych Bowl, they may not realize it but they are actually studying for the exam.
AP Psychology is a class the College Board offers that gives high school students the opportunity to earn college credits. Students should know that they do not earn the college credit by just taking the course; they have to pass a difficult test. It is a yearlong class that covers topics such as biology, social psychology, statistics, mental illness, therapy, and research methods. Students who take the course learn about psychology, but mostly about themselves. It is one of the largest programs with approximately 200,000 tests given nationwide. AP Psychology is offered in other countries as well. It is popular because it is an elective that most people can handle, and it is a required general education course in college. Hannah Loesch wrote a piece for the Huffington Post titled "Why Everybody Should Take Psychology in High School," in which she talks about how it is so important to learn what makes people tick at an early age.
Jessica Bartolotti taught the first Garden Grove Unified School District AP Psychology course in 2006, and what makes her class unique is that she lets anyone who wants to take the course enroll. She believes they are going to need to take it in college, so why not take it in high school for free; doing so will save them money because they will not have to take the course later. She tells them from day one that she treats it like a workshop or a TED talk, and if her students are going to treat her with respect, she will treat them with respect. One hundred eighty two anxious students will learn the subject matter from her next year. Bartolotti enjoys all of the faculty members who teach AP Psychology in her district, stating, "I could not work with a better group because they have that same passion. They all have the mind-set that they are there for the students and their personal growth." When they get together and talk about their students it is a lot of fun. She has created a website (with her own money) for her students so they can succeed; on it she has current lesson plans, summer assignments, and tips for success. She has kept in touch with several of her students, and some of them have gone on to be marriage and family therapists, sports psychologists, and human resource professionals. There is one who does biofeedback therapy for PTSD victims, and one wants to become a teacher.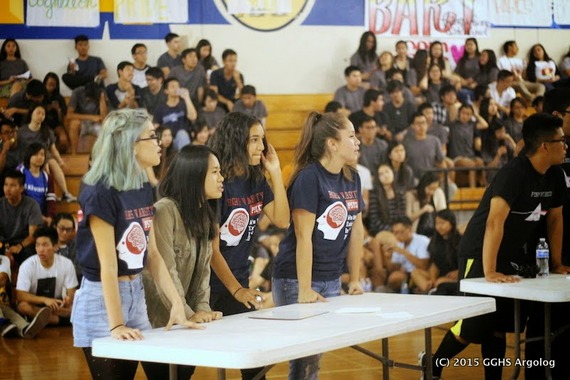 Bartolotti got the idea for the Psych Bowl, which is like an academic decathlon for psychology, from a teacher in Utah. This event has grown in participation from a small group in 2009 to approximately 500 students, and the trophy for it is a bowl on a piece of wood. Everyone who participates in the event has a great time. What better way to learn than by having fun doing it? Bryan Stanley, one of the other AP Psychology teachers in the district said, "When we're done, every time whether we win or lose I walk out with a big smile on my face. Everyone has the same goal."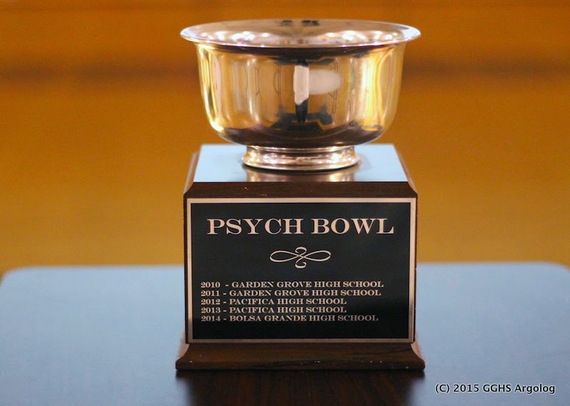 Two of Bartolotti's students spoke about how she and the course were instrumental in their lives. Andrei Narez was not interested in taking an AP course his senior year in high school because he wanted his final year to be easy. Little did he know that this program would change his life forever. He is a senior electroencephalogram (EEG) technician specializing in neurofeedback, or brain activity, and he plans on pursuing a Ph.D. in neuroscience in the near future. When another former student, Vi Nguyen, began learning about psychology she said, "I was intrigued about the study of the mind and behavior." She said that in Bartolotti's course they learned how to "be organized, challenge themselves, and get curious about how we as individuals think, feel, and behave." They learned to explore their individual strengths and traits through the Meyers-Briggs Test, which measures the four dimensions of one's personality type, and there were projects designed to explore their identities. After graduating high school, she became very depressed and she turned to Bartolotti for help. After turning her life around she became a therapist trainee working with kids and graduated from Alliant International University with a master's degree in marriage and family therapy in May. She said, "The AP Psychology program gave me a destination, but Mrs. Bartolotti was the one who handed me the compass and map to begin the journey towards working with children as a therapist."
Everyone I spoke to had such positive feelings about this program. The teachers all enjoy working together, the students love the material, and it has changed their lives for the better. If there were more positive programs like this to build strong communities, can you imagine the wonderful impact it would have on the world? These teachers are truly superheroes.
REAL LIFE. REAL NEWS. REAL VOICES.
Help us tell more of the stories that matter from voices that too often remain unheard.