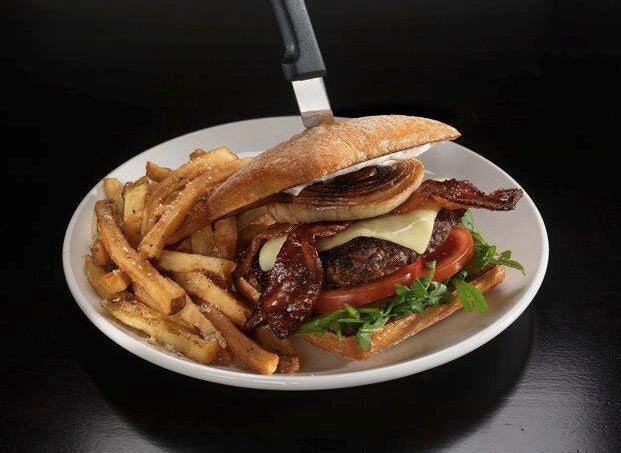 The Rock Bottom Restaurant & Brewery chain's menu offers what it calls an Old Time Pub Burger that it defines as being "no-nonsense." Menu copy says the burger is "cooked your way and topped with pickles, mayo and mustard. That's it. Simple and delicious."
This idea of a "pub burger" has gained popularity, perhaps because so many American burger restaurants are becoming more pub-like as they expand their craft-beer taps and bar areas. But there's no real uniformity in definition or execution. The English Pub Burger that McDonald's tested in the summer of 2011 (and that last year morphed into the Cheddar Bacon Onion burger) was hardly simple and hardly British: It piled hickory-smoked bacon, white Cheddar and American cheeses, grilled onions, steak sauce and smoky Dijon-mustard sauce on a third-pound Angus patty and placed in all on an "artisan roll."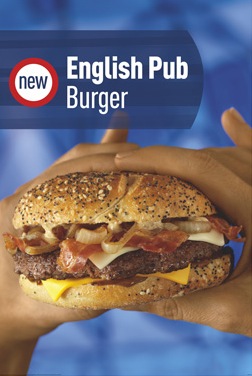 More beer-focused than English pub related is the "Pub Crawl Style" toppings bundle that Red Robin Gourmet Burgers offered as an LTO late last year. This includes Wisconsin's own Merkt's beer-cheese spread, beer-mustard onion and bacon. Wisconsin-based chain Culver's gave its recent Colby Jack Pub Burger LTO a local definition: "Fresh, never frozen Midwest-raised beef, seared on a grill and topped with Wisconsin Colby Jack cheese, crispy fried onions, its own special four-pepper mayo with a dash of A.1.® Steak Sauce on a Supper Club bun." Nice, but it sounds much more Great Lakes than Great Britain.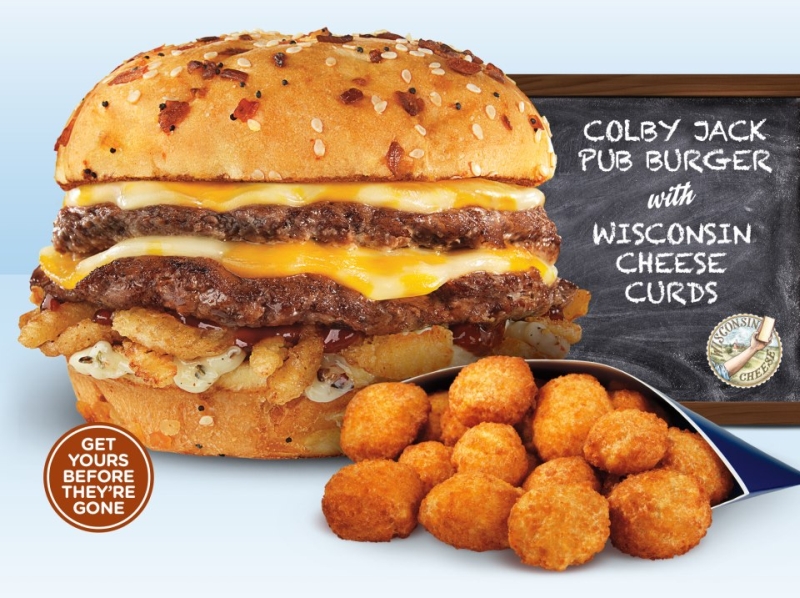 Just when you think you might have a handle on it you find Food Network's Giada De Laurentiis' recipe for "Mini Italian Pub Burgers." Taleggio cheese and basil? What's all this, then?
So what's a pub burger in England? "I've not heard of a 'pub burger,' " says Peter Backman, managing director of London-based Horizons, the leading UK restaurant researcher. "A burger is a burger over here, but we are seeing a proliferation of premium burgers."
In fact, British site InAPub.com says the explosion of creatively topped premium-priced burgers has nudged fish & chips into second place in popularity. It cites research from CGA Strategy showing that the average English pub sells 160 burgers a week, compared with 90 servings of fish & chips. So there's even less agreement over there about what makes a burger a "pub burger."
Over here, a Pub Burger can be almost anything, as evidenced by BurgerBusiness.com's attached list of two-dozen Pub Burgers on burger-joint menus. These range from the undressed simplicity of the Magnolia Pub Burger at Magnolia Gastropub & Brew in San Francisco and the char-broiled Pub Burger topped just with lettuce and tomato at Mitchell Street Pub in Petoskey, Mich., to the dressed-to-the-nines NW Pub Burger at Thirsty Lion Pub & Grill in Tigard, Ore. (shown below, it's a Gorgonzola-infused half-pound burger with grilled sweet onion, maple-pepper bacon, white Cheddar, arugula and horseradish cream).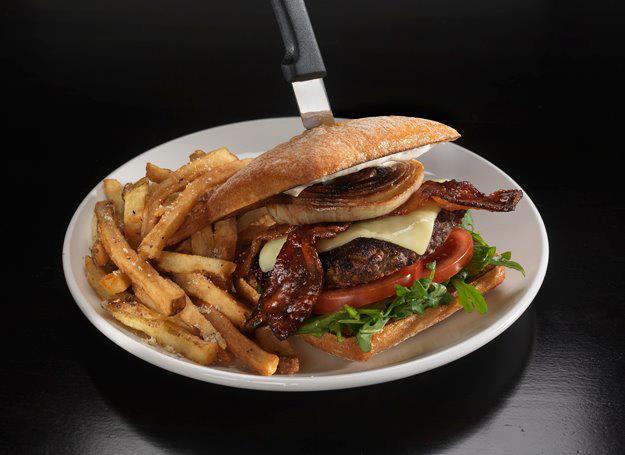 Adam Kuban at A Hamburger Today, that indispensable arbiter of all things burger, took a shot at defining pub and other burger styles in 2009. Pub Burgers, Kuban said then, are "large patties usually no smaller than 8 ounces, often 10 ounces or more. Typically ovoid in shape rather than flat. Most often seen in pubs (hence the name), where they're often broiled."
In August 2011, however, A Hamburger Today's J. Kenji López-Alt, decided that a deeper definition was needed. He proposed a subcategory of "Gastropub Burgers" found in the overlap between plain but plump Pub Burgers and overdressed "Fancy Pants Burgers." Freshly ground beef is one of 10 "musts" that López-Alt believes define a Gastropub Burger. Read the others here.
Even the venerable Cook's Illustrated has tried its hand at creating "The Ultimate Pub-Style Burger." Siding with those who define pub burgers by size, the magazine stated its goal as "to create a thick burger to rival those served in the best high-end pubs: one with deep flavor, a crusty exterior, and a juicy interior that was evenly rosy from center to edge." The recipe -- found here -- calls for "a few premium (yet simple) toppings." Their secret? "We quickly seared the burgers in a skillet and then transferred them to a cool baking sheet (so that the top and bottom cooked evenly) before finishing in a moderate oven."
All this brings us back to the original question, "What's a Pub Burger?" The answer appears to be "Pub burgers are trendy." Good enough.