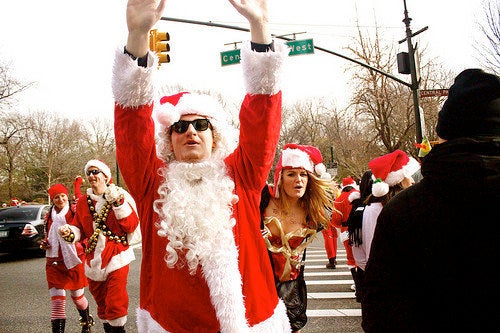 MANHATTAN -- The St. Patrick's Day hangover still isn't over for some east siders.
After a particularly potent night of debauchery during this year's March holiday, Community Board 6, which covers the neighborhoods bounded by 14th and 59th Streets, Lexington Avenue and the East River, is contemplating a ban on organized pub crawls, the New York Post reported.
"Nobody wants to prevent people from having a good time, but they must be considerate of the neighborhood," Toni Carlina, district manager of CB6, told the Post.
While pub crawls are a longtime tradition among the post collegiate set in Murray Hill, Carlina told the Post that internet and social networking have led to a three-fold increase in participants in many of the crawls.
This year's St. Patrick's Day event, for example, brought out thousands seeking $1 drafts, Carlina told the Post.
But at one of those internet promoters, pub-crawls.com, co-founder Eddie Miller pointed out to the Post that the 1,000 tickets his site sold made up just a small fraction of total holiday revelers.
Sidebar bartender Lauren Ferrante, 23, told the Post that CB6's idea is unrealistic.
"People are just going to make their own pub crawl, even if it's not sponsored," she said to the Post. "It's not going to stop someone sending out an invitation to 2,000 people on Facebook, and I'm sure bars will throw out some drink specials."
Should CB6 promote such a ban, it's uncertain what city or state agency could enforce it, according to the Post.
Spokespeople for the Departments of Health and Consumer Affairs both told the paper that they would not have the power to police pub crawls. The State Liquor Authority told the Post that while they could not enforce bans, rules do limit the extent that drinks can be discounted.
CB6 will hold a public hearing on the potential pub crawl ban on Thursday.
Calling all HuffPost superfans!
Sign up for membership to become a founding member and help shape HuffPost's next chapter