This guy is serious "employee of the year" material. 
Amadou Gillen discovered last Wednesday that he'd won a £4 million (about $5.8 million USD) scratch-off lottery during a break from his work at UK pub franchise Wetherspoons. Gillen, who works as the kitchen manager, not only kept his win a secret from the other employees, but he actually went back to finish his entire shift.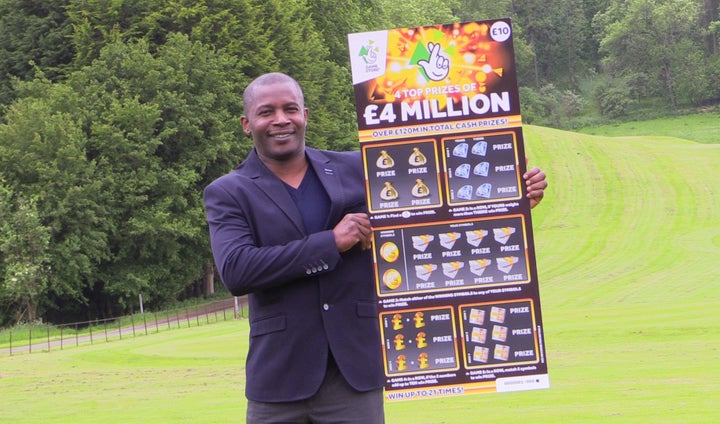 "I found out I had won at about 8 p.m. and didn't finish my shift until midnight," the 46-year-old, who's originally from Gambia, recalled to the Wiltshire Times of his exciting day last Wednesday. "I wanted to celebrate but couldn't, it was a feeling I can't really express." 
The lottery winner explained that he was working a 12-hour shift that day and purchased two scratch-offs on his dinner break around 8 p.m. To his surprise, it was Gillen's lucky day. 
"When I saw the number '4' on the card I knew they didn't pay out £40, so I knew it had to be £4million," he said, according to SWNS. "I scratched off the rest and oh my, I was so excited."
Instead of celebrating, the father of two went on with his day, business as usual. 
"I didn't finish until 11:30pm or 12 that night, so had to work for almost four hours knowing I had won," Gillen explained to SWNS. 
Now that he's a lottery winner, Gillen's got big plans. The father, who has since left his job at Wetherspoons, told Wiltshire Times that he will help pay for his older daughter's education and is looking to donate a portion of the winnings to charity. He's also been looking to move from his one-bedroom apartment to a three-bedroom home. 
The dad, who's already bought some new clothes, has some other fun expenses on the horizon as well. He plans on passing his driving test and getting some sweet new rides. 
"I got my provisional license in 2009 but have never been able to afford lessons or a car," he told Wiltshire Times. "I'm going to do an intensive driving course next week and want to buy a Peugeot before moving onto something more exciting like a BMW."
As for work, Gillen doesn't have another job lined up at the moment.  
Calling all HuffPost superfans!
Sign up for membership to become a founding member and help shape HuffPost's next chapter
BEFORE YOU GO
PHOTO GALLERY
15 Things More Likely Than A Lottery Win