Public art is a loose term we use to describe any art project -- in any media -- that has been designed and crafted for the public domain. Often located outside and always accessible to all, public art can take any shape or form, from a reflective bean to a giant rubber duck, because it's not the work that defines it, it's the mission to bring art and design to the masses that does.
Here on HuffPost Arts & Culture, we strive to follow in the footsteps of the artists who produce stunning pieces of public works, taking inspiration from individuals who believe in the democratization of art. We love nothing more than to bring the unseen corners of the art world, whether they're located in galleries on the internet or on the streets, to hungry readers who may or may not already be wooed by the beauty of creativity. We hope to constantly question and challenge the boundaries of what is art, showcasing not just the banner exhibitions we love or the auctions that amaze us, but the efforts of countless emerging and outsider artists who truly believe in the power and value of art and art education.
So, in honor of the Huffington Post's ninth anniversary, we're waxing nostalgic, dreaming about the public art projects created over the last nine years. To celebrate our birthday, we'd like to travel back in time and pay homage to nine masterpieces that encapsulate the wonder of public art.
1. Mike Kelley's "Mobile Homestead" (2005)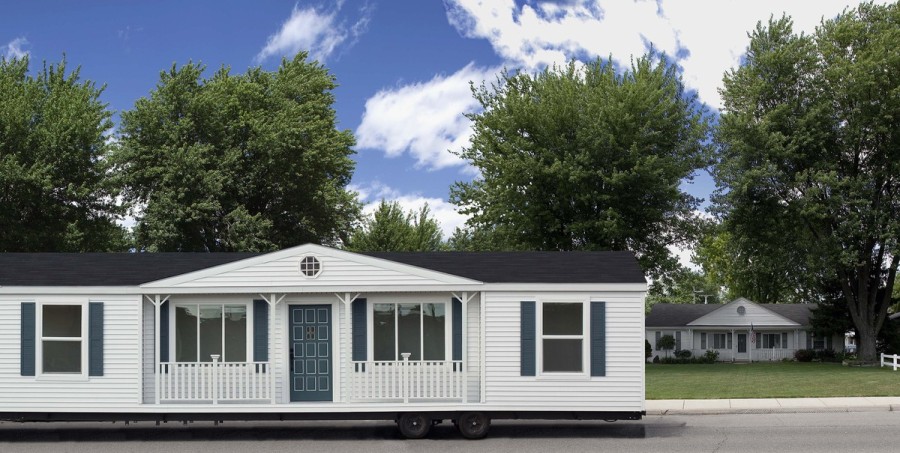 Kelley's homestead is a full size reproduction of the Michigan home Kelley grew up in. The front of the house is designed like a mobile home, able to drive around Detroit completing acts of public service. The back end, permanently located at the Museum of Contemporary Art in Detroit, serves as a space open for social services including haircuts, barbecues, or locales where homeless people can pick up their mail. The portable aspect of the project will travel to Los Angeles this summer as part of MOCA's Mike Kelley retrospective.
2. Anish Kapoor's "Cloud Gate" (2006)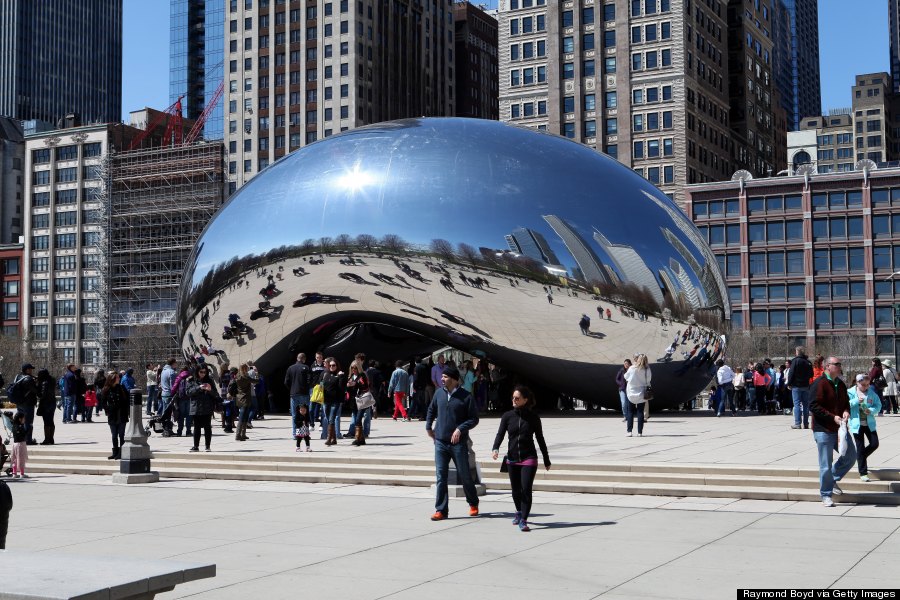 Kapoor's iconic "Cloud Gate" takes the form of an 100-ton stainless steal bean, located in the center of Chicago's Millennium Park. The massive stainless steel sculpture, supposedly inspired by liquid mercury, reflects a warped alternative of the Chicago cityscape in its seamless refection. If you haven't seen the colossal alien form for yourself, you're probably familiar with the idea thanks to the onslaught of selfies that undoubtably follow a visit to the classy funhouse mirror.
3. Florentijn Hofman's Giant Rubber Duck (2007)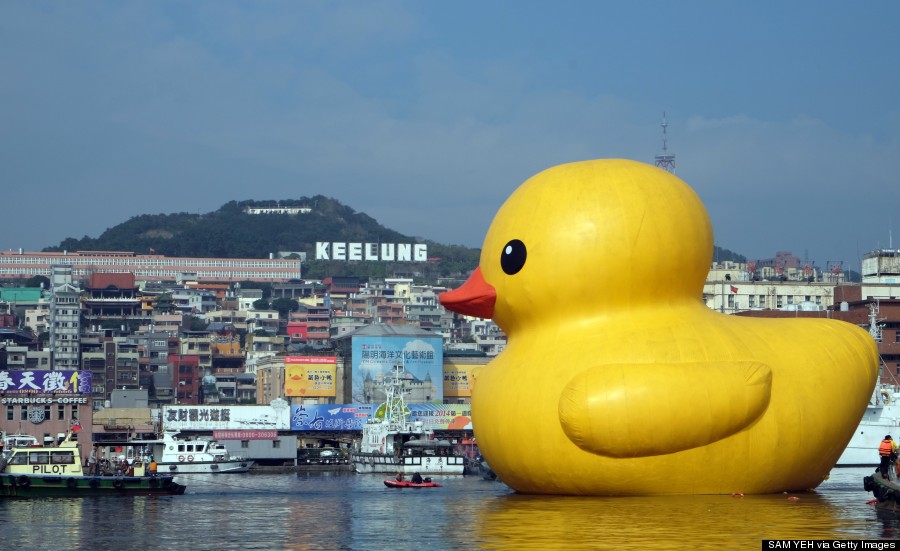 Just how big is the biggest rubber duck in the world? In case you're curious, it's 85 feet tall and weighs in at 1,300 pounds. The super-sized waterbird is one of a series made by Hofman, all identically designed yet differently sized. The birds have been making international appearances everywhere from Hong Kong to São Paulo to Pittsburgh, winning the hearts of many in the process. "The Rubber Duck knows no frontiers," the Dutch artist said of the creation. "It doesn't discriminate... and doesn't have a political connotation."
4. JR's "Inside Out" Project (2011)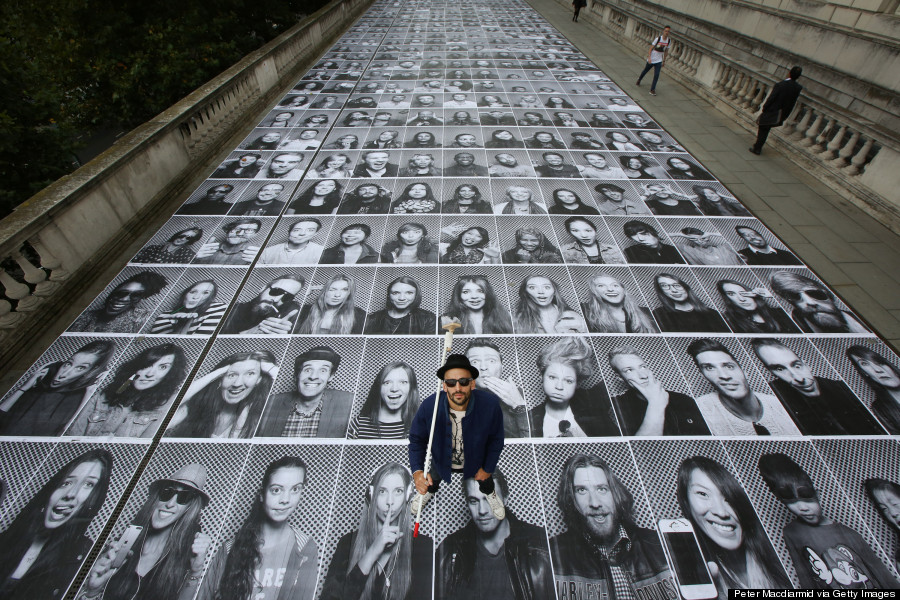 The French street artist initiated a massive global participatory art project to commemorate the 30 year anniversary of the Walk for Equality in Lyon, a 500 mile walk protesting police violence and inequality. For the initial project, JR created 2,000 portrait posters, chosen from 5,000 submissions, and pasted the works in public streets for all to see. The project has since spread to 110 countries including Nepal, Mexico and the Palestinian territories, and 200,000 posters have been displayed to date. His goal in sparking the project is "to use art to turn the world inside out."
5. Candy Chang's "Before I Die" Mural (2011)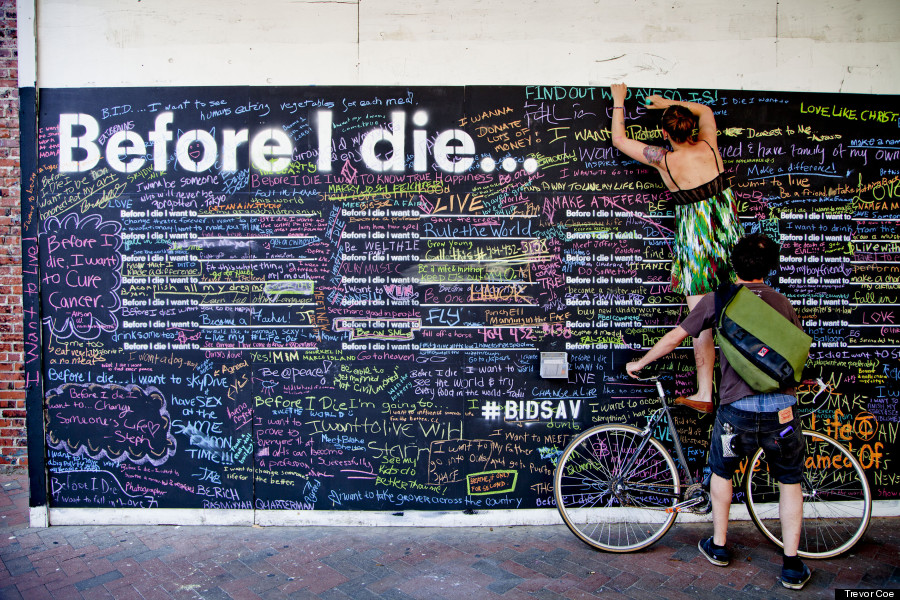 When artist Chang was grappling with the loss of a loved one, she turned to art for comfort. The Taiwanese American artist wrote the words "Before I die I want to _____" on an abandoned building in her neighborhood, allowing passersby to express their thoughts and dreams anonymously. Today over 450 "Before I Die" walls live in over 60 countries, written in over 30 languages. The stunning mutual bucket list serves as a reminder of what's really important in life.
6. Stop Telling Women To Smile (2012)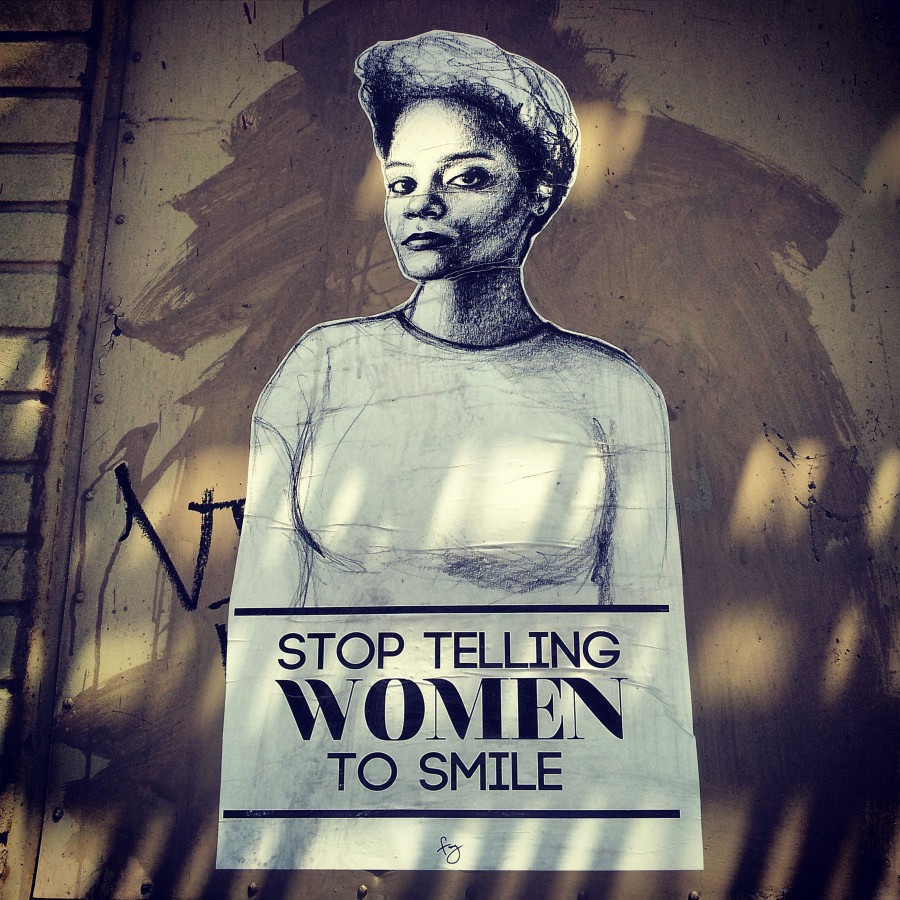 Most people who've spent time in a major city are familiar with the uninvited cat call. Whether you have been the target or you've watched the event unfold, many of us have heard one individual or another solicit a passerby -- most often a woman -- to "give them a little smile" or "cheer up, baby." While some may combat the unsolicited attention with a cold stare, Brooklyn-based artist Tatyana Fazlalizadeh has an alternative way of addressing the problem. In a project titled "Stop Telling Women to Smile," Fazlalizadeh places portraits of women in public spaces, encouraging victims of gender-based street harassment to fight back.
7. Yarn-Bombed Andy Warhol Bridge (2013)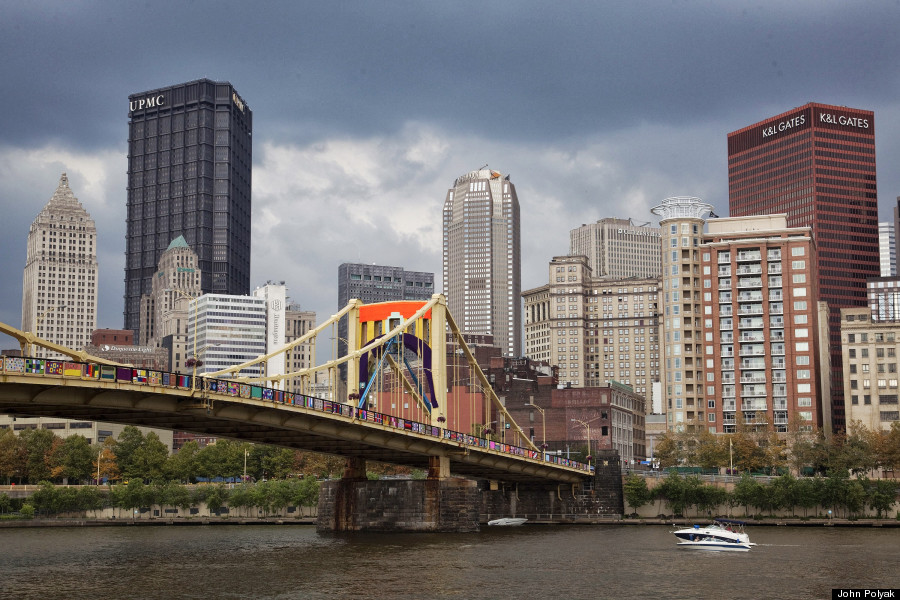 In 2013, Pittsburgh's Andy Warhol Bridge was transformed into the United States' biggest -- and probably most colorful -- example of yarn-bombing. The jaw-dropping endeavor, imagined by a group of craft enthusiasts who call themselves "Knit the Bridge," involved over 580 beautifully knitted (and sometimes crocheted) blankets that were sewn together and draped over various parts of the massive bridge. The yarn-splosion spruced up the otherwise dull yellow structure, proving that a little public art can go a long way in terms of civic design.
8. Leo Villareal's "The Bay Lights" (2013)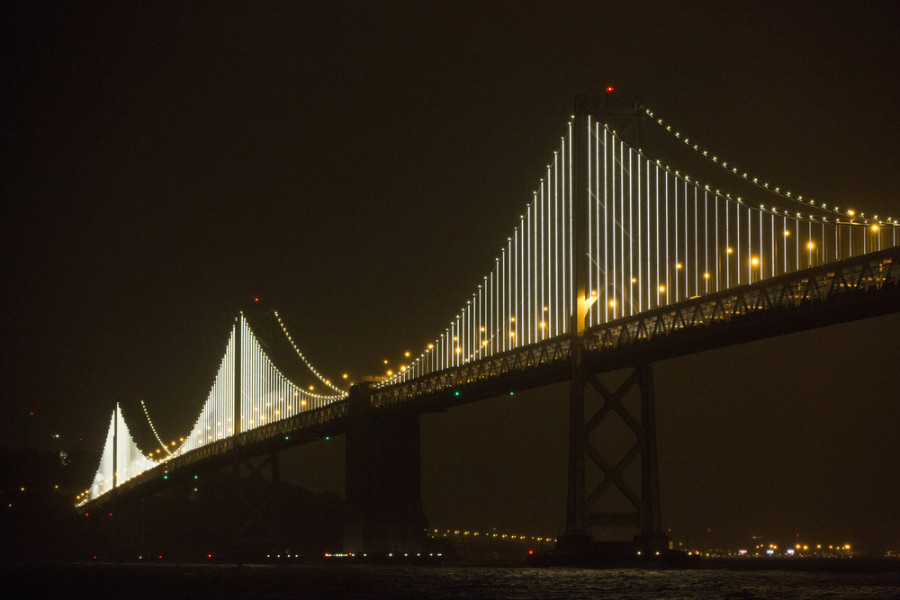 "The Bay Lights" is the world's largest LED light sculpture, measuring in at 1.8-miles wide and 500-feet high. Inspired by the San Francisco-Oakland Bay Bridge's 75th Anniversary in 2011, its 25,000 white LED lights are individually programmed by artist Leo Villareal to create a perpetual display of light art emanating from the Bay Bridge's graceful architecture, set to illuminate the sky through March 2015.
9. Paul McCarthy's "Complex Pile" (2013)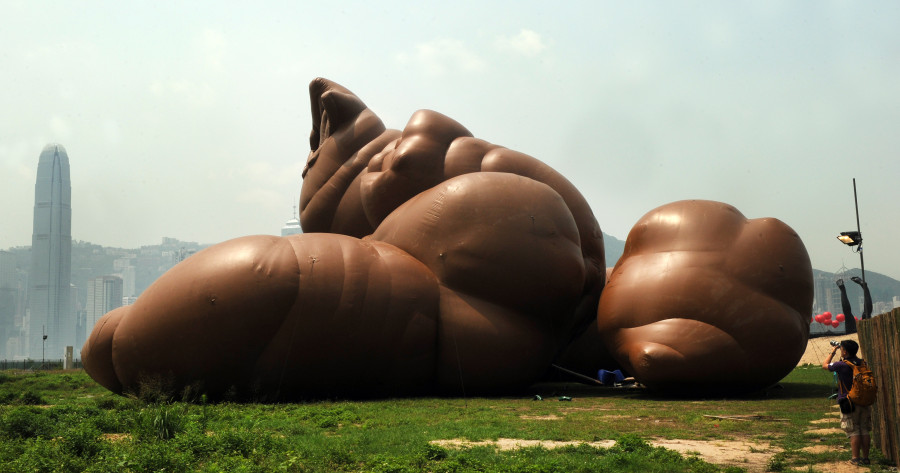 Did we save the best for last? Maybe. Paul McCarthy's hilariously named masterpiece stood at a whopping 51 feet, looming over other inflatable creations during Hong Kong's outdoor art project "Mobile M+: Inflation!" The feces-inspired objet d'art, which supposedly "mocks its picturesque surroundings and pokes fun at the prudent qualities of public sculpture," is proof that the art world has a sense of humor.
Related
Popular in the Community